Fluance Launches 4 New Audiophile Turntables at Great Prices!
Summary
Common specs for all 4 models:
Speed: 33 1/3 RPM, 45 RPM
Speed variation: ≤ 0.13%
Tonearm type: Static Balanced, S-Type aluminum tonearm
Supported Cartridge Weight: 0.12 – 0.25 oz (3.5 – 7.5 g)
Counterweight: 3.95 oz (112g) Adjustable
Effective Tonearm Mass: 0.99 oz (28.2 g)
Overhang: 0.76 inches (19.2 mm)
Effective Tonearm Length: 8.82 inches (224 mm)
Headshell Mount: H-4 Bayonet Mount
Dimensions (W x H x D): 16.5 x 5.5 x 13.75 inches (419.1 x 139.7 x 349.25 mm)
Weight: 14.1 lbs (6.4 kg)
RT82

Solid Body
Ortofon Super OM10 Cartridge
Aluminum platter
Rubber platter mat
No Preamp
RT83

Solid Body
Ortofon 2M Red Cartridge
Aluminum platter
Rubber platter mat
No Preamp
RT84

Solid Body
Ortofon 2M Red Cartridge
Acrylic Platter
No Preamp
RT85

Solid Body
Ortofon 2M Blue Cartridge
Acrylic Platter
No Preamp
Executive Overview
The Canadian-based audio brand Fluance has been producing high-value consumer audio products since 1999. The company has released eight different lines of home theater speakers since then, as well as bluetooth music systems and powered bookshelf speakers. In 2016, Fluance took the plunge into the affordable audiophile turntable market, taking on established European competitors such as Pro-Ject and Rega, and American newcomers U-Turn Audio. The $249 Fluance RT81 offered build quality that blew away the competition and won the praise of critics and customers alike. Now Fluance is introducing four new turntables to build upon that success, with a focus on even higher performance. In order to keep pricing as accessible as possible, the new RT82 ($300), RT83 ($350), RT84 ($450), and RT85 ($500) are built upon a shared design platform, with the more expensive models offering upgrades to the included cartridge and platter, which in turn deliver superior sound.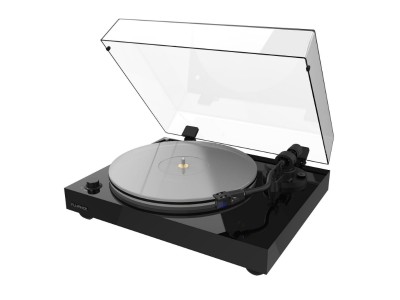 The new Fluance Reference tables are all belt-drive designs. They employ a precise, servo-controlled drive motor with an optical sensor that is designed to continuously measures and adjusts variances in linear velocity and acceleration within a few hundredths of a percent, at a wow and flutter of 0.07%. This speed-regulating system uses a comparator circuit to measure platter speed 500 times per second in order to maintain an accurate rotational speed. The jointless, "continuous loop" rubber belt isolates the platter from micro-vibrations coming from the motor, while proving highly stable and balanced rotation. The drive system is also decoupled from the plinth via an under-mounted, seven-point silicone isolation ring, which suppresses motor vibrations and prevents noise from reaching the stylus. The motor is also positioned as far away as possible from the platter, in order to minimize rumble-induced distortion. The plinth is a solid, mass-loaded multi-layered MDF design, which naturally absorbs vibrations from both the motor and listening environment. This material was chosen for its ability to reduce the transference of unwanted resonance, but it also provides solid, sturdy build quality and a smooth foundation for either high gloss black paint or high gloss walnut real wood veneer. The layered MDF chassis rests on three spike-shaped, height-adjustable rubber isolation feet designed to dampen external vibrations and minimize surface contact under the turntable. By blocking the deleterious effects of environmental vibrations, the feet contribute to the turntables' dynamic range and imaging capabilities.

The RT82, RT83, RT84, and RT85 all use a balanced, S-shaped aluminum tonearm with smooth, high-precision stainless steel bearings featuring specialized lubricant. Fluance says that this tonearm design enhances tracking stability and accuracy, "allowing your stylus to sit perfectly in the record groove… resulting in a more precise playback." The arm offers adjustable anti-skating to keep the stylus perfectly centered in the groove. Not only should this allow the cartridge to extract the greatest possible detail from your records, it will also prevent unnecessary wear and tear on both the stylus and your vinyl. Further stylus protection is provided by the (defeatable) auto-stop feature, and the cue lever, which provides greater control when lowering the stylus. A tinted dust cover keeps things clean and tidy, and contributes to the timeless look.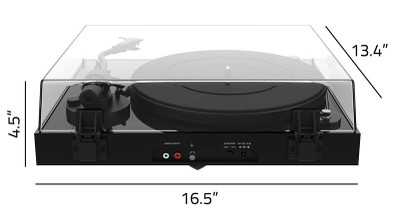 All the new Fluance Turntables come with RCA connectors instead of pre-terminated cables like most other companies

In the new Fluance Reference turntables, gone are the built-in phono preamps found in the 2016 models. While a built-in phono stage makes it easy for analog newcomers to play vinyl through an existing receiver or pair of powered speakers, it also places a cap on how much performance you can squeeze out of a turntable. The new Reference series turntables maintain a pure signal path from the tip of the stylus to the gold-plated RCA outputs, with no electronic components to compromise sound quality. (If the user's amplifier or receiver doesn't include its own phono stage, an outboard phono preamp such as the $129 Schiit Audio Mani will be required.) The new Fluance tables use oxygen-free, high-purity copper tonearm wires in a seven-strand Litz configuration. The 36 AWG cable features a twisted strand pattern that "equalizes the proportion of the overall strand length, allowing for equal distribution of the current," according to Fluance. This design reportedly results in "reduced resistance, increased conductivity, and superior insulation against interference for improved signal clarity."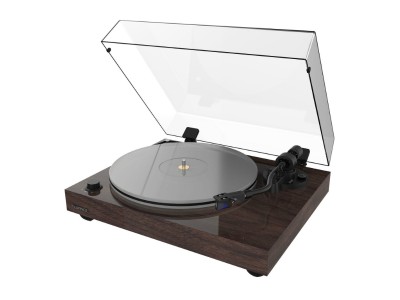 What are the Model Differences?
So, what are the differences between the various models? It comes down to the platters and pre-aligned cartridges included with each. The $300 RT82 includes an Ortofon Super OM10 moving magnet cartridge, the body of which is made from a highly ridged glass and plastic compound. The stylus is a tipped elliptical diamond with a precisely calculated natural pivot point, said to deliver "extraordinary accuracy while achieving optimum oscillation balance, resulting in improved linearity and reduced distortion." The stylus reportedly provides excellent channel separation and requires only 1.5 grams of tracking force. The RT82 uses a precisely engineered and evenly weighted 1.22-pound aluminum platter. The balanced, heavyweight aluminum offers uniform rotational motion. Atop the platter is an audiophile-grade silicone mat designed to minimize static and isolate your records from any micro-vibrations that manage to make their way through the platter.
The step-up RT83, which sells for $350, includes Ortofon's award-winning 2M Red moving magnet cartridge (which itself sells for $100). The 2M red features an improved engine providing an increased output of 5.5mV, and promises exceptional musical accuracy thanks to a tipped elliptical diamond stylus featuring a split pole assembly. This split pole design has less "magnetic memory," meaning the stylus is less inclined to return to where it was. Ortofon's split pole pins reportedly deliver faster and cleaner sound with a flat frequency response for an even tonal balance.
The $450 RT84 also uses the Ortofon 2M Red, but here the aluminum platter is replaced by a highly precise, mass-loaded, high-density acrylic platter. The increased inertia provided by the 3-pound acrylic platter should result in more uniform rotation at a consistent speed. Acrylic also has superior damping properties. The energy from unwanted vibrations is trapped and dissipated before it can reach the stylus and cause distortion. The acrylic material is also naturally resistant to the buildup of static; less static means less dust and improved record tracking. Lastly, acrylic's resonant frequency is similar to that of vinyl, and Fluance says that this similarity aids in the cancellation of undesirable reverberations, "resulting in a 3-dimensional soundstage with improved bass definition, a richer midrange, and greater signal clarity."

The flagship RT85 ($500) keeps the acrylic platter, but trades the Ortofon 2M Red for the $236 Ortofon 2M Blue moving magnet cartridge. The 2M Blue features a nude elliptical diamond stylus, made from a whole, single diamond that is shaped for optimal contact with the walls of the grooves. This single-piece design increases resolution and boosts dynamics, thanks to lower mass in the tip of the stylus. The 2M Blue offers reduced surface noise and allows for the retrieval of hidden musical detail, providing a "rich, elegant, and natural sound."
Spin Risk Free
All of Fluance's turntables are offered with the company's risk-free 30-day trial period. Fluance even covers return shipping if you're not satisfied. So if you've been thinking about adding an affordably priced audiophile turntable to your system, Fluance just came up with four more reasons why you should stop thinking and just do it already. Which Reference series turntable sounds like the best value to you?
Share your thoughts in the related forum thread below.
Confused about what AV Gear to buy or how to set it up? Join our Exclusive Audioholics E-Book Membership Program!