Line 6 Firehawk FX Multi Effects Pedal Review

Summary
1/4" 1M-Ohm guitar input, VDI (Variax), Expression Pedal
Stereo Balanced XLR Main Outs, Stereo 1/4" Amp/Line Outputs, 1/4" TRS Headphone Output
Stereo 1/4" FX Loop with stomp/line level switch
128 Onboard Presets
29 HD Amp Models
25 HD Effects Models
78 POD Farm Amp Models
95 POD Farm Effects Models
24 POD Farm Guitar Cabinet Models
Single-switch looper
iOS & Android Editor
5 FX on/off, channel and bank footswitches with color-coded LED rings
Built-in Volume/Wah pedal, Assignable FX Knob, Expression Pedal Input
Bluetooth Audio Streaming
Power Switch
Executive Overview
Say goodbye to your guitar amp.  If you're a traveling musician who is tired of lugging around heavy equipment and spending time setting up pedal boards, then the Line 6 Firehawk FX Multi-Effects Pedal is an ideal affordable solution.  It packs 200 amplifiers, speaker cabinets, and effects into a compact, sturdy, color LED backlit, easy-to-use lightweight foot control pedal.  From clean jazz tones to high-gain screaming tubes, there is an ideal tone for every style of music you play and likely an already-created program in the Line 6 Cloud to match any song you play and you'll never run out of effects to enhance your tones.  Because of its incredible list of features, the Firehawk FX is the perfect device for a musician on stage, in the studio recording, or at home practicing.  Perhaps the best feature of the Firehawk FX is the Remote App that enables you to control the pedal via Bluetooth from your phone or tablet.  This user friendly app allows you to program your own tones, or access an ever-growing user library of tones from the Line 6 Cloud, sorted by artists, song titles and nicknames.  The Firehawk FX has balanced XLR and ¼" stereo outputs for direct connection to the house board, powered PA speakers or a non-modeling guitar amp.  There's also a USB output for connecting to your computer for recording.  Given the stellar features and countless combinations of tones, the Firehawk FX is another revolutionary trend-setting product from Line 6 that will stimulate the creativity in any musician, while also making it infinitely easier to set up and play when compared to a traditional large, heavy amp with a ton of effects pedals and wires that go everywhere and sometimes short out.  The days of difficult set-ups and unwanted noise from excessive cables are gone as well as constant tweaking once the knobs on your analog pedals have moved during transporting.  Instead, get ready to play through one of best modeling pedals on the market in this price range. It's easy to use, and can be customized, configured, and rewired using your fingertips and a Bluetooth app. 
Understanding Modeling
Before delving into a full review of this amazing p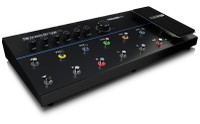 edal, I thought it'd be worth discussing the basic concepts behind digital modeling verses the actual tones being simulated.  Line 6 has been developing modeling technology for many years.  The most recent endevours include the AMPLIFi TT, Firehawk FX and Helix.  These products show that Line 6 has truly mastered the art of modeling.  But what is modeling?  In a nutshell, modeling is the use of mathematical techniques, specialized hardware, and engineering judgment to create a representative stand-in for a real world environment, device, system, or behavior.  In this case, most of the models were developed from recorded tones originally created by actual amplifiers, effects pedals, speaker cabinets, etc, and captured through various types of microphones in multiple placements, or by the equipment being connected directly into computers.  Those recordings are then modeled for playback using DSP technology.  What a modeling product does, in effect, is attempt to simulate those original tones as accurately as possible.  The Line 6 has painstakenly captured and accurately modeled 200 amps, cabinets, effects and more for this Firehawk FX multi-effects pedal.  When using this pedal for guitar, you are essentially creating your own music through previously recorded modeled tones.  What you hear will depend on your amplification method.  If you keep in mind that all of the tone creation is coming from the Firehawk FX models, it's easy to recognize that the best playback results will come from a speaker system that is as flat as possible, so as not to color or enhance the intended soundstage.  The soundstage through a pair of quality headphones will be different than what you hear through a powered PA speaker, or when plugged directly into your computer while using studio monitors.  
The Line 6 Firehawk FX has 50 HD models.  It's important to note that HD (High Definition) with the Firehawk does not mean a higher bit rate or resolution.  Instead, it means that Line 6 Engineers and Technicians spent more time sampling these original tones, either through additional microphone placements and locations, or enhanced computer modeling.  So, although the tones do not play back at a higher rate, they were sampled and recorded with more reference points, thereby making them more accurate representations. 
SMALL PACKAGE AMAZING FEATURES
The Firehawk FX Multi-Effects Pedal is 20" wid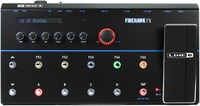 e x 10.25" deep x 2.25" high and weights just under 10 lbs.  There's nothing backbreaking about carrying around this powerhouse.     The top row of five LED color-coded pushbutton switches can be used to turn effects on and off.  The LEDs are color coordinated to match the type of effect as follows: 
Green = Delay
Orange = Reverb
Yellow = Compressor and Stomp (including Distortion)
Blue = Modulation
Purple = Synth
White = Looper
Turquoise = FX Loop
The nice thing about these LEDs is that they are dimmed, but still visible when the effects are off, and when clicked to turn the effects on, they become bright.  This means that when using the pedal on a poorly lit stage, you won't have to worry about being able to spot the correct foot switch.
The foot switches to the far left show an arrow up and arrow down and are used to move up and down the banks in the storage library.  Once a bank is selected, the bottom four switches, also backlit with LEDs, are used to select from within that bank. 
There's also a TAP switch that is used to tap in the tempo for the delay, as well as accessing the tuner.  The foot pedal on the right is used as both a volume and Wah and the library of effects has options for both.
The Remote App is ideal for programming the Firehawk FX, but it's not required.  For example, once the pedal is programmed, you can control most of the typical settings from the foot switches and top row of knobs.  The LCD display defines what tone you have selected and also shows the notes while tuning.  There are rotary knobs to directly control Drive, Bass, Mid, Treble, FX, and Reverb.  There is also a volume knob that controls the overall amp volume, as well as the guitar volume.  This feature is useful when streaming audio since it allows you to blend the volume of the music and guitar.
THE REMOTE APP
Unleash The Power
The Firehawk FX is powerful on its own, but to unleash its full potential, it's best to connect to the Remote App.  The app allows access to the pedal via Bluetooth from devices that operate with iOS and Android. The mostly easy-to-use program enables you to assign switches, adjust parameters, select new tones, rewire your configuration, change effects, access libraries and a host of other important features. 
Reassigning switches is easy, and what's amazing is that the LEDs change to the corresponding colors of the effect type. Rewiring effects is as easy as placing a finger on the desired effect and moving it to the desired location, either before or after the amplifier.  If you like your Chorus before the Distortion, no problem.  Just hold it down and move it.  It's that easy.
 Set up for Let It Be(left pic); Set Up for Comfortably Numb (right pic)
Where to Store Information (left pic);  My Tones (right pic)

Where it becomes a bit tricky to use is with some of the more advanced features, such as assigning multiple Modulation effects.  Don't count on any Internet searches for articles or videos to help you with answers, since most only cover the very basics, which were obvious to being with.  The user manual (named Pilot's Guide) discusses how the Firehawk is organized in Blocks.  There are Standard Blocks that include the amp, cabinet, compression and gate.  These blocks cannot be moved or reassigned.  The FX Blocks contain volume, wah and reverb and have some movability.  The Looper Blocks can be assigned and moved to before or after the amp.  The Flex FX Blocks are what I use the most.  These blocks contain Stomp, Mod, Delay, and Pitch/Synth and are assignable, movable to before or after the amp, and can be rearranged.  These blocks are where you can assign multiple Mod effects, such as Phaser and Chorus.  The disadvantage is that you must sacrifice one of the other effects.  For me, though, having two Mod effects while sacrificing the Pitch/Synth is not a big deal.  Besides, you can always copy your model to another storage location, remove one of the Mods, and add back your other option.  The pedal is extremely flexible in that way and it has tons of storage space, so you'll likely never run out.
The Remote App also allows you to store important information about your guitar settings for each tone you create.  For example, when using a Let It Be Solo model, the settings shows me that I'm using a single coil neck pickup.  This is a great feature when considering the number of settings I have in this Firehawk and my aging memory. 
Just in case the 128 on-board presets aren't enough for you, it's never been easier to create your own custom tones, or download them from the ever-growing Line 6 Cloud database.  Any tone you create can be shared to that Cloud for other users to enjoy.  I use the Cloud all the time to find specific settings by song titles, guitarists and musical genre.  Many of these tones require little to no tweaking, but depending on how you are amplifying the Firehawk, some parameters may need adjusting.  Once adjusted, you can store them in your own library for easy recall.
Guitar Amplifiers
The Remote App provides you with easy access to that massive list in a well-organized and structured way.  There are 29 HD model amplifiers each having their own signature killer tones.  These and the remaining 58 brilliantly modeled amps are categorized into Clean (9), American (35), British (28) and High Gain (35). 
Speaker Cabinets
Some of the amplifier models have built in speakers.  In those cases, the Remote App automatically selects the correct speaker cabinet, although you can change it at will.  In the case where the guitar amps are heads only (no cabinets), there are 25 different models to choose from ranging from 1x6 Super O (Based on the Super O® S6616) to several 4x12 Marshall Stacks. 
Reverbs
There are 28 different Reverb options, 12 of which are HD.  They range from the common to the out-of-the-ordinary.  The basics include Hall, Spring, Plate, Echo…..and other commons names.  The bizarre includes Ducking, which is an old broadcast term for dropping (or ducking) the reverb signal while playing, and then bringing it back up in between notes.  Then there's also Particle Verb, a Line 6 original that turns chords into a lush modulating pad, or Octo which creates a rich ambient space with a harmonized decay. 
Drives & Dynamics
The 13 HD distortion pedals pretty much cover the bases of conceivable styles and musical tastes.  Fuzz, Classic Distortion, Buzz Saw, Screamer are the most common, but I really like the Octave Fuzz which is based on the legendary Tycobrahe Octavia.  Under Drives and Dynamics, there are 9 other classic and modern distortion pedals to choose from as well as 4 compressors, a Boost + EQ, and an Auto Swell.
Modulation
Probably my favorite part about this system is the 23 diverse modulation effects.  Aside from the classic list of Flangers, Choruses, and Tremolos, there are also a number of surprising special effects.  My favorites are the two rotary drums, which include a classic Leslie 145 and Fender Vibrato.  I would never have suspected that these would be part of the package, and I absolutely love them.  Especially when connecting to a stereo speaker system where you can really appreciate the rotary effect.  Really good versions of stand-alone Rotary Pedals retail for over $300 by themselves, yet they are in included with the Firehawk FX which sells for less than $450 and comes with everything else.
Delays
The Firehawk FX has 14 delays, ranging from average to the "wow, holly cow."  Bubble Eko has a sample and hold filter that takes a sweep, chops it up and randomly reassembles it.  Phaze Eko takes a tape delay and adds delays to the repeats.  Some of these effects, just like the real ones that they simulate, can quickly get out of hand depending on settings.  But with proper tweaking and imaginative playing, you can create some amazing tones.
Filters, Synths, and Pitch
Perhaps the most exciting part of the Firehawk FX are the 23 Filters, Synths and Pitch selections.  This section is where you will find your basic Wah pedals (8 in total plus an AutoWah) along with a several synthesizer effects, and a ring modulator.  These effects give you access to adjustments for low and high pass filters, oscillators, wave shapes, and more.  The sky truly is the limit here as these effects can sound as good as your imagination if you're willing to tweak the parameters.  I recommend using headphones so as not to scare the family and neighbors while you pass through some bizarre and sometimes grungy sounds as you hone in on that ideal tone.  A Line 6 Engineer showed me a really clever way of creating an octave up, down or harmonizing pitch shift for single note playing, which once again, shows the amazing diversity of this pedal.  Here is his suggestion:
1.  Make one of the Flex FX blocks "Bender."
Touch any Stomp, Mod, Delay, or Pitch/Synth block
Touch the icon to the left of the model name (right above the sliders)
Touch [< TYPE] and choose "Filters, Synths, and Pitch"
Swipe down, choose "Bender," and touch Done
2. Set:
Heel to the desired pitch (-12 for octave down, 5 for a fifth above, etc.)

Set Position to 0%
PERFORMANCE
My system is set-up as follows:
Playback:  Line 6 StageSource L2m
Guitar:  Guitar Factory Hybrid Electric with dual outputs.  Primary output to the electric side includes Bartolini active pickups, single coil neck and center with split double coil at the bridge.  Second output includes piezo electric, which I run into a separate acoustic amp to create rhythm loops.
Without using the Remote App, the Line 6 Firehawk FX out of the box is powerful multi-effects pedal that provides instant gratification.  The unit comes equipped with 128 presets; however, I was unable to find a list on-line or in the Pilot's Guide.  Using the side switches, you can go up and down the storage banks to get to a set of desired tones, and then switch between that bank by using the A, B, C, and D switches.  Choices here include every genre of music including rock and roll, blues, country, jazz and more.  There are some wonderful tones that can be easily accessed without any programming or Bluetooth connections.  But where the pedal really woke up for me was when I went through my set list of songs and attempted to model the guitar tones for each to match the original recording.  In some cases, I knew what the guitarist used on the recording and was able to create my own tones based on the specific amp, effects, and so forth.  In cases where that information was not available, I used the Remote App Search Tone to find what I wanted from the Cloud. That's what led me to finding the tones for Pink Floyd's Mother, and Comfortably Numb, as well as the tone for the lead to Let it Be.  Once loaded, I stored them in my library for easy access and recall. 
After laying down the rhythms to these songs on my Digitech JamMan looper through my acoustic side, I switched to the electric side to play leads.  My first experience was with Mother, and I was floored when I heard how good the tone was and how closely it matched that of David Gilmore.  Having the tone so closely matched made it easier for me to work on my technique in order to recreate the nuances from the bends and vibrator customary in Gilmore's playing.  It became even easier to practice when I streamed the actual song through the Bluetooth.  The Remote App allows you to play back music from nearly all streaming sources, while also playing your guitar through the selected tone.  The volume of the playback music and the guitar can be blended by simply pushing down on the dual-function volume knob.  In doing so, I was able to match the song volume perfectly to my playing.  It was so incredibly matched in fact that there were times where I could not tell if it was Gilmore or me playing the lead.  Because the Firehawk has that capability, it was much easier for me to learn every part of that song.  The next time I played it live, I received numerous compliments about how dead on my lead was.  The same was true with Comfortably Number where once again, the model I downloaded from the Line 6 Cloud pretty much nailed it. 
That's what makes this Firehawk FX so incredible.  It's great for practicing and amazing for playing live gigs.  During live gigs, it eliminates the need for a heavy guitar amp since it can plug directly into the house mixing board and/or PA speakers.  The color coordinated back lighting on the switches make it easy to see even on a dimly light stage, and because of the endless modeling capabilities, it sounds like you brought along an entourage of equipment, when all you really have is a small, all-inclusive, lightweight, rugged, stage-worthy pedal.  During live performances, you can use your Bluetooth device with the Remote App; however, there are certain risks involved in doing so.  For example, you can lose your connection with the pedal due to interference with other phones, or if your phone goes dormant, not to mention if your battery dies.  That's why I wouldn't totally rely on the Remote App when performing.  Instead, it's best to download your tones directly onto the pedal and not just store them in the Remote App library.  The pedal has enough onboard features that you really don't need the app onstage anyway.  But, if you run into a situation where you need to tweak some of the parameters on stage, perhaps due to acoustics or crowd noise, there's a little known feature that becomes very useful.  It's called the Live Edit Mode and can be accessed by simultaneously pushing down on the Bank Up and Bank Down switches.  Once engaged, the two rows of foot switches will alternate flashing and the LCD display shows which block is currently assigned.  By pressing any of the FS 1 – 5 footswitches, it selects the effect in that block which can then be adjusted or changed.  There's a helpful video guide that can be found using the following link: Live Edit Mode  
Creating the right tone is not just about picking the right speaker cabinet, amplifier, effect and so forth, for the configuration and tone you are trying to simulate.  It's also depends on how the Firehawk is being amplified.  For example, I have been amplifying it through a Line 6 StageSource L2m.  This PA speaker has a single 10" extended range woofer and a 1" exit compression driver.  It also has six settings including Reference PA, Playback, Floor Monitor, Keyboard, Acoustic Guitar and Electric Guitar.  My first instinct was to set this speaker to Electric Guitar, but in doing so, the sound was a bit harsh.  The reason is that all but one of these settings adjusts an internal EQ that colors the sound.  When using the Firehawk FX, it is better to select Reference PA and in general, it's best to use a flat performing speaker system.  Let the Firehawk create the tone, and not the speaker you are using to amplify it.  If you want to truly understand how the tone you are creating sounds, try using a good pair of headphones plugged directly into the headphone output.  There will be far less coloring and no room acoustics to interfere.  Then, once you connect it to a PA speaker or non-modeling guitar amplifier, you will better understand how to tweak the parameters to more accurately produce the intended tones.
FEATURES NOT REVIEWED
The Firehawk FX is also a powerful tool for studio recording.  Admittedly, I didn't use this feature; however, the Firehawk can be connected directly to a Mac, PC, or iOS device. This pedal also works with Line 6's Variax guitars where it opens up even more amazing features.
WORTH NOTING
As with any product we've reviewed, there's always something.  The question is if those "somethings" are a deal-breaker or just an annoyance that can be worked around or may not pose a significant enough problem to completely discredit the product.  The ones I've found with the Firehawk FX are not deal-breakers, but are worth mentioning.
Volume
For good reasons, settings within the Firehawk FX are not global.  This means that all parameters for things like Bass, Treble, Volume, Gain, etc., are stored with the specific tone.  But when it comes to the volume pedal, it's a bit counter intuitive with its position when turning the unit on and off.  I am accustomed to leaving my volume pedal in the up position when turning off my rig.  This way, I'm not slammed with unwanted noise when reconnecting my guitar and initially turning everything on.  Unfortunately, when turning on the Firehawk FX with the volume pedal up, it starts up at full volume.  It's only after you cycle the pedal down and back up again that the volume is muted.  A Line 6 engineer tried to explain this to me, but I didn't quite understand why they couldn't just simply make the 'down' position full volume and 'up' no volume, especially when considering that the default tone it boots up on has the pedal programmed that way.
The other issue with volume is a cautionary warning.  If you fish tones off of the Cloud, there's potential to pull one down that has the gain and/or volume cranked.  You may be sitting there at a comfortable volume with your current tone, only to change it to a new one and be blasted into the next room with an instant volume increase.  Know this in advance and if you're fishing, keep the volume very low at first, or put your volume pedal up.  Once you've pulled down the new tone, you can tweak parameters so that it more closely matches the volume settings of the rest of your library.
Tuning
As with the AMPLIFi TT, I found the tuning feature a bit jittery especially when compared to the Line 6 POD HD500.  I like the fact that it shows the tuning on the Bluetooth device as well as on the LCD display and volume LEDs (that turn from red to white).  The issue comes with the speed at which it changes.  The slightest turns of the tuning keys on the guitar cause the displays to jump far out sharp or flat.  I can't wrap my head around why it goes so quickly that far out other than the fact that they made the plus/minus tuning range too narrow, therefore it displays a huge change when in reality, you're only making slight adjustments.  The work-around is to tune very, very slowly when you're "close."  Furthermore, there are many times when it shows a completely different note on the LCD display and phone/tablet.  For example, if I retune from a drop D to an E, Instead of seeing an Eb or an E on the display as I'm going back up, I often see G.  I've also seen Ds as As.  Even if I pause tuning, mute the strings, and pluck that string again, it sometimes displays an incorrect note.  I've asked Line 6 about this and they were not aware of any issues. 
Computer Interface
However cumbersome the Line 6 POD HD 500 computer software is to use, it does provide a very useful interface that is lacking with the Firehawk FX.  There are times when I'm sitting on the couch watching TV and feel like fiddling with my programs.  I'm not one for using a tablet and really don't like using an iPhone because it's all about using thumbs.  Instead, as is the case with the POD HD 500, it would be nice to be able to connect directly to my laptop, pull up a program, and have at it.  It'd be great if Line 6 created a PC / Mac based software program for this pedal.
Remember to Store Your Changes
This is not a criticism of the Firehawk, but of modeling in general.  If you're not accustomed to working with a modeling system, it's easy to forget to store your work.  There were times where I tweaked parameters and honed in on the perfect tone but forgot to save it.  The good news was that it was easier for me to do it again the second time, provided I was able to remember what I created prior.  Always remember to store your work.  You can store your settings in the Remote App library and/or directly onto the Firehawk FX.  It just depends on where you want to access what you created.
CONCLUSION
I've had a

n incredible time reviewing this amazing product.  It is extremely flexible when it comes to programming, has so many effects, amps, cabinets, and software driven wiring options that there's no possible way you will ever get bored with tweaking this. It has definitely enhanced and improved my guitar playing.  Having access to the Cloud library makes it that much better.  There are times where I pull down a tone from the Cloud and find features, settings, effects and parameters that I would never have thought about using.  I'm also a big fan about the size, weight, rugged build, back lighting, LCD display, options for connecting, USB interface for recording and nearly everything else this has to offer.  And did I mention that it sounds incredible?  As for value, you have access to tens of thousands of dollars' worth of equipment for less than $450.  Line 6 has made me ponder the necessity of large amps and huge pedals boards with this 21st Century solution.
Confused about what AV Gear to buy or how to set it up? Join our Exclusive Audioholics E-Book Membership Program!
See also:
Recent Forum Posts:
TheWarrior posts on February 25, 2016 21:16
Sounds like a lot of fun!

The review is excellent, but I have used older, similar products in the past and found they have too much simulated tone so that no matter how poor your fingering is, it all sounds the same. Similar to turning the gain up all the way.

My favorite amp of all time is a Hughes and Kettner Puretone. Your fingers shape the sound. Can I reproduce that with this board?
gene posts on February 05, 2016 17:32
Say goodbye to your guitar amp. If you're a traveling musician who is tired of lugging around heavy equipment and spending time setting up pedal boards, then the Line 6 Firehawk FX Multi-Effects Pedal is an ideal affordable solution. It packs 200 amplifiers, speaker cabinets, and effects into a compact, sturdy, color LED backlit, easy-to-use lightweight foot control pedal.

Line 6 has made me ponder the necessity of large amps and huge pedals boards with this 21st Century solution.




Read: Line 6 Firehawk FX Multi Effects Pedal Review to find out why.
Post Reply