Parasound ZoneMaster 4 DAX Four-Zone DAC & Crossover Preview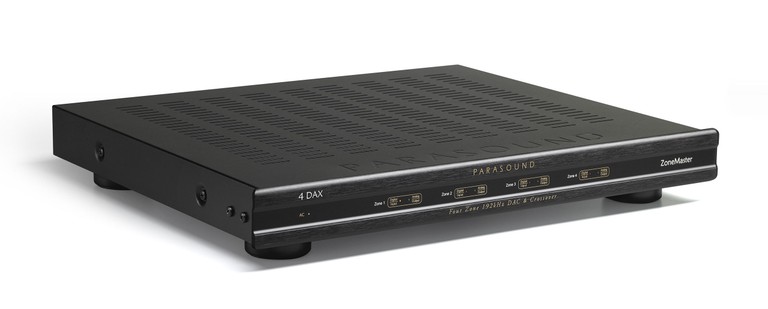 Parasound 4DAX
Summary
Parasound has introduced the ZoneMaster® 4 DAX, the first four-zone DAC with crossovers for the custom installation industry. The 4 DAX was designed in response to custom installers who create multi-zone systems based around the Sonos Connect®, Heos Link®, BlueSound Node® or Google Chromecast™ Audio, and are looking to upgrade their clients' digital sound quality, with unique connectivity for subwoofers, stereo or mono speakers, and system control options. 
The Parasound ZoneMaster 4 DAX is a single chassis unit that achieves superior DAC performance by using four premium 192kHz ESS Sabre DACs, four Parasound-designed analog crossovers with multiple configuration options, and four 12V outputs, each triggered when analog audio is present in that zone.
"This is the industry's first four zone DAC," said Richard Schram, President and Founder of Parasound. "When working with installers using our ZoneMaster multichannel amplifiers, we'd noticed that the popular wireless systems were frequently upgraded with multiple stereo DACs and separate active crossovers for adding in-wall subwoofers.  This complexity and cost has just begged for a multichannel DAC."
The 4 DAX's analog audio outputs include full-range stereo, high-pass stereo, full-range mono, high-pass mono and low-pass mono/subwoofer for each of the four zones. Each zone has optical and coax inputs, level adjustments for left and right channels and 12V outputs for turning on additional equipment such as amplifiers and cooling equipment. Parasound's own ZoneMaster line of multi-zone amplifiers has independent trigger outputs for each zone making them perfect companions to the 4 DAX.    
Previously, installers would have needed four separate DACs and four crossovers, in four separate chassis taking up precious rack space and making integration with subwoofers and bass limited speakers overly complicated.
The Parasound ZoneMaster 4 DAX is available for a $995 MSRP.
About Parasound
Founded in 1981, Parasound Products, Inc., is a privately owned U.S. company that specializes in providing affordable audio components to the critical listener. The company's ever-improving line of audio products has garnered a reputation for performance, value, and reliability, with quality control and customer service that is second to none.

Unless otherwise indicated, this is a preview article for the featured product. A formal review may or may not follow in the future.