Fluance RT85 Reference High Fidelity Vinyl Turntable Review
Fluance RT85 Reference High Fidelity Vinyl Turntable Review
by
Xavier Burgos
—
October 17, 2019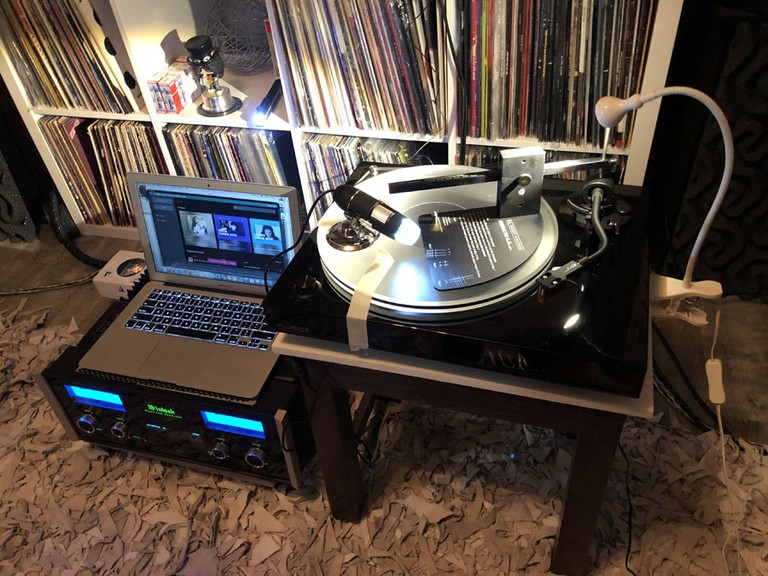 Fluance RT85 Turntable
Product Name: RT85 Reference High Fidelity Vinyl Turntable
Manufacturer: Fluance
Performance Rating:
Value Rating:
Review Date: October 17, 2019 23:00
MSRP: $ 500
Cabinet Material MDF
Finish High Gloss Black Veneer and Walnut

Dust Cover Yes- Tinted
Drive System Belt Drive
Motor Under-mounted 7-point silicone isolation with decoupling isolation

Speed 33 1/3 RPM, 45 RPM
Speed Variation 0.00%
Wow and Flutter 0.07%
Signal to noise ratio 76 db (weighted)
Signal to noise ratio 65 db (unweighted)
Platter Acrylic
Diameter of Platter 12 inches (30cm)
Auto stop yes
Tonearm Type Static Balanced, S type
Supported Cartridge weight 0.12-0.25 oz (3.5-7.5g)
Counterweight yes – 3.95 oz (112g ) Adjustable.
Anti skating adjustment yes adjustable
Cartridge type Moving Magnet (MM)
Cartridge Model Ortofon: 2M Blue
Replacement Stylus 2M Blue
Stylus 0.3 x 0.7 mil
Frequency Response 20-20,000 Hz (+2/-1 db)
Frequency Range 20- 25,000 Hz (-3 db)
Channel separation <1.5 db @ 1 kHz
Connector RCA gold plated
Preamp No- Separate phono preamp required
Phono output 5.5 mv
Dimensions 15.5 x 5.5 x 13.75 inches (419.1 x 137.7 x 349.25 mm)
Unit weight 16.76 lb (7.6 kg)
Pros
High quality features, build quality, ease of set up and usage
Hi-End features punching above its class
Excellent isolation feet
Incredible value including the highly regarded M2 Blue Cartridge by Ortofon
Very Good Ortofon M2 Blue cartridge included, mounted and set up from factory
Cons
Some plastic parts that might get damaged with heavy usage.
Motor dust cover presented some issues of install
Small .01 to .03 fluctuations of variations on speed on the motor from standard 33.3
No platter mat included (options available for purchase)
When Audioholics asked if I would do a full review of the new Fluance RT85 Turntable it was an opportunity I couldn't pass up. Fluance, now celebrating 20 years of service, is not normally in my world of beloved vinyl records and the related paraphernalia that I so truly obsess about daily. As far as the company goes, I was a bit  surprised looking at the specs of the new RT85. Fluance is normally regarded by vinyl aficionados as a mid to entry-level company. With the RT85 it is now jumping into new territories, the right way, by providing consumers with great value along with a product you can be proud of in every way by not braking the bank while exceeding in performance.
Fluance RT85 Turntable YouTube Discussion

Unpacking and Setup

The RT85 arrived at my home and I was more than excited to review this new flagship platform from Fluance. Being familiar with some previous models like the RT81, this good-looking turntable had my expectation high for this new and attractive mid-level turntable.
The 85T was presented in a single box package with plenty of foam and protection for transport around plinth and several cardboard pieces to keep all components from damage. All parts are laid out quite nicely with the instruction manual right at the top of the box for fast easy access. The manual was very easy to understand and follow since the 85T is almost all preset from the factory. The ease of putting the entire turntable together is fast and user-friendly, especially for those that try to challenge themselves by not digging into the manuals unless they get stuck.
I mention this due to a hiccup with the dust cover for the motor (more about this below). I quickly unboxed the unit and all parts as I was excited to put together this great looking turntable for the first time. I was feeling like a kid at Christmas as I carefully put tougher part by part as indicated in the instructions.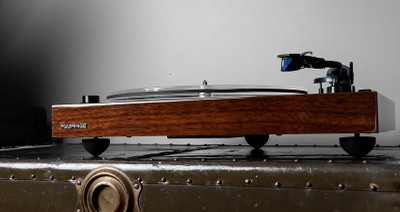 The Fluance RT85 Turntable comes in two finish options (black or mahogany pictured here)

The tone arm was already set up with a very well regarded Ortofon M2 Blue and the platter was sent in its own cardboard box inside a plastic non-static thin bag. I like the way Fluance put the installed cartridge on the headshell and adjusted it to almost perfection. It was a good call to protect the cartridge from damage when unboxing or during shipping. The cover is well constructed out of high-density acrylic but there is no platter mat included. This is not a big issue with me since I like to use my favorite brands of platter mats to my liking and I always recommend at least a cork and rubber mat to be added for protection of your beloved records for better isolation and performance. The setup does include accessories like the cover hinges, 45 disk adapter (plastic) and a few other additional items like RCA cables and two ground cables. It also includes an additional ground cable as a spare or to ground the amplifier to the phone state as I always do to help quite the floor-noise. Finishing of the set was an acrylic lightly smoked dust cover.
Everything is well laid out on and around the foam holders/protectors for the plinth. The belt for the RT85 is already fitted around the platter and can easily be installed around the motor with a simple pull and tuck behind the motor spindle.
Take note to double-check the motor dust cover installation and adjust the belt horizontally even with the groove of the motor spindle. This can be a frustrating process, but if you don't take the time to install it properly the motor will not work.
Listening Tests

For testing turntables and related equipment such as phono stages preamps and step-ups, I try and keep it all as simple and moderately priced as possible. I also like to use as much tried and true and vintage equipment that has stood the test of time.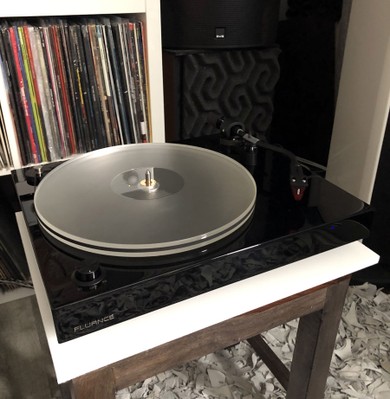 The RT85 is my new "go-to" turntable recommendation...
After full assembly, I began to realize why Fluance chose the Ortofon M2 Blue for this turntable and I quickly emailed a fellow reviewer to make him aware the M2 Blue can shine in the RT85. To take the turntable out of the equation, my friend and I agreed to try several carts just to see how much of a good thing I was noticing.  I quickly pulled out a few of my go-to carts for such an occasion.
I have two rooms for testing. My first room is a dedicated stereo listening room with treatments of diffusion and absorption to cover the main areas of the spectrum: low end, mid-range, and highs. The first cartridge up was an Audio-Techinca, considered a lower model that comes with many turntables, yet it is well regarded. The Audio-Technica cart was clear and good as expected and the RT85 was able to squeeze out more detail than I have herd in other turntables of the same price that come with such a cart.
Next, I went up a notch to a Clear Audio Virtuoso Wood MM cart that was included in my Marantz turntable. I've always found this to be a great cartridge. The difference in sound was quite a step up from the Audio-Technica.
Next, I used an MC cart of the same manufacturer as the one included with the Fluance RT85. The Ortofon Quintent Black S2 MC (a good mid to upper-level cart). This was getting interesting. The details were there with just a portion of the sound recessed with just a little bit of sterility on the lower region. 
The next test was in my 2nd room that is a small home theater room. An integration of Analog "Vinyl" recordings in a room designed for movies. This is the whole reason I wanted to review this good-looking turntable, especially in black color that will blend in perfectly with all my components and give me an amazing analog experience with music as well as the room being a movie cave for my family and me.  The idea was well received by my friends and family that never fit inside my stereo room. Now I have the amazing flexibility of full family enjoyment for all including "The Vinyl" as my son and daughter calls it.
The Fluance RT85 did not disappoint and in fact is a perfect addition for this home theater system. It was exactly what I envisioned after the initial review in my other room. The first connection was via the phono stage onboard my Yamaha 1070 MM.  The test tracks sounded a bit thin, like a veil was placed between my sitting area and the SVS Ultra towers I was using along with three SVS PB 2000s.
I immediately switched to my Graham Slee Era Gold V. That did get that bit of fuzz out of the way.  But when I connected my pair of Kef LS50W and the Rel S/2 the sound went to the next level.
Conclusion
As mentioned, this turntable outperforms contemporary turntables at its price point in features, but it also starts the beginning of a good journey into the audiophile world and respectfully "the audio enthusiast" looking for a starting point to an array of options and performance we all aspire to get to.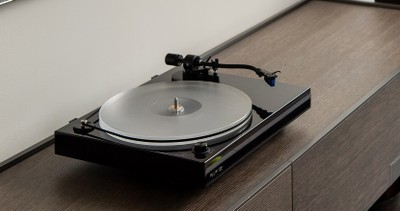 The platform has quite a low noise level and smoothness to the sound with no disregard on naturality of instruments and detail, yet it let the Ortofon M2 Blue do what it does best and extracts just a bit more out of the recording. The Tone S tonearm and combination of low noise kept the mechanics of the turntable out of the way more than expected at this level. The transient response and dynamics are where the meat and potatoes of the analog turntable unicorns we all chase are found.
What's Included:           

RT85W Turntable
Dust Cover + Hinges
Bubble Level
Headshell with Ortofon 2M Blue Cartridge
Counterweight
Acrylic Platter with Belt
100-140 V (50/60Hz) AC Power Adapter
3 ft Ground Wire
45 Adaptor
Motor Pulley Cap
User Manual
Lifetime Customer Support
2 Year Manufacturer's Direct Warranty
The RT85 is my new "go-to" turntable recommendation for the excited music enthusiast that wants to get deeper into the analog journey. It includes all the important features and sound quality to get you going in the right direction, coupled with a lifetime of customer support and a hefty 2-year manufacturer's direct warranty. This is one platform that will give you years of pleasure and enjoyment from the amazing world of vinyl that can now be a part of your home theater room, media room, or even the center of any dedicated system. I would recommend getting a good reputable phono preamp stage that matches the perfect sibling cart Ortofon 2M Blue, which marries the tonearm with full commitment in the good and the bad recordings we all get to play with and love. 
Confused about what AV Gear to buy or how to set it up? Join our Exclusive Audioholics E-Book Membership Program!
See also: