SVS SoundPath Wireless Audio Adapter Allows Audiophiles to Cut the Cord
SVS Soundpath Wireless Adapter
Summary
Kit includes:
One transmitter and one receiver

Two 17-inch 3.5 mm stereo male to stereo male RCA adapter cables

Two 15-inch 3.5 mm to mono male RCA adapter cable
Two USB 5V DC, 1A power adapters
For those of you who want to setup a 5.1 system but just can't run the wires for the surround speakers, SVS may have a solution for you.  SVS does have one of the best engineered wireless subwoofer adapters available so their claims of CD quality sound may not be all that absurd.  Their SoundPath Wireless Audio Adapter will definitely reduce subwoofer cable clutter, but can also be used on a stereo zone of speakers, powered surround sound speakers, and amplifiers, to solve placement issues.
SVS engineered the best performing wireless subwoofer adapter available and then made it better by designing it to pass a pristine and accurate full-range audio signal for the benefit of speaker owners. The SoundPath Wireless Audio Adapter reduces subwoofer cable clutter without sacrificing performance better than any solution available, but it also unlocks wireless connectivity for a stereo zone, powered surround sound speakers and amplifiers, and solves placement and aesthetic issues.
- Gary Yacoubian, SVS President and CEO
Subwoofers
Subwoofers are often the largest component in any audio or home theater system so placement can be a challenge. The SVS SoundPath Wireless Audio Adapter adds wireless connectivity giving you more subwoofer placement options while reducing cable clutter.  Audioholics recommends multiple subs in your home theater, so this product may be a big help in subwoofer placement. We go over the topic of subwoofer placement and configuration in the articles Basic Subwoofer Setup Guide NOT for Dummies, Subwoofer Connection Guide For A Multi Subwoofer System, and Home Theater Multiple Subwoofer Set-Up & Calibration Guide.
Full-Range Wireless Connectivity
SVS claims that the rated frequency response for transmission for their Soundpath Adaptor is 6 Hz to 22,000 Hz +/-1 dB, so the adapter should unlock wireless connectivity for a stereo zone of powered loudspeakers, as well as powered home theater surround sound speakers without compromise. SVS also says that the adaptor is ultra-low latency (<25.5 milliseconds) within the 2.4GHz frequency band.
.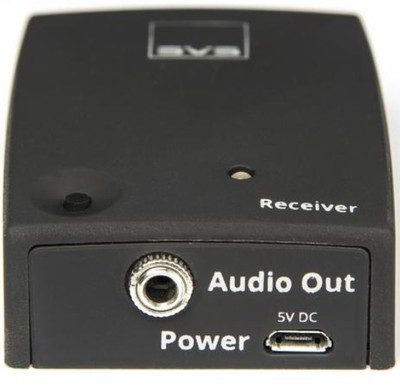 For setup, you simply connect the transmitter to your AV receiver or TV via RCA interconnects. Connect the receiver to a subwoofer, powered speaker or amplifier; pair the two devices, and the SoundPath Wireless Audio Adapter sends an LFE or full range audio signal at 16-bit/48KHz signal up to 65 feet with no cables or wires required. Up to three adapters can be paired to add more speakers or create a multi-room distributed audio system.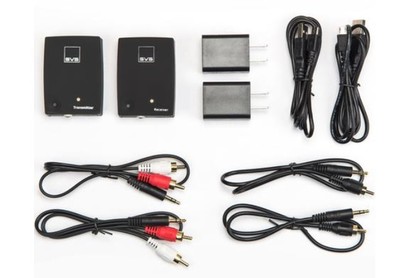 One setup comes with one transmitter and one receiver, so if you want to add a pair of powered surround speakers you would need two setups. You also get two 17-inch 3.5 mm stereo male to stereo male RCA adapter cables and two 15-inch 3.5 mm to mono male RCA adapter cables for connecting powered speakers with 3.5mm inputs.
We've seen our share of wireless adaptors through the years, but like upfiring Atmos speakers, some of them get the job done but we usually only recommend them when you can't use the real thing. Knowing the engineers at SVS though they've probably upped the ante on these wireless adaptors to offer a real uncompromised wireless fullrange audio solution. They are currently shipping for only $90 each.

Unless otherwise indicated, this is a preview article for the featured product. A formal review may or may not follow in the future.