Mass Fidelity Relay Hi-Fi Wireless Receiver Review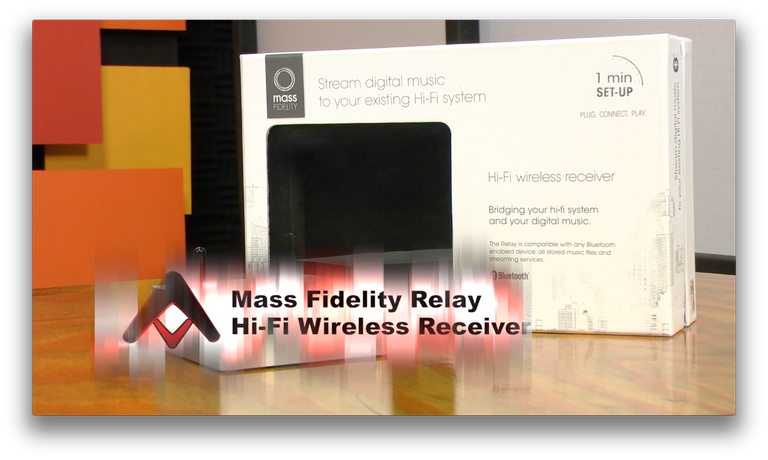 Mass Fidelity Relay Hi-Fi Wireless Receiver
Summary
Input power: 5 VDC, 1A
Output power: 2 Vrms
D/A converter (DAC): Burr Brown 5102
Bluetooth module: aptX enabled CSR module
Bluetooth range: 30 ft (10m)
LED: On (white), Standby (red)
Enclosure: Machined aluminum
Dimensions: 4.6 in x 4 x 1.4 (115mm x 100 x 36)
Weight: 13.4 oz (380g)
Executive Overview
Can you use the words "Bluetooth" and "high-quality audio" in the same sentence? That's what we'll explore today, and that's what Mass Fidelity is going after with their new Relay Hi-Fi Wireless Receiver. This $249 Bluetooth receiver is a very simplistic-looking product. In fact, it's milled out of a solid block of aluminum and it has these really nice rounded corners that makes it look like something Apple's chief designer Jony Ive would approve of. The receiver integrates well with any hi-fi audio system. I mean ANY system. You just connect the stereo analogue outputs on the back to your AV receiver or preamp and you're ready to go. It's nearly foolproof and aside form a power button and the stubby antenna on back there's nothing else to make it confusing or difficult.
Configuration is nearly as easy. You just bring up your portable device and select it in your Bluetooth settings. Ours came up as Relay0039. There's no complex pairing—it just works.
So after you're connected you can then stream ANY audio source that works on your connected device. I used Spotify on my iPhone for example. That's a music service that I have difficulty connecting to some of my other streaming devices like an older Logitech Transporter. With Mass Fidelity's Relay, you can stream the audio from any app to your home theater or two-channel listening rig. In less than 60 seconds I was up and streaming my favorite music from my phone, Spotify, Pandora and more.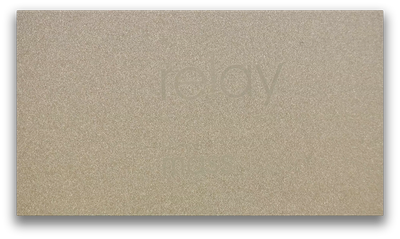 I want to get to listening tests as fast as possible, because that's where this gets interesting, but let me tell you what's under the hood. The Relay streams both AAC and AptX over Bluetooth. It uses a 24-bit Burr-Brown PCM5102 DAC which is designed for AV receivers and Blu-ray players. So, with AptX you can have audio bandwidth that matches CD-quality. You just can't have it on iOS devices, so really you're still trapped there with the standard A2DP stereo Bluetooth transmission. What Mass Fidelity claims to do is leverage the codec, the audio processor and the DAC to minimize artifacts and deliver cleaner sound. It's sort of a lossy lossless technology. Yeah, I don't get it either, so I thought I'd just do what any good reviewer would do—use my ears.
Listening Tests
I listened to quite a bit over this system, sticking primarily to aptX streaming content from my MacBook Pro in order to get the best possible quality. I switched back and forth from the Bluetooth tracks and my lossless files streaming to a Logitech Transporter. This enabled me to really listen for differences between the Bluetooth streams and my original files. The system I was listening on included an XSP-1 processor and pair of Emotiva XPA-1 mono block amplifiers driving my Salk Songtower tower speakers.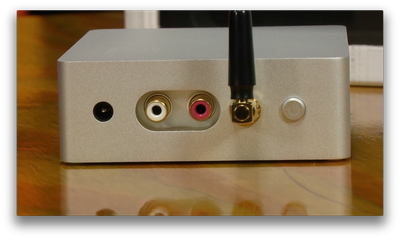 There isn't much on the rear of the Relay, but it has all that you need.
First up was a disc I am enjoy for its room tone and reverberation as well as the dynamic range of the instruments. Jeff Wayne's Musical Version of the War of the Worlds is something I use quite a bit when I want to test stereo imaging as well as the noise floor of a system. There are some very quiet passages, like the opening "The Eve of the War" track, which feature a solitary voice over and some subtle reverb. 

OK, here's where this gets fun—because it really sounded good. I mean the bass seemed pretty even on both the aptX Bluetooth stream and my streaming lossless files. I thought I might have detected a "hint" of the top end frequency response being peeled back on the aptX stream, but it was very subtle and I'm not sure if I trust myself enough to take it further. We're talking 12kHz and higher. Honestly, I played more and more tracks, like "Overjoyed" by Jars of Clay. The vocals matched up perfectly as did the bass and guitar. I have to say, I was somewhat skeptical, but I'd have to tip my hat to the relay. It sounds really good—a fact I especially appreciated when I began to run the same A-B tests, but this time using my iPhone (which does not support aptX). Now, the Relay is smart, so it will drop back in order to stream the sub-band coding of the A2DP Bluetooth stream. But it sounds flat and lifeless compared to the better aptX stream, so keep that in mind. 
Overall, I really like this little aluminum box. It works great and will stream high quality audio over Bluetooth in what sounded, to me at least, like CD-quality audio. Hmmm...truth in advertising. How novel. So the question for this video is this: Do you stream audio to your primary home audio system? If so, how do you do it? Post a comment on this video or over on our Facebook page and let us know. 

Confused about what AV Gear to buy or how to set it up? Join our Exclusive Audioholics E-Book Membership Program!
Recent Forum Posts:
toltech posts on October 16, 2013 09:48
Apt-X is a very good thing but for $99 you can get an Apple TV and send audio (losslessly!) over Airplay. You can also use a program like Airfoil to send audio from your computer to the Apple TV. The ATV has an optical out and can go into any DAC you may have. Of course, the advantage here is for those who don't have Apple devices and don't want to put money down on a DAC/receiver/whatever.

Apt-X seems like a big step forward, approaching the fabled "good enough!" even for those of us seeking high quality. Who knows where we'll be at in five years - well into complete transparency even from our mobile devices, hopefully.
Post Reply