Iogear GW3DHDKIT Wireless 3D Digital Kit Review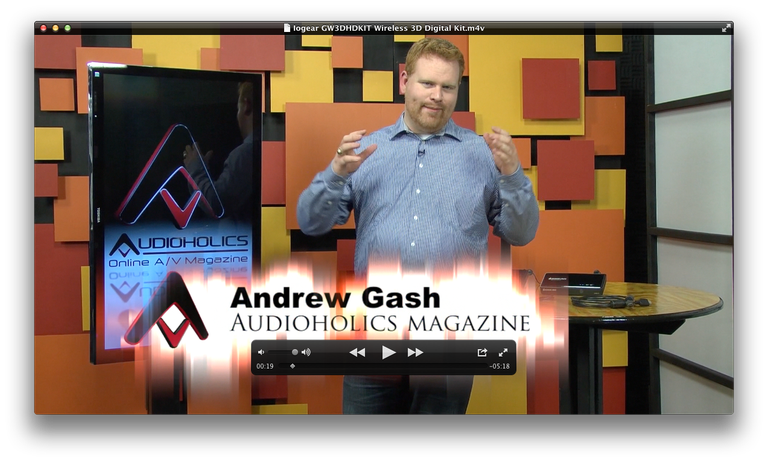 Iogear GW3DHDKIT Wireless 3D Digital Kit
Summary
Wireless HD audio / video streaming up to 100 ft. away through standard home walls
2 HDTV set-up - Share your HD content in a second location at the same time:

Living room HDTV can connect to transmitters loop-through (local) port directly
Bedroom HDTV can receive content from wireless receiver

Connect and transmit wireless video content from your Blu-ray / DVD player and DVR / Cable box turning your HDTV into a wireless TV
Wireless 3D support
Wireless HD in Full 1080p and 5.1 channel digital audio
Video Resolutions: 480p, 720p, 1080i and 1080p (24 / 30 / 60fps)
HDMI Inputs / Outputs :

Transmitter:

2 x HDMI in
1 x HDMI out (loop-through local port)

Receiver

Create the floating HDTV in almost any location such as bedroom, bathroom, family room, living room, den, loft, kitchen or patio
Keep home theater electronic devices neatly out-of-sight
Built-in IR allows the user control over their source devices that are hidden away in a different location
No software or driver installation needed
HDCP Compliant
Based on WHDI Technology - Low latency <1ms
Executive Overview
We've definitely progressed to the point where people are starting to have more than one high definition television. Maybe you bought one a few years ago at a Black Friday sale but now you've come to realize that sitting 12 feet from a 37" screen makes for, let's just say, a... less than impressive experience. So, last Super Bowl Sunday (or maybe just because you found a good deal) you upgraded. But that means you have an "extra" TV. Sure, you can probably get another cable box, but is that going to be enough? Enough when you have a Blu-ray player, DVR, and maybe even a gaming system in your main room?
What if you could send an HDMI signal to your second TV without having to buy a bunch of wires. Or watch HD movies in your bedroom without repurchasing more Blu-ray players or leasing more DVRs? Or, what if you have a new TV but, for whatever reason, you can't run wires to it - maybe because it's on a different wall from your gear, or you're renting. Those are the problems IOGEAR was solving when they released their new Wireless 3D Digital Kit. The kit comes with a 2-input transmitter and a small receiver that can mount underneath or even behind a flat screen TV. Both units require external power and, as of right now, the system is designed so that only one receiver can be connected to a transmitter.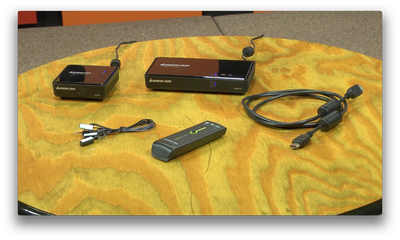 There are a few interesting features of the GW3DHDKIT. To start with, the transmitter has two inputs and a single output. Dual inputs means you can feed the unit two sources, like a DISH DVR and a Blu-ray player. The output, however is unusual on devices like this. It means you can also output a signal to your local television. So, really, you can continue to use a local TV while you also transmit signal to a remote display. If you have an A/V receiver, you can send it's HDMI output to one of the inputs of the Wireless 3D Digital Kit. That way you can utilize all the extra inputs of your receiver and make the system even more flexible.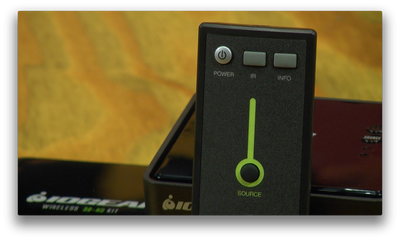 There is a reason this device is called the iogear gw-THREEDEE-hdkit. It is the only product on the market we are aware of that supports wireless 1080p 3D video as well as 5.1 audio. It also uses WHDI technology, which is uses the 5GHz band and differs from the newer 60GHz WirelessHD or WiMax formats. The advantage is that it can penetrate more obstacles, though it doesn't operate at the highest speeds. The 5GHz frequency range also isn't as congested as the prolific 2.4GHz band that dominates our microwaves and wireless networks. It seemed to do really well and claims (theoretically, at least) to be able to operate at distances up to 100 feet. We tested it by setting up the transmitter in a living room and then placing the receiver in an adjoining room behind two layers of plaster and lathe about 40 feet away. We sent it 1080p 2D content with stereo audio, and, well, the results were less than stellar. It took a long time to sync and when it did, we got tons of pixellation and audio dropouts. I can say we were surprised. Wireless is still wireless, and the house we were testing in was more than a little challenging. Moving the system to a different room, we transmitted the same distance but through standard uninsulated drywall. The results were much improved and we can say that with this type of setup, the system indeed works, though it's subject to dropouts when you walk by or otherwise obstruct the transmission. In testing it with line-of sight applications and for sending signal from a table to a wall-mounted TV, the system was flawless.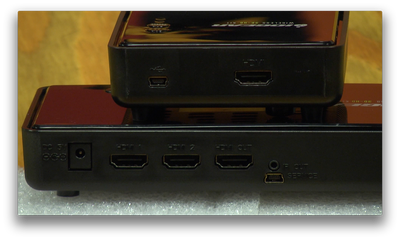 The GW3DHDKIT also has a nice feature controlling your gear remotely. The transmitter which sits near your gear comes with a triple IR emitter, so that it can talk to your equipment. The receiver, which might be located under a TV in an adjoining room, has a built-in IR receiver. So you can take your remotes with you and control your gear from the other room. Very cool. About the only suggestion we'd have for IOGEAR is that they think about a product that allows for multiple receivers. Imagine this technology in a whole-home video application? Still, at just under $200 retail, the IOGEAR Wireless 3D Digital Kit is both affordable and fully featured enough to appeal to just about anybody.
So our question for this week has to do with wireless technology: What are you most excited about – wireless audio for home theater or wireless HD video? We want to know. And while you're giving us your answer in the comments at YouTube, subscribe to our channel. You can also Like us at Facebook.com/audioholics and follow us on Twitter @AudioholicsLive.

Unless otherwise indicated, this is a preview article for the featured product. A formal review may or may not follow in the future.
Confused about what AV Gear to buy or how to set it up? Join our Exclusive Audioholics E-Book Membership Program!
Recent Forum Posts: