iFi Audio's Latest Audiophile DACs Cram in the Features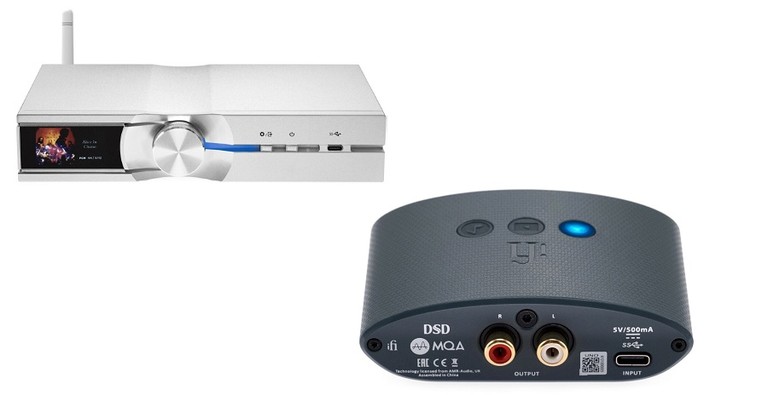 iFi Gadgets
Summary
Executive Overview
Most of my personal experience with iFi products has been with the company's affordable Zen series. My girlfriend used a Zen Blue bluetooth DAC (the current version of which sells for $189) with her Audioengine speakers for a couple of years. The little DAC was among the best-sounding bluetooth devices I have heard, but suffered from occasional skips and dropouts when used with Apple products. It reminded me of listening to my first Discman on the school bus. I'm told that the current V2 version uses a more powerful antenna and therefore offers improved bluetooth reception. My stepdad uses iFi's Zen DAC (the current version of which costs $199) in his simple desktop rig. It's connected to his laptop via USB, and functions as both DAC and volume control for his Emotiva powered speakers. That little DAC sounds amazing, works perfectly, and is one of the most easily recommendable audio products I can think of. In early 2022, iFi introduced an even more affordable line of products called Zen Air. These products feature the same compact form factor as the regular Zen series, but with simplified electronics inside, and plastic casework instead of metal. The Zen Air DAC doesn't offer the balanced output of the original Zen DAC and Zen DAC V2, but it sells for just $99. Most audio companies would be content with a $99 entry-level product, but the folks at iFi have now undercut themselves with the even cheaper iFi Audio Uno, which the company describes as a "first-rung audio upgrade – a DAC/headphone amp for people who may not know what a DAC is, but know they want better sound quality when they listen to music, stream movies and TV shows, play games, and enjoy other forms of audio and AV content, from podcasts to YouTube." It sells for just $79. Of course, iFi also makes more expensive gear for audiophiles who are farther along on their audio journeys. The newest arrival is a high-performance music streamer and DAC called the Neo Stream ($1299). But first, let's take a closer look at the Uno.
iFi Audio Uno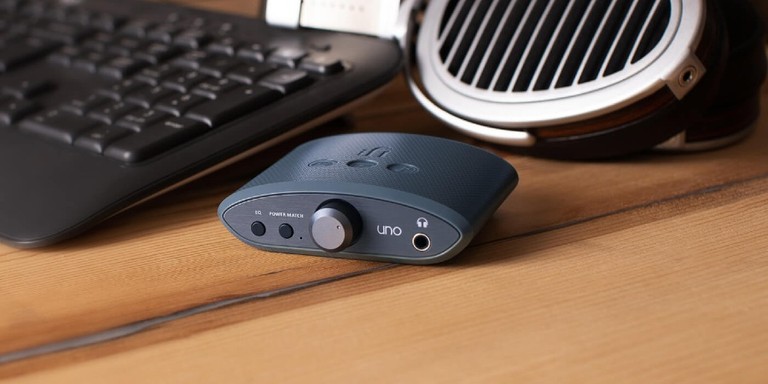 Even smaller than the Zen products, the Uno is about 3.5 inches wide, 1 inch tall, and a little over 3 inches deep. Its shape is similar to that of the Zen products, and its curved case is made from "tough, mineral-filled polymer" finished in what iFi calls Air Force Blue. The aluminum front plate features a headphone jack and volume control, while the back panel has a USB-C input for connecting the source device (PC, Mac, or compatible smartphone/tablet) and RCA outputs for connecting to powered speakers or perhaps an integrated amp. Inside, the Uno uses a power-efficient, high-performance DAC chip from ESS Technology's Sabre HiFi series — the ES9219MQ/Q. This chip uses ESS's Quad DAC+ and Time Domain Jitter Eliminator technologies, along with the company's HyperStream III architecture. iFi adds its own dedicated clock circuitry utilizing a specialized crystal oscillator, delivering "ultra-low distortion, excellent clarity, and impressive dynamic range," and a "bigger, bolder, more detailed sound, elevating your digital entertainment experience to a thrilling new level," according to the company.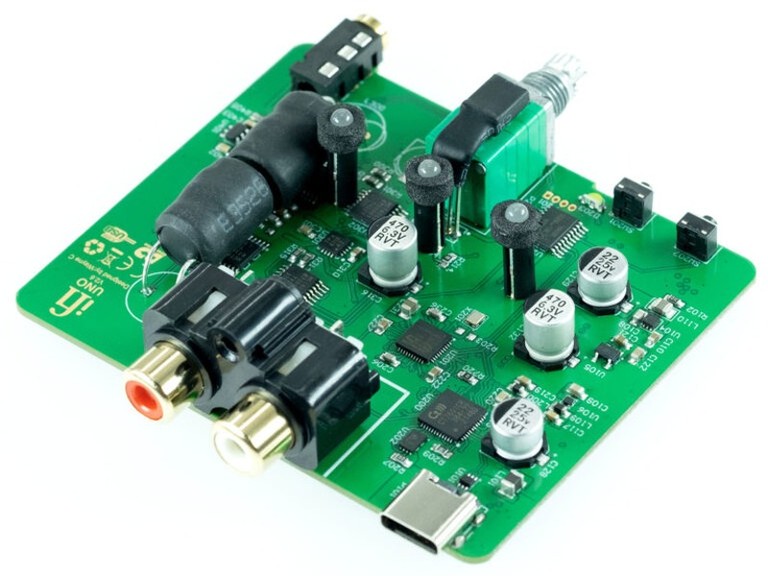 The use of such a capable DAC chip from ESS allows iFi to offer a number of advanced features, including adjustable analogue gain with DRE (Dynamic Range Enhancement), and a choice of digital filters, accessible via the front-panel buttons. Since the ES9219MQ/Q chip has integrated MQA rendering, Tidal subscribers can take advantage of MQA streaming if desired. Of course, the Uno also handles PCM audio data up to 32-bit/384kHz, and DSD up to 11.2MHz (DSD256). Behind the volume control there is an illuminated ring that changes color to indicate the format and sample rate of the incoming digital signal. That volume control reportedly delivers "high-quality analogue adjustment in the DAC itself rather than relying on the software-driven volume controls in connected digital devices." The headphone amp delivers 211mW into 32 ohms, and 3.5V into 600 ohms, ensuring compatibility with a wide range of headphones and earphones. The PowerMatch feature is basically a gain switch — the low setting is perfect for sensitive in-ear monitors, while the high setting increases gain by 6dB for current-hungry planar headphones, for example. Either way, the amp incorporates iFi's proprietary "S-Balanced" technology, which promises reduced noise and crosstalk. Another proprietary circuit provides three custom EQ curves for music, movies, and games, respectively. This is analogue EQ, not DSP, so you don't sacrifice resolution when adjusting the frequency balance. Music mode is the default curve, while Movie mode enhances dialogue, and Game mode "makes low-level sound effects crystal-clear, so you always hear your enemies coming."  Illuminated logos on top of the Uno indicate which mode is in use.
Despite its super-low price, the Uno uses "discrete, high-grade components," including TDK C0G multilayer ceramic capacitors, and inductors from Taiyo Yuden and Murata. iFi says that these devices offer class-leading qualities such as low ESR (Equivalent Series Resistance) and high linearity, which cheaper alternatives just can't match. The result is "great sound for everyone," according to iFi. The Uno is available now.
iFi Audio Neo Stream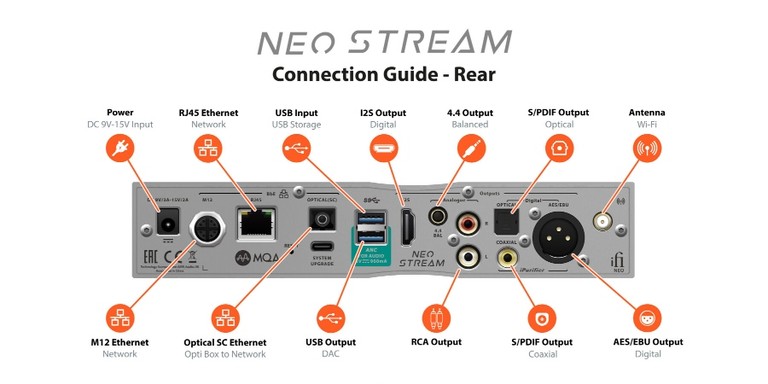 iFi's Neo series sits just beneath the company's flagship Pro series. The first Neo device was the NEO iDSD ($799), a USB DAC/preamp with Bluetooth, but no streaming smarts. iFi's $399 Zen Stream is a popular and great-sounding streaming audio transport from the Zen series. It has no DAC inside — just digital outputs. If you were to combine these two products, bump up the performance all around, and add several new and unique features, you might have something resembling the new addition to the Neo series, the $1299 NEO Stream. But iFi says that the Neo Stream isn't simply "a NEO iDSD with a streaming module added and the headphone amp removed." Instead, it's a clean-sheet design with "internal architecture and attendant attributes… unlike anything else on the market." The Neo Stream is unusually agnostic when it comes to control. Unlike the "walled garden" streaming systems offered by some competitors, the Neo Stream can work with whatever control app or music platform the user prefers. The Stream uses open-source architecture built on a powerful quad-core ARM Cortex processor and Linux-based operating system, so it should be able to adapt and evolve as requirements change. iFi also developed its own streaming engine with the sole purpose of high-quality audio streaming. According to iFi, "Everything is fully optimized for seamless operation and excellent sonic performance… from the device drivers, to the kernel (the heart of the operating system), to the shell (which interfaces with the kernel), to the applications and the user interface." The NEO Stream has Roon Ready certification, so it should work flawlessly as a Roon endpoint, but it can also be used via any DLNA/UPnP-compatible streaming app, or with Spotify Connect, Tidal Connect, or Apple Airplay. It also supports NAA (Network Audio Adapter) operation, allowing it to work with Sygnalist HQPlayer software – chosen by some streaming enthusiasts for its unique upsampling features.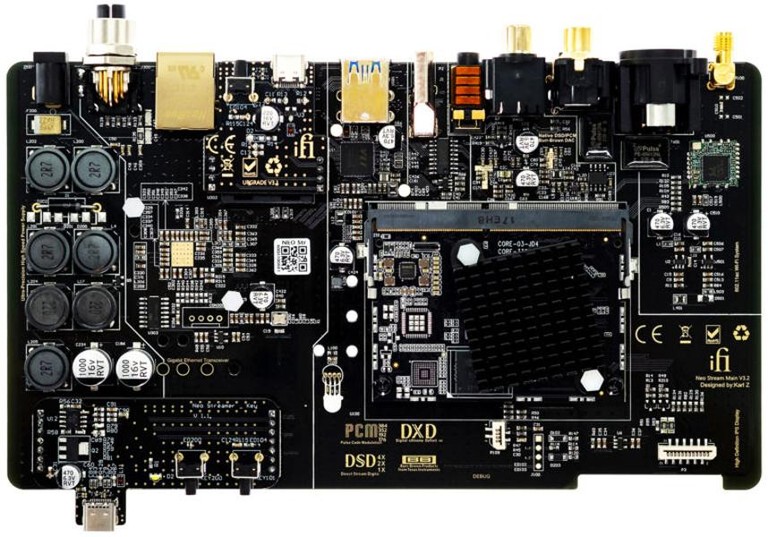 Users can take advantage of the Neo Stream's built-in DAC, with state-of-the-art hi-res audio support including PCM data up to 32-bit/768kHz, all levels of DSD up to DSD512, single- and double-speed DXD, and full "three unfold" decoding of MQA. The DAC offers a true-differential balanced analogue output stage. The DAC stage is based around a four-channel Burr-Brown chipset that iFi uses in many of its high-end products, paired with a 16-core XMOS micro-controller, programmed by iFi's software team to optimize sound quality. PCM and DSD take separate pathways and remain bit-perfect in their direct-native form, according to iFi. If an external DAC is to be employed, the Neo Stream can be used as a streaming transport, with digital outputs including I2S via HDMI, USB, optical, coaxial, and AES/EBU. On the input side of things, the Neo Stream has something pretty unusual. Like most streamers, it has Wi-Fi and ethernet, but it also has something called optical LAN. I have seen similar tech sold as a third-party tweak for eliminating noise on ethernet lines, but I have never seen it as an integral part of a streaming DAC. iFi is said to have developed the optical LAN system in-house. Here's how it works: an OptiBox transceiver (included) connects to the router via an ordinary ethernet cable, and to the NEO Stream via a special optical cable (also included). The OptiBox transceiver converts the signal into light, sending it along the optical cable where no electrical noise can possibly follow. iFi says that this system delivers "the highest quality digital audio connection possible between the router and the streamer, enabling ultra-fast data speeds of up to 10Gbps and bit-perfect transmission of ultra-resolution audio, with minimal degradation across distances of up to 1km." The OptiBox doesn't just provide true galvanic isolation with zero parasitic capacitance and inductance; the LAN signal is also "regenerated, re-clocked, and rebalanced." Other inputs and outputs also benefit from iFi's noise-fighting technologies, including ANC II active noise cancellation on the USB ports and iPurifier technology on the S/PDIF outputs. The company's femto-precision GMT (Global Master Timing) clock circuitry regulates the digital signal to eradicate jitter. Even the display has been designed to generate no electrical noise. All of this effort to fight distortion leads to "more clarity and texture, and a more dynamic and engaging performance," according to iFi.
Whether you're a seasoned audiophile with a costly rig, or a total newbie looking to make your first-ever audio purchase, iFi's latest products seem to offer a compelling combination of features and value. It's hard to believe that the company can make any profit at all on the $79 Uno, especially in the wake of recent surges in inflation. The Neo Stream offers high-end customers a more advanced alternative to the popular Zen Stream, with a built-in upgrade path for users who might start out taking advantage of the built-in DAC, only to purchase a separate DAC down the road.

Unless otherwise indicated, this is a preview article for the featured product. A formal review may or may not follow in the future.
Confused about what AV Gear to buy or how to set it up? Join our Exclusive Audioholics E-Book Membership Program!