The OREI HDA-939 HDMI Audio Extractor is No One-Trick Pony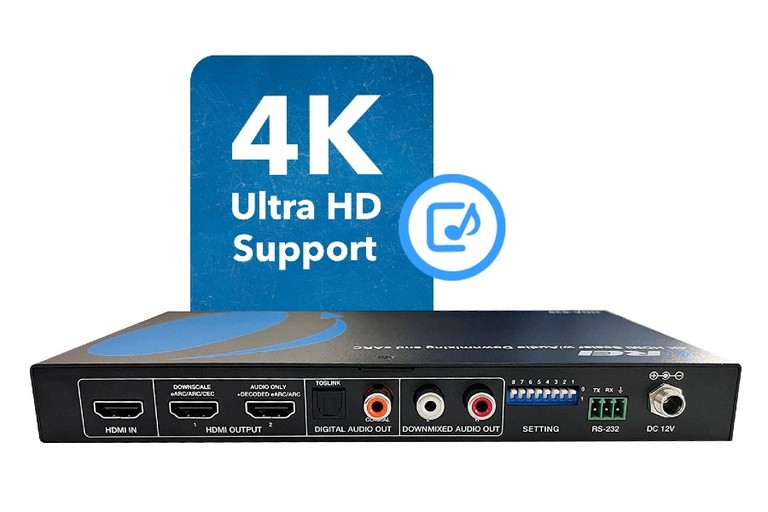 OREI HDA-939
Summary
Product Name:

HDA-939

Manufacturer:

OREI

Review Date:

March 06, 2023 00:00

MSRP: $199
First Impression:

Pretty Cool
Executive Overview
The OREI HDA-939 is a nifty little device that could be useful to the AV enthusiast in countless ways. The branding on its small chassis (1" high by 8.4" wide by 4.6" deep) informs us that this $199 gadget is a 4K HDMI Scaler with audio down-mixing and eARC. The manufacturer's website describes the OREI HDA-939 as an eARC Audio Extractor. In reality, what it would do in your system depends upon what you need, because the OREI HDA-939 is surprisingly flexible and can pull off a number of useful tricks. The front panel, with its variety of indicator lights and a single button for selecting an audio input, gives away very little. The Dolby and DTS logos only hint at potentially useful codec support. But around back, the business end of the OREI HDA-939 makes things clearer. There's a single HDMI input, two HDMI outputs, a coaxial digital output (RCA), an optical digital output (Toslink), and an analog stereo output (RCA). An RS-232 control port rounds out the connectivity, but there are also 8 DIP switches which can be used to control the various functions: video downscaling, audio down-mixing, ARC/eARC functionality, HDMI audio embedding, and EDID management. (EDID, or Extended Display Identification, is an industry standard for AV source and display devices which automatically communicates manufacturer specification and data between devices. This allows your AV source to send the best compatible signal data to your display, TV, or projector, to ensure the best possible results.) If all 8 DIP switches are in the "off" position, the whole system can be controlled by API commands.
OREI HDA-939 HDMI Audio Extractor Review
What Does the OREI HDA-939 Do?
The HDA-939 is an audio and video processor. You send an HDMI signal into it, and it can extract HDMI audio, sending it out via a dedicated HDMI audio output. The video is sent out via the other HDMI output. The audio signal can be left intact — Dolby Atmos can be passed along to an Atmos-capable AV receiver, for example — but some users will take advantage of the HDA-939's ability to decode Dolby Digital, Dolby Digital Plus, Dolby TrueHD, DTS, and DTS-HD Master Audio. Any of the above (except Atmos) can then be down-mixed to stereo (2-channel LPCM) before being sent out digitally via HDMI, coax, or optical. If the user requires an analog signal, the built-in DAC can be called into action, and the stereo audio will be sent out via the unit's RCA outputs. This down-mixing functionality can also be used to process (via Sound Channel Superposition) LPCM up to 7.1-channels, and up to 24bit/192KHz. The video portion of the signal can be passed along unaltered (up to 4K 60Hz with HDR, including Dolby Vision), or it too can be downscaled to adapt to different display devices. The ARC/eARC extraction function takes the ARC/eARC audio signal "returned" from a TV and sends it out via the HDMI 2 port, allowing older HDMI-equipped AV receivers to work with newer TVs. Audio from ARC/eARC can also be processed and sent out via the unit's other digital and analog audio ports. If you only need audio extraction (and video is not needed) the HDA-939 can function without any HDMI receiver devices — only the HDMI input signal is required for the digital and analog outputs to function.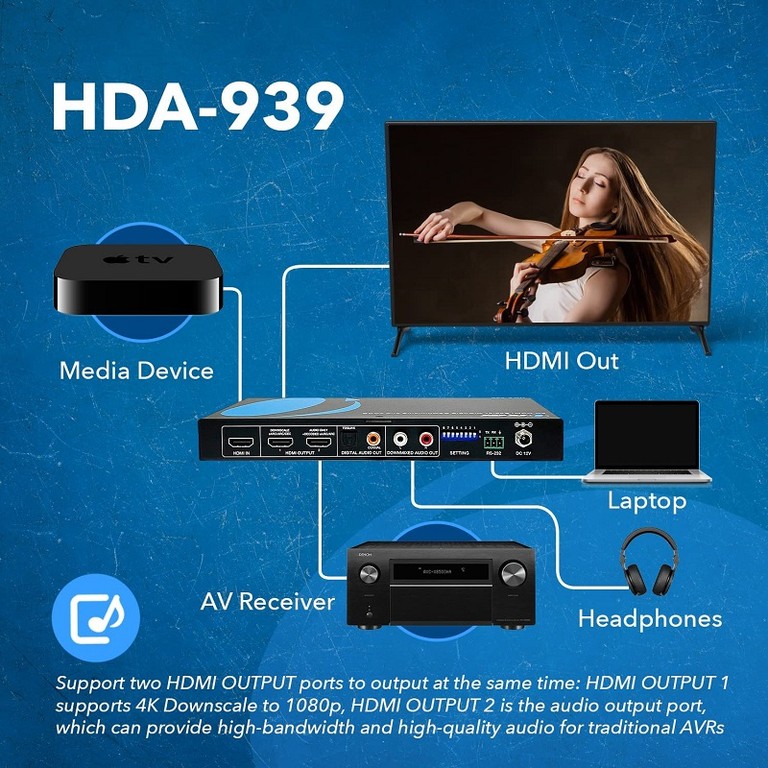 The DIP switches on the back allow the user to customize the functionality of the HDA-939. For example, a 4K 60Hz 4:4:4 video signal from the unit's HDMI input can bypass all processing and be sent to a downstream display unchanged, or it can be downscaled to 1080p for use with older display tech. A Dolby or DTS bitstream can be passed along via HDMI to an AV receiver or processor, or it can be decoded inside the HDA-939 and sent out as a stereo signal. The unit can output audio via HDMI, coax, Toslink, and analog RCAs all at the same time. OREI says that the device outputs "high-bandwidth and high-quality audio" for traditional AVRs, but the analog stereo output allows any device with an aux input to play back the audio from an HDMI source. LED indicators on the front panel indicate power, status, and audio formats. For example, an LED lights up when an eARC signal from a TV is detected. Output audio can be controlled through API commands, including commands to increase or decrease volume, and commands for mute and unmute. The HDA-939 complies with HDCP 2.2/1.4, and will automatically use the correct version to correspond with the selected HDMI output resolution. If sending out a 4K signal, HDR10, HLG, and Dolby Vision are supported.
Real-World Uses
It would be impossible to describe every potential use-case for the HDA-939, but here are two that apply directly to my needs. Last summer, my mom and step-dad pounced on an Amazon Prime Day deal to snatch up a 65-inch Sony OLED TV. (My girlfriend and I got one, too. We're loving it.) At my mom's house, the new Sony replaced a Samsung plasma from 2007. The AV receiver is of a similar vintage, so it can't pass the 4K HDR signals from the recently-upgraded Roku Ultra they use to stream content. Of course, the Sony has its own streaming apps built in, but the user interface and content selection are nowhere near as good as Roku's. Before, they had an HDMI cable coming out of the Roku into the AVR, and another HDMI cable going from the AVR to the TV. Now, however, the Roku would need to be plugged directly into the TV because the receiver's video-passing capabilities aren't up to snuff. How did we get the audio from the Roku to play through the AVR? My stepdad asked for the cheapest possible solution, so we ordered a 6-foot optical cable from Blue Jeans Cable. A few days and 16 dollars later, we connected the TV's optical output to the AVR's optical input, and we had sound. But this solution, though inexpensive, is far from ideal. The Dolby Digital audio carried by the optical cable sounds OK, but the Roku is capable of outputting Dolby Digital Plus over HDMI, which should sound better. The receiver's optical input is also finicky. If we had the OREI HDA-939, we could split the HDMI signal coming from the Roku into a 4K HDR video signal for the TV, and a dedicated HDMI audio signal for the receiver, resulting in better audio performance. Let's complicate things a little further. What if I brought over a 4K Blu-ray player and wanted to take advantage of the lossless Dolby TrueHD or DTS-HD Master Audio soundtracks? Again, the player can't be plugged directly into the AVR because of the latter's limited video capabilities. The new TV has HDMI eARC, but the receiver — from 2007, lest we forget — was made before the advent of ARC, let alone eARC. In this situation, both the 4K Blu-ray player and the Roku Ultra could be connected directly to the TV via HDMI. Then the TV's eARC HDMI port would send audio from either source to the HDA-939. The HDA-939 would extract the eARC audio, and send it losslessly to the receiver's HDMI input. This solution would allow my mom and stepdad to enjoy the best audio and video performance possible with their current gear.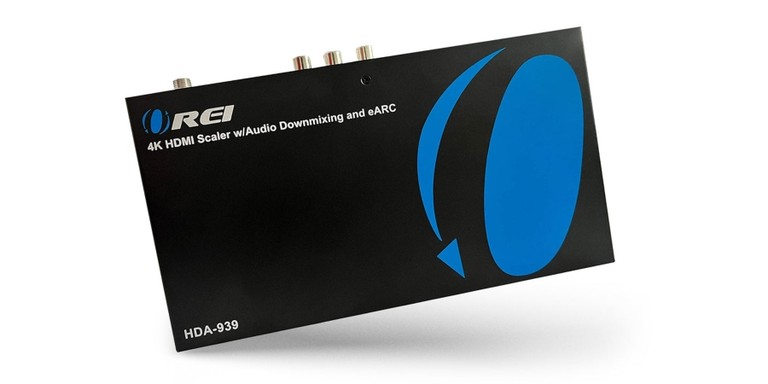 Here's example number two. My girlfriend, Hannah, has a small home office in her apartment's spare bedroom. It's not much, but it's a useful space to have. It consists of a desk, a 32-inch 4K monitor, and a pair of active speakers. When I want to do music production I just plug my laptop into the monitor and insert an audio interface between the computer and the speakers. Hannah uses the space mostly for email, online shopping, and writing recipes. When we have guests staying over, the office setup becomes a waste of space. Hannah's mom no longer travels with a laptop, now that she's retired. She also wakes up at 5am every morning, and often has some time to kill before anyone else is up. If we had an HDA-939 handy, I would plug a Roku stick into the OREI, and connect its HDMI video output to the 32-inch monitor. The analog stereo outputs on the HDA-939 would plug into the powered speakers, and suddenly the space-wasting home office would become a surprisingly good entertainment spot for guests. You can even see the monitor from the bed.
What We Think
Of course, these are just two potential ways to use the HDA-939. Shane Lee recently reviewed the OREI on the Audioholics YouTube channel, and he tested other scenarios, including connecting an Apple TV 4K to a video-only display, while using the HDA-939 to extract the Dolby Atmos audio and send it to an Atmos-ready AVR. Shane found the OREI to be capable and useful, but there are a few caveats to keep in mind if you're considering purchasing an HDA-939. Although the device can decode Dolby Digital, Dolby Digital Plus, Dolby TrueHD, DTS, and DTS-HD Master Audio signals and down-mix them to stereo, it cannot down-mix Dolby Atmos signals. And though it can send HDMI audio to a regular HDMI input on an AVR, it does not work with soundbars that have only an HDMI ARC/eARC input, such as the Sonos ARC, the Sonos Beam Gen 2, and the Bose Soundbar 900. Finally, it's an HDMI 2.0 device, not HDMI 2.1, so video bandwidth is limited to 18Gbps, and it doesn't support 8K 60Hz or 4K 120 Hz video. Unless you're a serious gamer, these HDMI limitations won't be a deal-breaker. For many enthusiasts, myself included, the OREI HDA-939 would be a handy addition to the AV arsenal. And in some situations, it could be a critical component of a successful install. Have you ever run into an AV setup conundrum that could be solved by the HDA-939? Share your thoughts in the related forum thread below. 
For more information: OREI HDA-939

We would like to thank OREI for sponsoring this article and Youtube video.

Unless otherwise indicated, this is a preview article for the featured product. A formal review may or may not follow in the future.
Confused about what AV Gear to buy or how to set it up? Join our Exclusive Audioholics E-Book Membership Program!