Shielded Audio Cables Offer Quality without Snake Oil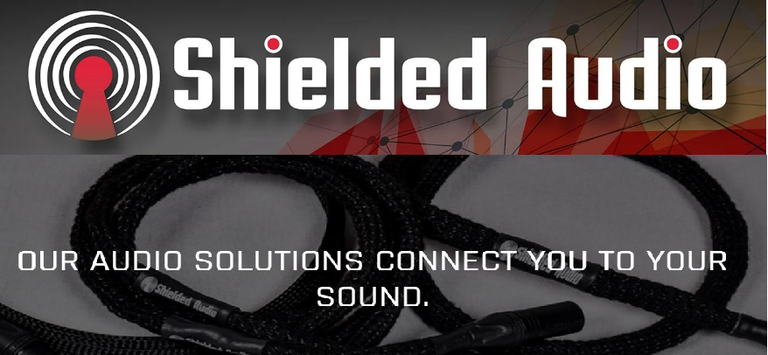 Shielded Audio
Summary
Velocity Speaker Cable

Wire gauge 12
Shielding type Braided Copper
Connectors Nude, Spades, or Bananas
Wire type Stranded OFHC Copper
Insulation Materials PVC
Braid TechFlex
Vector Speaker Cable
Wire gauge 12
Shielding type Braided Copper
Connectors Nude, Spades, or Bananas
Wire type Solid Core OFHC Copper
Insulation Materials PVC, Cotton
Braid Noise Reduction Flexo
Executive Overview
For a company that prides itself on debunking speaker cable myths, we rarely review speaker cables anymore. Legitimate speaker cable companies will publish their measurements and with all things being equal if the science is there, we'll tell you which cable manufacturers we recommend to our readers. We've done articles about cable synergy, debunking the myth of speaker cable resonance, and the difference between long vs short speaker cables.  It's a scarcity that we would look at a cable company like Shielded Audio.
It's rare that Audioholics reviews high end speaker cables as most are snake oil. We welcome legit snake oil free products from this brand.
—Gene DellaSala, President - Audioholics
Shielded Audio is a family run business begun from frustrations experienced in telecommunication interruptions and technological interference when playing and listening to music. After reaching out to audio engineers and music professionals to identify points of vulnerability when creating high performing sound, they designed their own high performing cables with braided copper shielding composed of industry leading materials. Shielded Audio says these cables are critical, fundamental components to producing a reliable, high-quality sound.
Our company strives to provide innovative, custom, and affordable audio solutions to enhance the playing and listening experience through high quality, shielded cables. We aim to serve the performance needs and quality standards of audiophiles, musicians, and audio engineers. Our cables connect you to your sound with power to enhance the performance of your system.
—Shielded Audio

Shielded Audio covers cables ranging from instruments, power, RCA, XLR, and of course, speaker cables. They currently have two lines of speaker cables, their standard Velocity and upgraded Vector.
The Velocity line is composed of 12 AWG OFHC pure copper Speaker 2 cable and offers an affordable, shielded solution for systems up to 250 watts that is designed to be low resistance and low capacitance. The velocity speaker cable line ranges from $45 for a 3' nude end to $210 for a 20' nude end. For 3' & 4' speaker cables, add $20 for banana and spade connectors and for 5'–20' speaker cables add $10 for banana and spade connectors.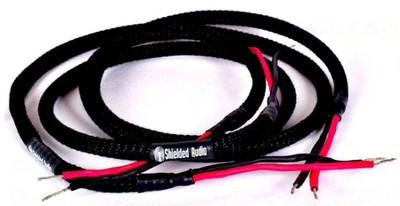 Shielded Audio designed their top of the line Vector cables with handcrafted 12 AWG solid core OFHC copper and braided copper shielding. The Vector line ranges from $185 for a 3' nude end to $445 for a 20' nude end. For the 3' cable add $15 for banana and spade connectors and for 4' to 20' cables add $5 for banana and spade connectors. The necessity for shielding speaker cables is debatable since in most cases terminated speaker cables  (connected to your speaker) typically do not exhibit RFI/EMI issues. However, there is NOTHING inherently wrong with offering shielded as an option for speaker cables.
Elite systems need elite cables. Our Vector Speaker cables are designed for superior performance with minimal resistance, and capacitance.
—Shielded Audio
The biggest difference in the two lines of speaker cables is that the Velocity cables are stranded while the Vector line is litz solid core (individually insulated).
The advantage of Litz is that each individual conductor is insulated to help reduce skin effect and thus maintain a more linear AC resistance profile well beyond the audio band (> 20kHz). This is something I will be measuring in the near future.

—Gene DellaSala, President - Audioholics
To see other important aspects of speaker cables and the importance of build quality, read our article: What matters most about speaker cables.
We are happy to report the Shielded Audio website is snake oil free. There are no fictitious claims that violate the first law of thermodynamics which gives us confidence in recommending to check out this brand if you're looking for interconnect or speaker cables.
To show how confident Shielded Audio is in their products, they are offering a 15% discount for Audioholic's readers by entering AHR15 in the checkout area. For more information on their products, visit shieldedaudio.com

See also:
Confused about what AV Gear to buy or how to set it up? Join our Exclusive Audioholics E-Book Membership Program!