THX Launches Onyx, Portable MQA-DAC/AAA-Headphone Amp Review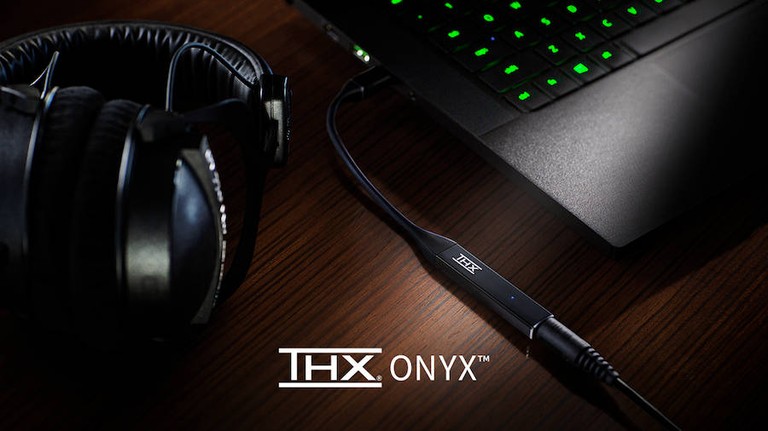 THX Onyx USB-DAC/Amp w/ AAA & MQA Rendering
Summary
THX Onyx Specifications

Input Type: Sound Quality (THD+N, 1 kHz)
Output Type: 3.5-mm Analog Jack
Headphone Impedance Range: 22-1000-Ohms
Sound Quality (THD+N, 1 kHz): -110 dB
Dynamic Range: 118 dB
Output Power (Per ch, 22-Ohms, <1% THD): 180 mW
MQA Playback: Yes
Headset Mic Support: Yes (Mac, PC, Android), no mic on iPhone/iPad
Microphone Noise: -98 dB
USB & DAC Config: ESS ES9281Pro
Amp Config: THX AAA-78
Compatible Platforms: Android, iOS, Windows 10, and Mac. Lightning to USB-C Camera Adapter (slim) not included.
Accessories: USB-A Male to USB-C Female Adapter


Executive Overview
Someday soon, we'll put COVID-19 behind us as restaurants, bars and cafes slowly reopen letting some normalcy back into our lives. When that time comes, those of us who like to quietly sip coffee while working on a laptop at a local coffee house will be able resume work in public spaces, and that's when we'll want to listen to music on our headphones. But the sound you get from most device's built-in headphone jack is notoriously poor. Your phone's 3.5-mm jack may be fine for the stock earbuds that came with your device, but once you upgrade to better quality headphones or IEMs you'll also want to upgrade what you plug them into. To get the best sound possible, you'll want to feed your headphones more power and a better DAC than you'll get from the average computing device. When it comes to the specifications of the average phone, headphone amplification and DAC implementation tend to live way down the priority list.
For years, the USB dongle DAC/amp has been a popular form-factor for portable hi-fi audio. A small, external device attached to your laptop's USB A port or USB C output on a phone happens to be the perfect place for your device's sound quality upgrade. USB gives it access to power while providing a digital audio signal and it works outside the computing device itself where electrical noise can compromise an analog audio signal. This is where THX Onyx comes in with the intention of taking its place as a premium portable audio solution.
THX's first-ever product is a new high-powered USB-dongle headphone DAC/Amp that promises "best in class" performance. In Onyx, THX has entered a competitive market and is gunning for top spot among heavyweights like Audioquest's Dragonfly Cobalt.
THX Onyx AAA Amplification
Although Onyx is THX's first consumer product, the company has been involved in audio research for many years and one of its developments has been a new amplifier topology it calls Achromatic Audio Amplifier (AAA). As the name suggests, the goal is a thoroughly colorless amplification of your audio signal.
The triple-A amp has already appeared in audio products by other companies, including the AHB2, a power amplifier by Benchmark and a popular consumer-grade headphone amplifier made by Drop (formerly Massdrop). The Benchmark AHB2 is a full-range, two-channel amp intended for both home and professional use that's garnered attention for its low-heat and low-distortion output using THX AAA's feed-forward error correction. The Drop THX/789 Linear Amplifier is a desktop headphone amp that has been praised for its solid linearity using a smaller version of the same amplifier technology. In Onyx, THX has miniaturized the same amplifier technology to produce the efficient AAA-78 amplifier, so you can attach it to your phone for mobile use, or attach to any computer's USB port. Onyx may be the musical companion we need once we can resume working at coffee shops.
USB Dongle Form-Factor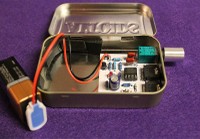 I was first introduced to portable headphone amplifiers in the early 2000s, when the iPod was already the next big thing. In those days the height of headphone-geek fashion was carrying around a homemade Cmoy headphone amplifier, built into an Altoids mint can. It was a DIY project that involved following a recipe online that required only minimal tech know-how. You got best results when you connected the finished Cmoy amp to your iPod through a spliced docking cable to get the unamplified output of the original iPod's DAC. In those days, before aftermarket Apple-compatible cables hit the market, they were expensive and modifying one was a task only for the committed. But in the end it sounded great for the time. It wasn't long before phones replaced iPods and phone-sized headphone DAC/amplifiers by FiiO, Oppo and even Monoprice became common. The primary advantage of the phone-sized DAC/Amp is that they carry their own battery, which can help save the life of your phone while listening to music. But it also meant you're carrying around two phone-sized boxes held together by a USB cable. Then came the USB dongle amp, silly name and all. At about the size of a short USB cable, they had no internal battery. So, the design challenge for the non-powered USB dongle DAC/Amp is efficiency. The entire system must be built on low-power micro-components with the goal of using negligible battery power from your phone while outputting enough signal power to light up your headphones. The USB option remains the most portable headphone DAC/Amp to-date, although it may not be the best choice if you really need to conserve you're phone's battery charge throughout the day. But the advantage is the added portability of a USB dongle that easily slides into your pocket next to your phone, even while wearing your skinny-jeans.
Introducing THX Onyx

When you first take Onyx out of the box, you're immediately taken by its build-quality. Onyx's rugged yet smoothly machined black metal body feels substantial compared to many of the plastic alternatives. Similarly, all three models of Audioquest DragonFly have enclosures made of die-cast zinc that has been painted and polished.
On one end is a USB-C connector at the tip of its flexible rubberized tail, a USB-A adaptor is included with Onyx. The connection to your device is entirely plug-and-play with no need to download drivers to use it with a PC, Mac, Android or iOS. 

The metallic body of the device has a 3.5-mm headphone jack on the opposite end of the USB connector. The headphone jack is ready to receive a TRRS connection that includes a path for voice audio if you're using a headphone with a mic, which makes it a good choice for a gaming headset, a feature you won't find in AudioQuest Dragonfly line. That Onyx is a more gamer-friendly choice should be no surprise considering THX is now owned by gaming-centric tech company, Razer. The image above shows how portable Onyx can be with its USB connector magnetically snapped together with the body of the device.
Technology Inside

Besides AAA-78 amplification, inside Onyx's metallic body is an ESS ES9281PRO DAC chip and microcontroller. The ES9281PRO is the flagship in ESS's latest family of USB audio CODECs designed specifically for audiophile-grade applications. The advantage of this chip is efficiency with low power demand and much less electrical noise inside the device. ES9281PRO brings the audio performance of an ESS Saber DAC capable of up to 32-bit 384kHz PCM while handling audio processing, including DSS and MQA rendering, the final step for full MQA sound quality.
Master Quality Authenticated (MQA) Primer

Few recent developments in audio have been as controversial and misunderstood as MQA, it's a divisive topic among those who argue whether or not it's good for the audio industry as a whole. But the audio codec gained traction when Tidal adopted MQA back in January 2017 for its high-resolution audio stream. Many criticize MQA for being a lossy codec, despite bringing high-resolution audio, and who can blame 'em? It makes people think of poor-sounding MP3s. But this may be the source of some misunderstanding about MQA.
Dutch audio journalist and MQA booster, Hans Beekhuyzen says MQA doesn't compress audio in the same way as an MP3. Where MP3 discards information across the entire audio band, MQA uses lossless compression up to 45kHz bandwidth. Technically, Beekhuyzen says that MQA is only lossy above 45kHz.
I think we can all agree that the best way to decide if MQA works for you is to try it. Most DACs capable of rendering MQA including Onyx offer it as an additional feature. So, it should never prevent you from hearing high-res FLAC or DSS files in their original form. Possibly the best thing about MQA for us consumers is its flexibility, we can completely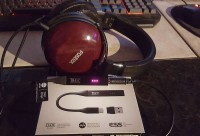 ignore it if we choose. If we're not using a device that's capable of the final-step in rendering MQA, an MQA file is simply decoded at sampling rates of 44.1kHz (CD-quality) or all the way up to 96kHz (hi-res audio). THX Onyx is one of a new generation of hi-fi DACs that bring that final step of MQA rendering to consumers and it's easily one of the least expensive.
True MQA Rendering/Unfolding in Two Stages:
The software player (such as Tidal app) must be MQA enabled.

The DAC that receives the digital audio signal (such as THX Onyx) must feature MQA decoding and "see" an incoming MQA audio signal.

If your DAC doesn't see an incoming MQA signal, check your player's options. On Tidal you must set the app's audio settings to Exclusive Mode. But the presence of an MQA renderer in your DAC doesn't affect its ability to decode non-MQA material. A row of three LEDs on the side of Onyx changes color to indicate exactly what it's processing.
THX Onyx Audio Modes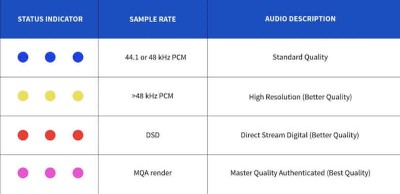 New Direction for THX
One interesting subtext about the launch of Onyx is that THX has now expanded beyond its roots as an audio-video certification standard. According to the THX Press Release, THX has announced - "...its first consumer electronics device." This implies that there may be more to come and that THX is taking a new direction under its current ownership.
THX was purchased back in 2016 by Razer, a Singaporian/American technology company. The acquisition is part of a growing trend that will continue blurring the line between computer technology and high-end audio. Razer is well-known to gamers for everything from laptops to gaming-centric peripherals that range from the affordable to pro-grade. I for one approve of the cross-pollination between the two technologies. If a traditional audiophile headphone company like Audeze can make a gaming headphone in Mobius—why shouldn't a computer tech company enter the hi-fi audio industry? For Razer, THX may be just the property to enable it to move into more audio-product categories. Onyx is a good starting point, as the USB headphone DAC/Amp sits inside the overlap between gaming/computer technology and hi-fi audio. It will be interesting to see what future products the THX/Razer alignment brings. Although it's true that the THX logo has found its way onto increasingly mainstream (lower-end) products over the years, there's no denying its experience working with some of the finest A/V equipment available at any price. THX recently rated Perlisten as the first-ever speakers to receive THX Dominus certification.
We don't know for sure what new products are coming from THX under Razer's stewardship. But it would seem that another micro-version of the THX AAA amplifier is begging to be put into a wireless headphone, designed as much for high-quality musical audio as for gamers. But one thing is for certain, in Onyx THX is shooting for nothing less than top-spot in the portable DAC/Amp category.
THX Onyx vs. Competition: Tech-Specs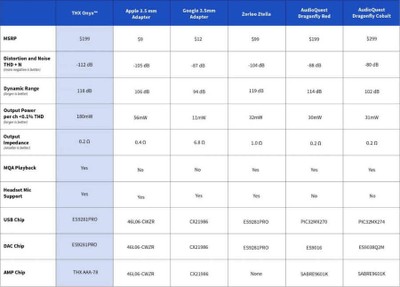 Sound Quality
I must confess, I had never actually heard "full" MQA processing before using THX Onyx. Of all the desktop DACs I've used at home, including Focal Arche, none of them feature MQA rendering. But this only meant I was using the first "unfolding" of MQA files on Tidal's player and my DACs received a non-MQA audio stream up to 96-kHz. As mentioned above, ensure that your player software has MQA enabled. Absence of MQA processing by the player software will result in your DAC reading only a 44.1 to 48kHz file.
Connecting Onyx For the First Time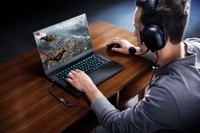 Warning: THX Onyx documentation recommends that you ensure the volume on your player software is all the way down to the 10% mark when you first engage sound to your headphones. It's no joke, you'll want to avoid the ear blast you'll receive if you leave the volume up too high, I was amazed at the amount of power Onyx pushed into my headphones from a USB port, it's beyond any portable I've heard. I normally use separate tabletop components in a DAC/Amp "stack", so the volume control on my amp is usually almost all the way down at startup. For headphone hi-fi fans, the stack refers to separate components in the same way home audio uses the colloquialism; separates. But instead of a pre-amp and power-amp, the headphone stack is usually DAC and amp/preamp.
In terms of power, Onyx had no problem lighting up even my highest impedance headphones, the planar magnetic Audeze LCD-3 with 110-ohms at 93dB/mW. Onyx can effortlessly produce uncomfortably loud volume levels. Not that I normally listen too LOUD, we should protect our hearing. I only occasionally listen at high volumes, like when the MC5 tells me to "Kick Out the Jams!"
Onyx Sound-Profile

Linearity and dynamic range are standout features for Onyx. This was my first time listening to full MQA and also my first time hearing a THX AAA amplifier. As promised by THX, Onyx's AAA-78 does a great job of limiting any sonic attributes of its own into your sound. I felt I was hearing exactly what the headphone itself sounds like within the context of the music file I was playing back. Onyx really did seem uncolored in comparison to my main headphone stack (separate DAC/Amp) that I know introduces a hint of extra bass. Although, switching back and forth between my main headphone stack and Onyx is not a fair comparison for overall sound quality. But, the direct comparison exposed the linearity of Onyx.
Overall, I was surprised at how rich, deep and full Onyx sounds for such a small device. Although I'm a regular listener to small portable sound systems, I have to admit my expectations are tempered because portable usually means tiny digital amplifiers with a clustered, tiny sound to match. But Onyx soon dispatched those expectations with a spaciousness I didn't expect to hear. After doing some comparison listening, back-and-forth between my desktop stack and Onyx, with the right song, I might be fooled into mistaking one for the other. The biggest compliment I can give Onyx is my own surprise at not always hearing an immediate difference between the two systems. But there is a difference that I hear especially at lower volumes. Perhaps it's the precision of the volume dial on my amp, but my stack provides more precise, smoother sound at low volumes. To my surprise Onyx brings flawless execution at mid-to-higher volume levels. It retains the smoothness of a track like God Bless the Child by Andra Day, and never makes her sound like she's shouting.
Onyx MQA Mode
Speaking of Andra Day singing Billie Holiday's God Bless the Child for the soundtrack of the new Hulu movie, The United States Vs. Billie Holiday, that song has been on regular rotation on my Tidal account. The song appears on Tidal as an MQA track and I had only heard it using Tidal's initial unfolding, presenting a 96kHz file to my DAC that isn't capable of that final rendering. It always sounded fine to my ears.
I tried the song for the first time over Onyx with Tidal's Exclusive Mode enabled to let Onyx perform the final step of the MQA render. I was pleasantly surprised at how engaging the MQA render could be, especially over a microcomponent DAC/Amp. It seemed to open-up, bringing air to the little details inside the song, like the little near-silences when Day draws a breath between lines. The dynamics even brought space in-between each instrument. While it didn't exactly a widen the soundstage, the dynamic range gave the illusion of spaciousness to the performance. In that moment of discovering how MQA really sounds, Andra Day's voice convinced me I wasn't listening to microchips.
Conclusion
THX is poised to make a splash in the portable headphone space with Onyx. The company did its homework, edging-out the competition in key specifications. Perhaps because Onyx employs a slightly newer high-end ESS DAC, or perhaps its the power and low noise floor of its AAA-78 amplifier, but its nearest competition, AudioQuest Dragonfly Cobalt has good reason to worry. Although I'm sure Cobalt is a fine product, but being priced at $100 less, Onyx seems like a clear winner.
I'm pleased to recommend THX Onyx as a starter DAC/Amp for beginners or as a portable option for grizzled headphone veterans. Onyx is a great choice for younger, budding hi-fi headphone fans and future Audioholics looking for a low-cost alternative to shelling out for their first desktop components. Portable DAC/Amplifiers is the way many of us got our start, and welcoming more into this hobby is always a plus. Onyx will provide a clear and potent indicator of what a good DAC/Amp can do to improve your headphone's sound and it will do it for just $200. But let's not forget the seasoned headphone veterans that need a portable alternative to the Schiit stack they keep at home, they too have another great-sounding choice that lets them keep the music playing without breaking the bank.

Confused about what AV Gear to buy or how to set it up? Join our Exclusive Audioholics E-Book Membership Program!
Recent Forum Posts:
Wayde Robson posts on April 25, 2021 09:03
BoredSysAdmin, post: 1476745, member: 28046
@Wayde Robson
The gauntlet has been thrown - http://archimago.blogspot.com/2021/04/measurements-drop-thx-aaa-789-linear.html

Thanks for this link, I did not know that about the ESS 9281Pro chip. I like to think I didn't give any absolutes on MQA itself. While I found the controversy fascinating, diving into it went beyond the scope of the review, and I just didn't have time to get into both sides. That's why I quoted Beekhuyzen. Knowing he'd be controversial, I referred to him as an MQA "booster", he was obviously a true believer and only represented one side.
I'd be glad to do a follow-up on MQA. It looks like MQA-enabled dongles are growing with that ESS microcontroller, and I do like to keep up on portable sound. But I'd need to learn more about Archimago's perspective. His views on MQA seem to be shared by other well-known figures in audio that I quite respect, like the owner of Schiit. I found an interview with him on the con-side of MQA and I would have liked to have found a quotable with facts but wasn't able to in time for this review.
In his article Archimago says: "Onyx uses to provide a turnkey MQA data lock and filtering mechanism which is what they mean by "rendering".
I need to learn more about this, perhaps for a follow-up on MQA and the Codec article I did in 2019, but I didn't intend to give any sort of full-throated support for MQA itself. But for Onyx, I just see it as an option, it doesn't seem to hold it back or force the cost up beyond anything reasonable (it's actually $100 less than competing product). But it's interesting that the ESS DAC chip might be using MQA to cover-up other inadequacies.
Thanks again. There's no gauntlet on my side, it makes me want to learn more about it.
Robert Stepan posts on April 19, 2021 08:07
I'm really disappointed to see Audioholics falling for the MQA BS.
MQA has been shown rather definitively to be technically incoherent and essentially a fraud. See:
I published music on Tidal to test MQA - MQA Review
Conclusion:
MQA is NOT lossless

MQA adds unwanted noise and distortion

MQA is not usually sourced from a high-sample rate master

MQA 'authentication' does not authenticate/guarantee anything (NOTE: the blue light is nonsense)

That's from Mark Waldrep's summary of the video, he's written about MQA quite a bit. See MQA: Sonic Degradation and Huge Losses
lovinthehd posts on April 18, 2021 18:38
I'd have to agree calling this a review, i.e. without measurements, doesn't do Audioholics much good overall…let alone the mqa crap or the good word for Fraudioquest.

Ps let alone that Hans H idiot…
cel4145 posts on April 18, 2021 16:45
The review states,

"I think we can all agree that the best way to decide if MQA works for you is to try it."

I don't think we can all agree on that.

Why is Audioholics promoting MQA?

There's evidence that MQA would likely be indistinguishable from lossless in a properly volume level double blind test. And certainly in a sighted test, perceptual biases would come into play.
Northern74 posts on April 18, 2021 10:01
Seems to be a well designed device. I don't think it's competitively priced though. There are plenty of dongles with similar performance for half the price. Perhaps if they left out the MQA technology they could have dropped the price.
Post Reply