Victrola Stream Carbon Works with Sonos Turntable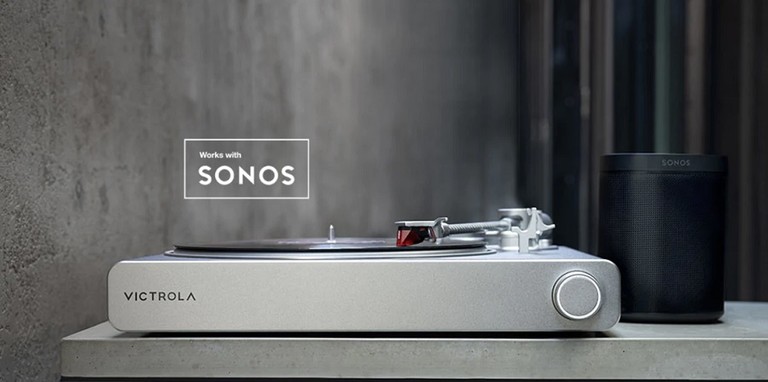 Victrola Stream Carbon Works with Sonos
Summary
CONNECTIVITY
WIRELESS (802.11A/B/G/N/AC)
WIRED (10/100 ETHERNET)

OUTPUTS RCA (BUILT-IN PREAMP)
MATERIAL MDF, ALUMINUM, PLASTIC
COLORS BLACK, SILVER
DIMENSIONS 13.58" L X 16.93" W X 4.37" H
WEIGHT 13.2 LBS (WITH DUST COVER)
DRIVE METHOD BELT-DRIVE
PLATTER DIE-CAST ALUMINUM
CARTRIDGE ORTOFON 2M RED
SPEEDS 33-1/3 RPM & 45 RPM
WOW & FLUTTER < 0.175
Executive Overview
My 18-year-old niece is obsessed with vinyl and classic rock bands. She's working on all the big albums now; Dark Side of the Moon, Back in Black, Sgt. Pepper Lonely Hearts Club Band, Sticky Fingers, and on and on...She has all the classic shirts that I (and even my dad) wore when we were her age. It's pretty cool. My daughter has been on a thrift store kick recently and I've actually been having fun going with her. "How much would it take to get you to eat one of the peppers in that decorative pepper vinegar jar?" I ask her. One look at the gray worm-like capsicum gives me her answer. I can tell just by the look on her face.
In the corner is a box of dusty albums. '$5 each', the sign reads above them. My curiosity piqued, I flip through. "Best of Hungarian Opera, Harmonica Moods, and Accordion At Its Best." I think I'll pass.
My brother-in-law just bought a Sonos whole home audio system for their house; a Sonos soundbar and Sub for the Family room, a Sonos One for the office, bedroom, and kitchen. I reviewed the Sonos Playbar, SUB, and Play:5 when they first came out and had a mixed opinion. $1,400 was a lot to spend on a soundbar and sub, but it's like being part of the Apple ecosystem; once you start, it's easy to get drawn into all the other products that work so seamlessly together. What they get right, they get REALLY right.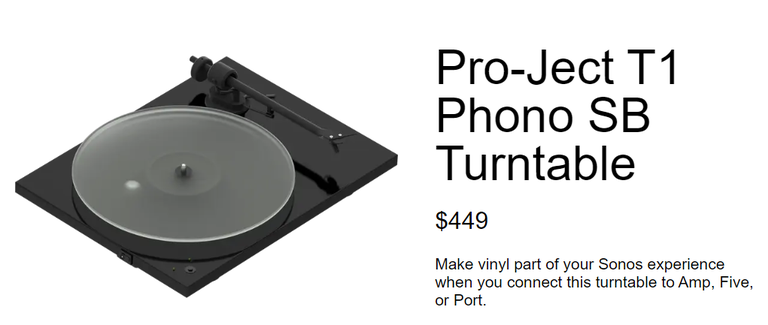 But what about my niece's record player and collection of albums? My brother-in-law asks what he should get. Sonos recommends the Pro-Ject T1 for $450, but after looking through the details, the Pro-Ject T1 connects through a 3.5 to RCA cable to a Sonos speaker. If you're already invested in a Sonos system and have to connect cables, what's the point?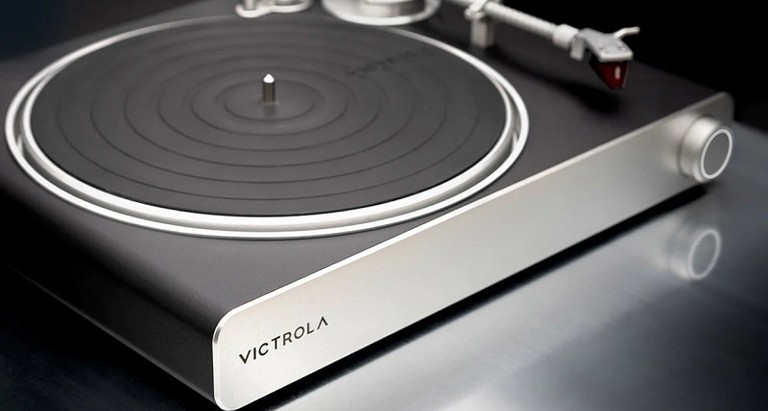 In a twist of events, Victrola, one of the founding companies of record players and the company that is producing budget $50 turntables with speakers sold in Walmart, has released a turntable built specifically for Sonos products; the Victrola Stream Carbon is a certified 'Works with Sonos' product that lets you wirelessly stream vinyl to your entire Sonos system. A 'Works with Sonos' product has to go through a rigid set of tests by Sonos engineers to make sure that the integration meets all of Sonos' set of connection standards.
The 2-speed, belt-driven turntable with Victrola silicone slipmat can play all your favorite 33 1/3, and 45 rpm vinyl records and comes with a premium Ortofon 2M Red cartridge.The Stream Carbon is equipped with a carbon fiber tonearm and machined aluminum headshell. By the design, the tonearm seems to be easy-to-adjust with a counterweight to provide the downforce for better dynamic frequency response and increased clarity.
The Victrola Stream app allows for easy setup and adjustments and fully integrates with the Sonos app. The app is designed to connect the player wirelessly to your Sonos system in seconds. Once set up, the illuminated control knob provides tactile, centralized volume control for your entire Sonos system and playback groups.You can also use the RCA output connections in the back to play your vinyl to non-Sonos speakers.
The Victrola Stream Carbon is available for purchase now and comes with free shipping.

Unless otherwise indicated, this is a preview article for the featured product. A formal review may or may not follow in the future.
Confused about what AV Gear to buy or how to set it up? Join our Exclusive Audioholics E-Book Membership Program!