Can An All-In-One Turntable System Work? Plus Audio Review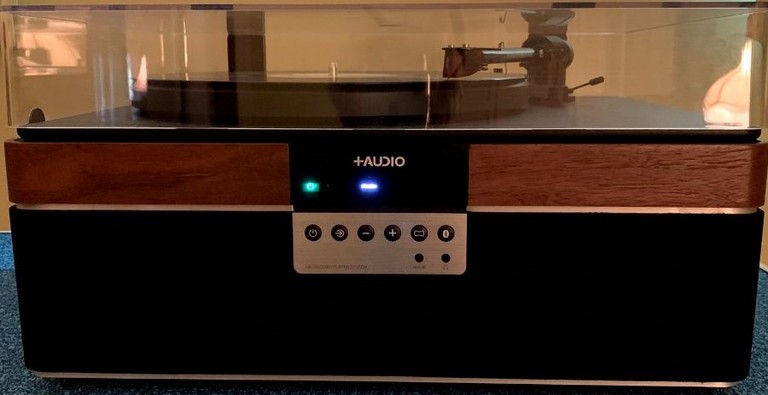 https://www.anrdoezrs.net/click-8860422-14037446
Summary
2-Way Bi-Amplified Speaker System with Feedback Cancelling Architecture
Two High-Excursion 3.5" Woofers and Two 1" Soft-Dome Tweeters
Turntable System
Pro-Ject Belt-Drive Turntable with Aluminum tonearm
Ortofon OM10 Cartridge
24 Pole Synchronous Motor with Crystal Stabilized Digital Electronic Speed Controller
Low-Noise RIAA Phono Preamplifier
Electronic 33/45 RPM Speed Selection
Signal Processing & Amplification
Double-Precision DSP with >100dB Signal to Noise Ratio
Class-D Amplification, 100W Maximum Power (2x35W) + (2x15W)
Executive Overview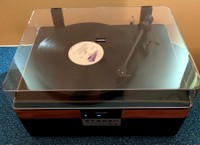 Vinyl is cool. It is impractical in every way, and I thoroughly believe it is not the optimal way of music delivery, but it has a certain novelty that keeps people coming back. With the rise of all-in-one products sold in your favorite clothing stores, bookstores, or simply on Amazon for under $100, hipsters and teenagers alike have fallen in love with vinyl again. Unfortunately, these budget all-in-one systems are garbage. Cheap speakers, unbalanced tone arms, and flimsy construction make for a terrible record player while at the same time these people will spend $30 on a brand new vinyl album. Physically holding the music in record form is awesome. In the age of Spotify, iTunes, and the endless list of streaming services, it is a rewarding feeling to own some music in 2020. On top of that, you help the artists you support by buying vinyl instead of endlessly streaming their songs for .0001 of a penny. It's good to see that more and more artists are releasing their new music on vinyl, and it's breathing life into the music and the industry to produce innovative equipment to listen to vinyl. The market is primed for an optimal, user-friendly, quality, all-in-one record player. Which brings us to today's review, the +Record Player from Plus Audio. 
Setup
Let's call out the pink elephant in the room right up front. The all in one +Record player costs over $1,500. For many people, this budgets them right out of owning one. Many new audiophiles would be tempted to buy a separates system like the one in our $1,500 5.2.4 Recommended Home Theater System and then add a turntable. But that is not the goal of this setup.
While expert audiophiles may want to invest the same money in 3 components (Turntable + Amp + Speaker), we have designed this for the millions of ex-audiophiles. People who happen to be audio enthusiasts in their youth but have abandoned this hobby over the years due to different priorities and WAF (wife acceptance factor). These people kept their vinyls stored in the basement for decades and they are now taking them back to life.
--Alex Winter, Sales and Marketing- +Audio
The +Record Player was delivered in a securely insulated corrugated cardboard box. The weight of the box surprised me when I went to move it inside. This thing is HEAVY! The components are in two separate boxes and protected well for travel all around the world. Upon looking inside, I discovered there was going to be quite a bit of assembly. I was not excited about having to put together a $1,550 record player. At this price point, it needs to be as close to ready as possible when I take it out of the box.
When questioned about this, Plus Audio explained that the unit comes in two pieces in order to protect them during transportation. The speaker section is made in China, while the turntable transport is from Europe. +Audio absorbs all shipping costs for customers all over the world. +Audio preferred NOT to assemble the system prior to shipping to avoid greater risk of damage during transport and extra assembly labor in Europe (which in turn would have resulted in a higher costs and end price). Many audiophiles do like the idea and excitement associated with putting together a sophisticated system and if there are any questions +Audio is known for their direct customer support. There is even an installation video available on their website at www.plusaudio.com.
There are only two connections between the speaker base and turntable. It is tough to balance the record player top, which is heavy, with one hand while connecting wires with your other hand. Once the record player is connected and resting within the recessed cavities, you have to set up the tone arm of the record player. This part always worries me; the result could be destroyed vinyl. While the arm and needle are top-notch when it comes to quality, I cannot understand sending a record player with a tone arm you have to set up in a system that is targeted to the casual vinyl listener that wants an easy to install, all in one system.
Build Quality
Carrying this thing is tough. It weighs… A LOT! That is a great thing, though. It means real wood, thick gauge metal, and quality speakers with proper components. This already makes me feel better about the hefty price tag. The build behind this is genius. Typically, an all-in-one system is an instant turnoff to anyone who has a basic understanding of how vinyl works. All-in-one players are generally bad because the vibrations from the speakers make the needle jump around on your vinyl and speed up the process of destroying your vinyl. This system has the record player lifted from the base on four metal pillars. Each pillar fits into a recessed space that prevents vibrations from reaching the tone arm. Also, the record player does not touch the actual base where the speakers are. This essentially fixes one of the biggest problems of these types of record players by preventing vibrations from the speakers, it does not rattle the tone arm and protects your vinyl. In addition, +Audio has incorporated specially designed software to alleviate any additional issues not solved through the pillars.
Preventing vibrations has taken a lot more than smart mechanical engineering.  It has to do with the use of a unique technology and complex DSP software put together by our Head Engineer, Bob Hazelwood.  For this reason, any other product with similar mechanical design would not result into the same high performance as Bob's RP+
--Alex Winter, Sales and Marketing- +Audio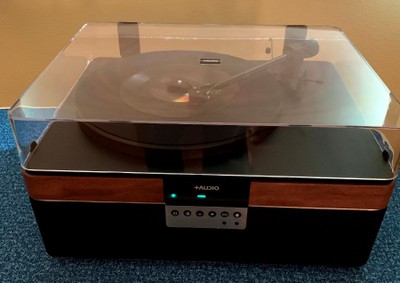 The +Record Player has a modern look that can fit with any décor style. The +Record Player comes in both maple and walnut finishes. I prefer the darker maple color wood, but both work in any setting. The display panel is clear and easy to use, but I feel that the design choice for this was an attempt to create a retro vibe with a modern feel.
The system comes with a 2-Way bi-amplified speaker system and feedback canceling architecture. Two high excursion 3.5" woofers and two soft-dome 1" tweeters provide the sound. Each speaker is driven by its own dedicated amplifier channel. 
Discrete sonic contouring (is) made possible by advanced DSP processing. The result is a coherent sonic blend between each driver, not achievable by traditional passive-crossovers. 
--+Audio
The system comes with four class D amplifiers: 100W Maximum Power (2x35W) + (2x15W) and a low-Noise RIAA phono preamplifier. The +Record Player also features analog inputs, a headphone output, and a pre-amplifier output to add a separate powered subwoofer or speakers. The +Record Player includes Bluetooth to stream music from smart devices, optical input for connection to a digital audio source or TV, and a USB input/output to rip your vinyl to MAC/PC or play back your music files. The 5V USB output powers your Chromecast, Echo Dot or Airport Express, making the +Record Player ready to accommodate your favorite voice assistant or streaming device.
Turntable System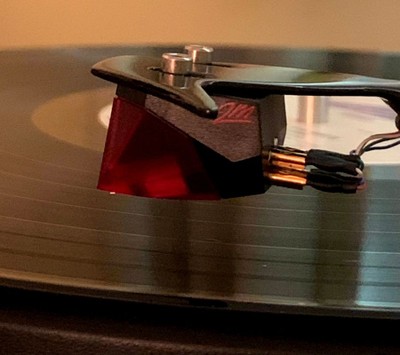 The +Record Player comes with a Pro-Ject belt-drive turntable with a carbon fiber tonearm, Ortofon 2M Red Cartridge and a 24 pole synchronous motor with crystal stabilized digital electronic speed controller. With the Ortofon Cartridge and 2 speed electronic 33/45 speed selector, a turntable from Pro-ject alone would be in the $550 range. The +Record Player is available in 2 version, one with aluminum tonearm + Ortofon OM10 and the other with Carbon Fiber Tonearm and Ortofon 2M Red. We were sent the +RP SPECIAL EDITION with the Ortofon 2M Red Cartridge. The MSRP for this unit is listed at $1,785.
Listening test
I compared the +Record Player system to my Klipsch powered speakers and my own record player. My system comes with a matching 12-inch sub so when it came to volume and presence, the Klipsch setup has more low end bass, but the quality of sound, and projection of that sound, is better with the +Record Player.
I put the +Record Player to the test on cleaning day. You have to have clear sound throughout the entire house to stay motivated. I tested the record player with a vinyl record I was ok with destroying due to any error that could have happened during setup. I then cranked up the record player and was completely shocked by the quality of sound coming from it. I did not want to like the sound and justify the $1,550 price tag. Yet, I could not resist having a smile on my face as I blasted a Bad Company vinyl throughout my house. The sound that this record player produces is unbelievable, and I cannot say that enough. Having multiple speakers pointed in all directions gives it the upper hand over the traditional speaker system that points in one direction. The system also passed the wife test. She is not an audiophile at all. However, she was excited to hear the music throughout the entire house and recognized how crisp it sounded compared to the Klipsch setup.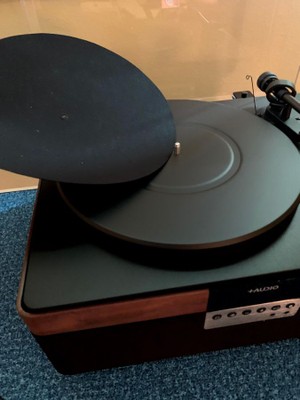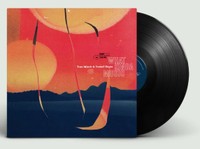 Next, I put on my favorite album out of 2020, Tom Mischs' and Yussef Dayes, "What Kind of Music". It is a complex album with jazz, blues, and neo-soul all woven together with some incredible drumming and guitar work. The whole album sounds like a jam between two people who have played together their entire lives. It was a treat to listen to this album on the +Audio record player. The soundstage became apparent as you could tell the instruments apart instead of it all sounding jumbled together. Each instrument had its place in its register of sound because of the speaker set up and preamp in the record player. I would like to have heard more bass from the system. It has some bass, and it comes with a preamplifier output so you could hook up a separate subwoofer. I spent the rest of my listening time streaming off Spotify. With the quality of streaming music, the record player still produced good sound. As an all-in-one system, the inclusion of Bluetooth, optical in, and USB makes this much more than just a record player and this is, by far, the best part about this system.
Conclusion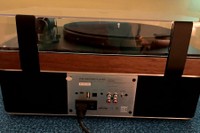 As great as the sound is, it is hard to get past the price tag. But, the system is wonderful. Through and through this Record player impressed me. That may have been from my incredibly low expectations before I opened it though. It seems perfect for the casual vinyl listener who lives in a smaller space in a city. If +Audio could drop the price and require less setup, I could see this being an incredible product all around. It is easy to use once it is set up. The front display is clear, crisp, and simple. Bluetooth pairing is easy and straightforward. The build quality is top notch. The thing weighs a ton and it makes you feel better for spending almost $1600 on a record player.

Confused about what AV Gear to buy or how to set it up? Join our Exclusive Audioholics E-Book Membership Program!