Kaleidescape Releases Bigger and Faster Terra Prime Movie Servers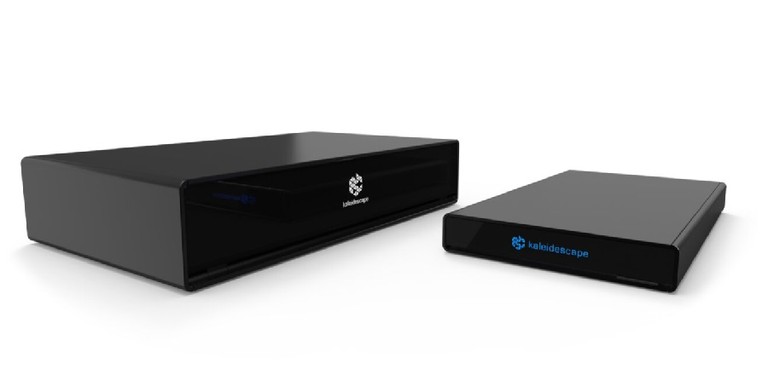 Kaleidescape Terra Prime 4K SSD
Summary
Kaleidescape 4K Dolby Atmos Source Devices Just Got Better and Faster?
Audioholics has been covering new product releases from Kaleidescape for the last ten years, but it wasn't until 2019 that I finally got a chance to experience a demonstration firsthand.  Audioholics President, Gene DellaSala and I were blown away by the sound and picture quality of their new 2019 Stratus movie player.  
The capabilities of this system are truly remarkable. Imagine better than UHD Blu-ray quality.
--Gene DellaSala- President, Audioholics
Michael Kobb of Kaleidescape gave us the demonstration and asked if we ever wondered why the picture quality of displays at the stores seemed better than when you get home. I said it because most people at home don't change the factory default settings of their new TV. But, Michael pointed out that most of the stores were using Kaleidescape servers for their source material, giving the store a bit of an unfair advantage since the picture and sound quality is far superior to lossy streaming devices and in some cases better than Blu-ray. Something Gene and I could definitely attest to.
But Kaleidescape is more than just a movie server. Kaleidescape products are in tuned with every component in your theater.  The platform gives you higher-fidelity video, and lossless audio, but it also gives integrative cues to control lighting, shading, seating, and screen masking.
Contributing writer for Audioholics, Don Dunn says he has personally installed Kaleidescape products in dozens of homes for the last ten years and is a true believer in the product. 
Kaleidescape is hands down the absolute finest source for audio and video uncompressed that you can have in any theater.
--Don Dunn, Audioholics and Havensmart
Now, at CEDIA 2023, Kaleidescape, announced the availability of its new Terra Prime movie server product line. The Terra Prime features an all-new board design with faster processing power and faster network – the only dedicated movie server with 2.5 Gigabit Ethernet. The new servers are available with either high-capacity hard drives or fast solid-state drives.
Kaleidescape's new Terra Prime movie servers support lightning-fast movie downloads and can serve more Kaleidescape high-bitrate 4K movies concurrently to multiple screens.
--Tayloe Stansbury - Kaleidescape chairman & CEO
Kaleidescape Terra Prime SSD Movie Servers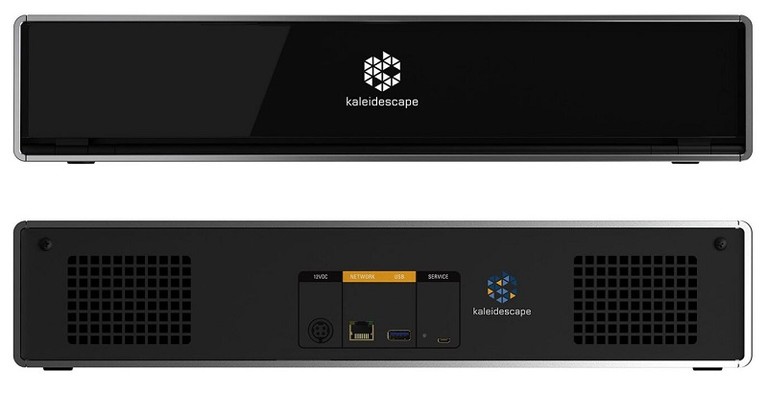 Terra Prime SSD movie servers are the fastest and quietest movie servers available, ideal for yachts and large installations. Terra Prime SSD downloads Kaleidescape high-bitrate 4K movies in as little as four minutes and serves up to 25 simultaneous playback zones. Terra Prime SSD 31TB stores approximately 500 Kaleidescape high-bitrate 4K movies and the 8TB model stores roughly 125 Kaleidescape high-bitrate 4K movies.
Kaleidescape Terra Prime HDD Movie Servers
Terra Prime HDD is a next-generation high-capacity movie server. It can download a Kaleidescape high-bitrate 4K movie in as little as eight minutes and serves up to five simultaneous playback zones (compact) or up to 10 simultaneous playback zones (full-size). Terra Prime HDD 88TB stores approximately 1,450 Kaleidescape high-bitrate 4K movies and the 48TB stores roughly 800 Kaleidescape fidelity 4K movies. The Terra Prime HDD 22TB stores approximately 350 Kaleidescape fidelity 4K movies and the 8TB stores roughly 130 Kaleidescape high-bitrate 4K movies.
What We Think

There's a lot of controversy over the Kaleidescape brand and it all comes down to price.  You only need one server in your house, but you need a player for each display in your house if you want to play different material at the same time. So for instance,  2 Strato C + 22T Terra Prime (Bundle Package) costs a whopping $17,985. There are more affordable bundle packages that include 1 Strato C and 1 8TB Terra Prime for $7,990. However, on top of the hardware cost, you have to buy or rent the movies. The initial cost is definitely a deal breaker for most people, but once you get past the initial investment, the movie purchases or rentals are about the same as any other movie platform.
After seeing and hearing the Kaleidescape products with my own eyes and ears I would say if your goal is to setup the ultimate home theater and price is no object, I would recommend spending the extra money on Kaleidescape products.  Forget about comparing apples and oranges, its like comparing apples to zebras!
To learn more, visit: https://www.kaleidescape.com/systems/movie-players-servers/

Unless otherwise indicated, this is a preview article for the featured product. A formal review may or may not follow in the future.