GoldenEar's Invisible Dolby Atmos System Demo at CEDIA 2016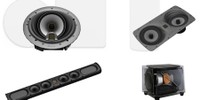 GoldenEar wanted to prove that you can have all the benefits of Dolby Atmos (and by extension DTS:X) in an all-architectural installation. We love immersive audio but want to make sure we give accurate impressions—not just marketing gimmicks. We sat in on GoldenEar's self-proclaimed "invisible Atmos" demonstration for a listen to see if they could pull it off. Read on to see what we thought about it and check out our little YouTube video teaser of their new impressive SuperSub X compact subwoofer.
GoldenEar's invisible Dolby Atmos system consisted of Invisa MPX in-wall speakers for the main and rear channels, Invisa HTR 7000 speakers for height, SuperSat 60C soundbar, and SuperSub X subwoofer.