KEF Ci5160RL Ci3160RL Reference Series In-wall Speakers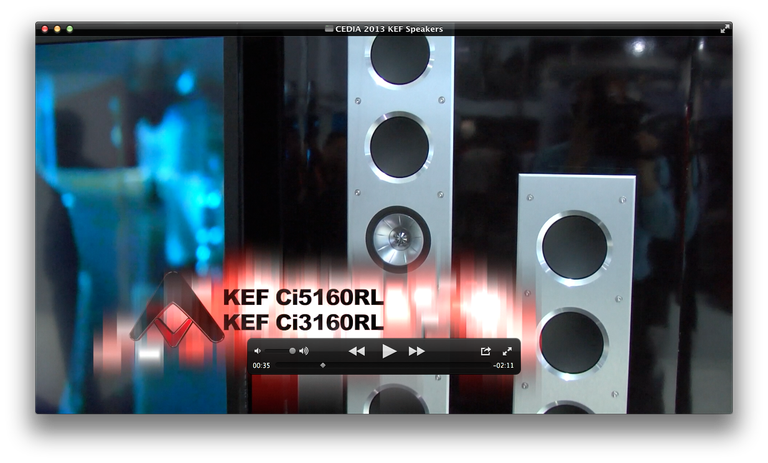 KEF Ci5160RL and Ci3160RL Reference Series In-wall Speakers
Summary
Model: Ci5160RL

Nominal Impedance: 4Ω
Sensitivity (2.83V/ 1m): 90dB
Frequency response (±6dB): 40Hz - 28kHz
Crossover frequency: 300Hz, 2.4kHz
LF: 4 x 160mm (6.5 in.)
MF: 160mm (6.5 in.)
HF: 25mm (1 in.) Uni-Q
Recommended Amplifier Power: 40-250W
Product external dimensions (H x W x D): 1070 x 230 x 105.7 mm (42.13 x 9.06 x 4.16 in.)
Cut-out dimensions (H x W): 1050 x 209 (41.34 x 8.23 in.)
Net Weight: 17.5 kg (38.58 lbs)
Mounting depth from surface: 98.2 mm (3.87 in.)
Optional rough in frame: RIF5160L
Model: Ci3160RL
Nominal Impedance: 4Ω
Sensitivity (2.83V/ 1m): 90dB
Frequency response (±6dB): 45Hz - 28kHz
Crossover frequency: 340Hz, 2.5kHz
LF: 2 x 160mm (6.5 in.)
MF: 160mm (6.5 in.)
HF: 19mm (0.75 in.) Uni-Q
Recommended Amplifier Power: 30-180W
Product external dimensions (H x W x D): 680 x 230 x 105.7 (26.77 x 9.06 x 4.16 in.)
Cut-out dimensions (H x W): 660 x 209 (25.98 x 8.23 in.)
Net Weight: 11.7 kg (25.79 lbs)
Mounting depth from surface: 98.2mm (3.67 in.)
Optional rough in frame: RIF3160L
Model: Ci3160RLb
Nominal Impedance: 4Ω
Sensitivity (2.83V/ 1m): 92dB
Frequency response (±6dB): 28Hz - 100Hz
Drivers: 3 x 160mm (6.5 in.)
Recommended Amplifier Power: KASA500
Dimensions (H x W x D): 680 x 230 x 96 mm (26.77 x 9.06 x 3.78 in.)
Cut-out dimensions: 660 x 209 (25.98 x 8.23 in.)
Net Weight: 10 kg (22.04 lbs)
Mounting depth from surface: 88.5mm (3.84 in.)
Optional rough in frame: RIF3160L
Executive Overview
These are the new KEF Ci5160RL and Ci3160RL Reference Series in-wall speakers which are based on the blade series, as are a lot of KEF products. In fact, if you go back in time and kill the guy who invented the bales series, you're going to take out the entire KEF organization because a lot of their speakers are seemingly based around technologies developed in those speakers. These speakers use 6.5-inch midrange drivers with a 1-inch Uni-Q tweeter in the middle, plus four 6-5-inch aluminum magnesium woofers for the Ci5160RL and two for the Ci3160RL. That's going to handle everything from your mid-bass to your high frequencies.
These are THX-certified speakers with beautiful brushed aluminum baffles and KEF even gives you the option of either white or black grills to fit them into any decor. The other thing they did was add an in-wall sub. The Ci3160RLb has three 6.5-inch bass drivers and is powered by a stereo 250 watt per channel amplifier, the KASA500. This amplifier was literally an engineering sample KEF brought to the show.
Overall, these are some very beautiful Reference in-wall speakers from KEF and I think they'd make any high-end installation look awesome. Just keep the grilles off, because these aluminum baffles are meant to be seen.
Pricing
Ci5160RL - $2499/ea
Ci3160RL - $1499/ea
Ci3160RLb - $999/ea
KASA500 amplifier - $999


Unless otherwise indicated, this is a preview article for the featured product. A formal review may or may not follow in the future.