Definitive Technology DI 6.5R Disappearing In-ceiling Speakers Review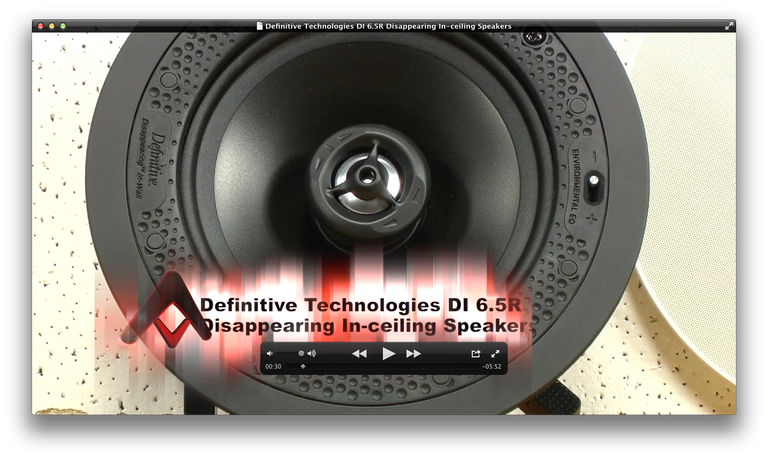 Definitive Technology DI 6.5R Disappearing In-ceiling Speakers
Summary
Tweeter
Diameter: 1" (2.54cm)
Type: Pivoting Pure Aluminum Dome
Mid / Woofer
Diameter: 6 1/2" (16.51cm)
Type: BDSS Midrange Driver
Features
Environmental EQ: 3 Way User Selectable
Speaker inputs: 1 Pair (Spring Loaded)
Sensitivity: 1 watt @ 1 Meter: 90 dB
Frequency Response: 26 Hz - 30 kHz
Nominal Impedance: 8 ohm
Power Handling: 10 - 200 wpc
Installation
Cut Out Dimensions: 7 1/4" (18.41cm)
Mounting Depth: 3 5/8" (9.21cm)
Internal Clearance Required: 1" (2.54cm)
Grille Diameter: 8 5/16" (21.11cm)
Weight: 3.8 lbs
Included Accessories: Wall Template; Paintable Magnetic Grill
Optional Accessories: Rough-In-Kit; Fire Can
Warranty (Parts and Labor): 5
Executive Overview
I don't get to review in-ceiling speakers all that often, so I jumped at the chance to take a look at Definitive Technology's latest "DI" or Disappearing In-wall series. I got hold of four DI 6.5R speakers to review. These are round in-ceiling speakers that run about $279 each. They can be used as side or rear surround speakers or to fill any room with sound. I could easily see these installed in a dining room, office or bedroom. As for me, I tested them a bit harder, using them for high-quality sound reinforcement in a classroom environment. I teach the television production class at a local high school, and in my classroom I'm constantly showing examples of film, broadcast segments and TV clips to my students to teach them about various aspects of production and post-production. Up until now, I've been using the recommended commercial speakers, which are set for a wide dispersion, but really that's their main goal. While I can appreciate speakers that distribute sound well... I am even more appreciative of speakers that just...sound well....good. Sound good.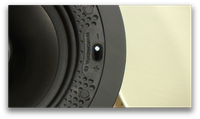 Physically, the DI 6.5R's feature a flangeless design with a paintable micro-perf grille that lets them literally hide in a wall or ceiling with very little visibility. My ceilings are white so I didn't have to mess with them. The speakers are also compact, with an 8-5/16" total visible diameter. That makes them roughly the same size as most 5-1/4" speakers. They use Def Tech's Balanced Double Surround System (BDSS) where the cone is supported by soft rubber at both the outer and inner edges. Definitive says this allows the cone to have a longer excursion and less distortion. That bore out in my testing—I'll talk about that later. The baskets are made of cast polystone, which is a polyurethane resin mixed with powdered stone additives. Basically, it's stiff and light and it resists ringing—a common problem when you move to more rigid speaker cone materials. There is a centrally-mounted 1" aluminum dome tweeter that can pivot for a bit more directionality if needed. Plus, there's a switch on the speaker to account for room tone and reflection by tailoring the sound to the room acoustics (they call this Environmental EQ). Why is that important? Well, take my room for example, it's walled with concrete cinder block, and the floor isn't much better, with only a small commercial carpet laid on top of a concrete slab. Anything I can do to control the effects of these acoustics is a net gain.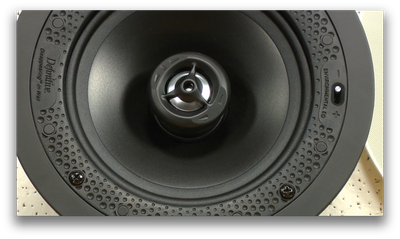 And the speakers are super-easy to install. In fact I pulled a couple back out for this review and will put them in later. It'll take me about 5 minutes. There are a pair of heavy-duty spring-loaded wire terminals that will grab your speaker cable without any fuss—up to 10 gauge! The crossover components look to be well-made, and I love the magnetic grills that just snap perfectly centered and snug—and only come off if you want them to. Once you place the speaker into the ceiling, you just use a screwdriver from the front to turn the clamps, and you're all set. You can even order optional fire-rated enclosures for use in locations that would require that.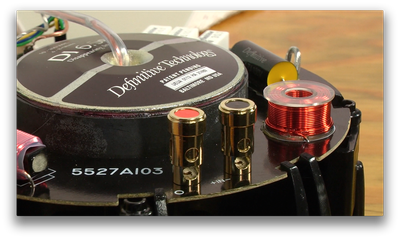 Now, the whole reason I investigated these speakers in the first place was because of my need for something a lot more capable in my classroom. Every day when my students walk in, I have music playing—all different styles: classical, electronic, country, pop, alternative, musicals, movie soundtracks—and occasionally I even let them pick a song or two...and yes, sometimes I regret it. Anyway, the speakers I WAS using came with the room, and they didn't sound bad, but I couldn't drive anything very loud before I'd hit distortion. There was no chance of my students watching a movie or TV show and getting all the quality intended by the creators. As I teach TV and film, this was kind of important to me.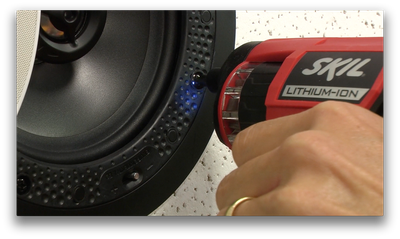 And I've noticed a world of difference. For me, I'm just super psyched that I no longer have to worry about the tracks that I play causing distortion. When I show movies or scenes in class for us to study, I don't have to stand by the volume control and adjust it so that the movie doesn't sound like firecrackers exploding. The sound is rich throughout the full spectrum, and the DI 6.5R's definitely added a bit more low end than the other speakers, which was a nice bonus. Def Tech has brought the party to me, and now everyone in this wing of the campus rocks out to whatever I have playing—just what I always wanted.
Have you ever had a need for in-ceiling or in-wall speakers? Have you ever thought about that as an option in your room or in your home? That's our question for this video. Let us know in the comments and subscribe to our YouTube channel. And Like our Facebook page at facebook.com/audioholics. We post on there throughout the day and you'll find out first about new product reviews as well as the latest trends in A/V.

Unless otherwise indicated, this is a preview article for the featured product. A formal review may or may not follow in the future.