Atlantic Technology IC-6-OBA Dolby Atmos In-Ceiling Speaker Preview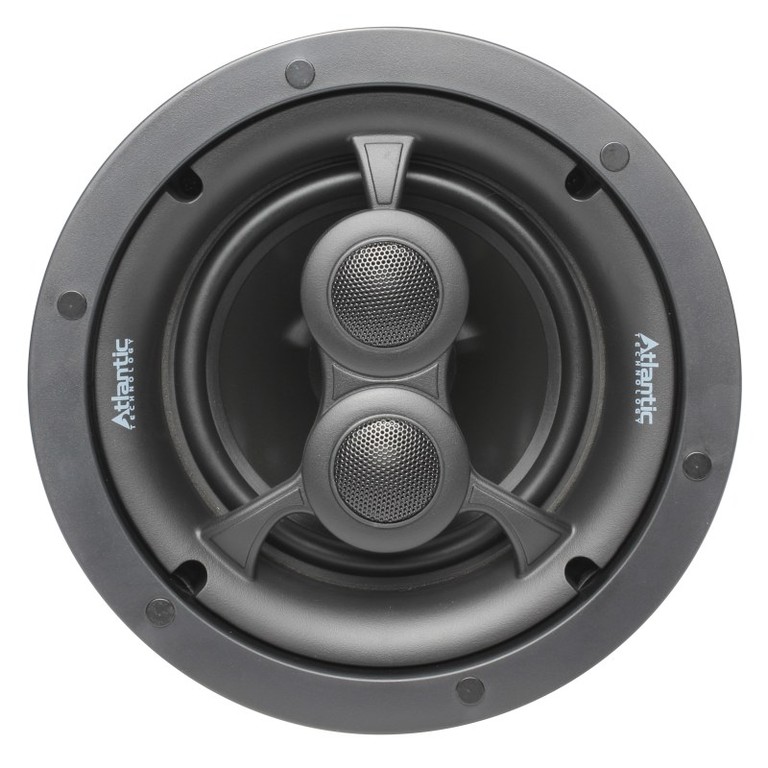 Atlantic Technology IC-6-OBA Speaker
Summary
IC-6-OBA In-Ceiling Speakers
Woofer: 6.5" mica loaded polypropylene cone, rubber surround, 1" voice coil, vented pole piece
Tweeter: Dual 1" silk dome, Ferro fluid cooled, neodymium magnet
Crossover: 2.7 kHz, 12db per octave

Frequency Response: 48Hz-22kHz
Sensitivity: 88dB
Recommended power: 10-140 watts per channel
Impedance: 6 Ohms
Cut-out size: 8" (202mm)
Mounting Depth: 4", (10.16 cm)
Weight: 3.6 lbs, (1.64 kg)
Optional Square Grill: SQ-GRILLS-6


Executive Overview
What's the ideal Atmos/Auro/DTS:X  setup?  Our initial listening test of Dolby Atmos and Auro setups has indicated that discrete speakers are preferable to reflecting speakers, but hot-spotting, or localization, can be an issue, especially for low ceilings. The Atlantic Technology IC-6-OBA ($325/ea) is designed for object-based surround formats like Dolby Atmos and Auro-3D with wide dispersion and a diffused sound character to broaden the sweet spot and reduce hot-spotting.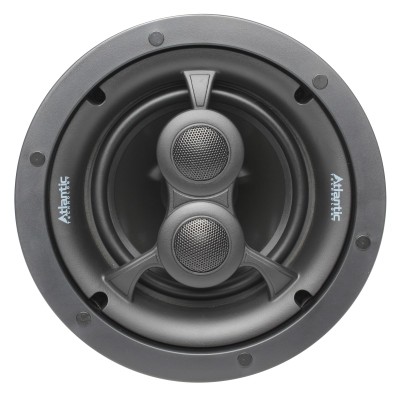 Atlantic Technology IC-6-OBA in Ceiling Speaker
We talked with Peter Tribeman, the President and CEO of Atlantic Technology, as he described the steps they took to create the perfect in-ceiling speaker for the new 3D Immersive Surround  formats,  As Peter noted, the Dolby Atmos Cinema spec calls for dozens of ceiling speakers to created diffused sound in the vertical plane.  By contrast, the Atmos Home spec maxes out at only 4 height channels, meaning that it's more likely that a listeners attention will be drawn to a single ceiling speakers instead of an entire layer of sound above their head.
Because Peter was very busy at CES when we spoke, I neglected to get exact specs for the IC-6-OBA speaker from him.  However, the components are likely shared with the IC-6.3 meaning 6.5" woofers with a vented pole piece and dual 1" silk dome tweeters.  Unlike the IC-6.3, Peter confirmed that the IC-6-OBA tweeters are not designed to pivot, or be switched between in-phase/out-of-phase wiring, or mono/stereo mode.  Instead, to reduce hot-spotting, the tweeters are wired out of phase and fixed for a diffused sound-field, the crossover to the woofer is optimized for both high performance and low-localization, and instructions are included to orient the speaker in a way that, according to many hours of listening and testing at Atlantic Technology, produces audio that gives the illusion of height broadly across the vertical plane, rather than at a specific, pinpoint location.
There is no doubt that object-oriented mixing and Atmos, Auro, and DTS:X represent huge potential in creating more lifelike sound in a variety of setups.  However, up to this point, the ease of setting up speakers for these formats has been quite low.  The IC-6-OBA from Atlantic Technology strives to give you the best of these new formats in an unobtrusive package.  If you're looking to create your own Atmos/Auro/DTS:X setup at home, or perhaps convert a current surround setup that uses in-ceiling speakers, you'll want to check out the Atlantic IC-6-OBA speakers.

Unless otherwise indicated, this is a preview article for the featured product. A formal review may or may not follow in the future.