KEF Ci200QSb-THX and Ci200TRb In Wall Subwoofer Preview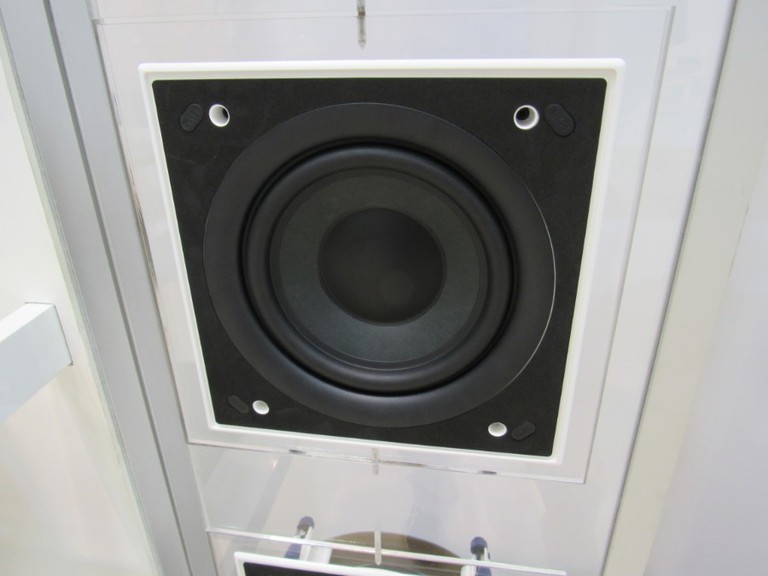 Summary
Ci200QSb-THX
Nominal Impedance 6Ω - Passive Mode (Crossover "ON")
Sensitivity(2.83V/1m) 85dB - Passive Mode (Crossover "ON")
Frequency response (±6dB) 40Hz-100Hz - Passive Mode (Crossover "ON")
18Hz-140Hz - Active Mode (KASA500)
Crossover frequency 100Hz - Passive Mode (Crossover "ON")
Drive Units LF: 200mm (8 in.)
Reccomended amplifier power 10-150W - Passive Mode (Crossover "ON")
Product external dimensions Diameter: 273 x 273 x 106 mm (10.75 x 10.75 x 4.17 in.)
Cutout dimensions H x W: 238 x 238 mm (9.37 x 9.37 in.)
Mounting depth from surface 101.6mm (4 in.)
Weight 3.3kg (7.28 lbs)
Ci200TRb
Nominal Impedance 2 x 8Ω - Stereo Mode
16Ω - Mono Mode
Sensitivity 87dB (2.83V/ 1m)
Frequency Response 42Hz-120Hz - Passive
32Hz-120Hz - With Kasa500
Drive Units LF: 200mm (8 in.)
Recommended Amplifier Power 10-125W - Passive
Product Internal Dimensions Diamater: 290 mm (11.42 in.)
Depth: 63mm (2.48 in.)
Cutout Dimensions
(H x W x D) H x W: 240mm (9.45 in.)
Mounting Depth From Surface 59mm (2.32 in.)
Net Weight 1.7kg (3.75 lbs)
We saw two new editions to KEF's  'Q' series line at the 2016 CEDIA Expo show in Dallas, Texas - the Ci200QSb-THX in wall or in-ceiling subwoofer and the ridiculously thin Ci200TRb.
The Ci200QSb is a THX-certified 8" square subwoofer.  When configuring four Ci200QSb-THX subwoofers with a KASA500, THX Select 2 certification standards are achieved. and when configuring eight Ci200QSb-THX subwoofers with a KASA500, THX Ultra 2 certifications standards are met.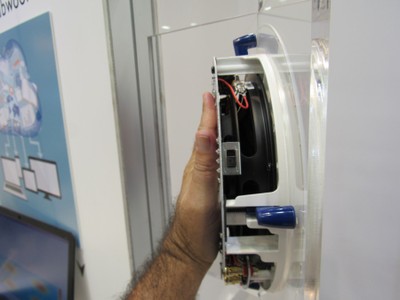 The Ci200TRb is an ultra-thin architectural speaker with an 8" dual-voice coil subwoofer and a mere 50mm (1.96") mounting depth.
Both models feature KEF's Ultra-Thin Bezel (UTB) technology which offers an extremely thin visible rim around the speaker assembly. With the speaker grilles in place the Ci200TRb is indistinguishable from other KEF architectural speakers, giving installers and designers an amazing amount of freedom-of-placement.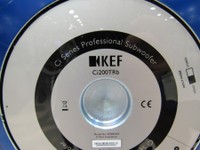 Both models have two operating modes. In passive mode, these subwoofers would be a great way to add bass response to most architectural sound systems. Both models fit in standard 2"x4" construction cavity allowing a sleek, stylish look in a whole-house sound system. In active mode, both models are matched with KEF's 250WPC Class-D DSP KASA500 subwoofer amp to create an active in-wall (or in-ceiling) subwoofer with great low-frequency extension and emphasis.
All KEF Ci architectural speakers,  are manufactured to Marine Grade Construction standards: The grilles are coated for corrosion resistance, the speakers include moisture-resistant terminations and finish materials, and the plastics are UV protected. Both models have been built to withstand harsh salt-spray and humid environments, allowing you to safely use these speakers in applications outside in harsh environments.
If you're looking for great bass but don't have the floor space, KEF may have your solution with these new in-wall products.These architectural in wall models will be available starting in December for $400 for the Ci200QSb-THX and for $425 for the Ci200TRb.

Unless otherwise indicated, this is a preview article for the featured product. A formal review may or may not follow in the future.