B&W AM-1 Outdoor Loudspeaker Preview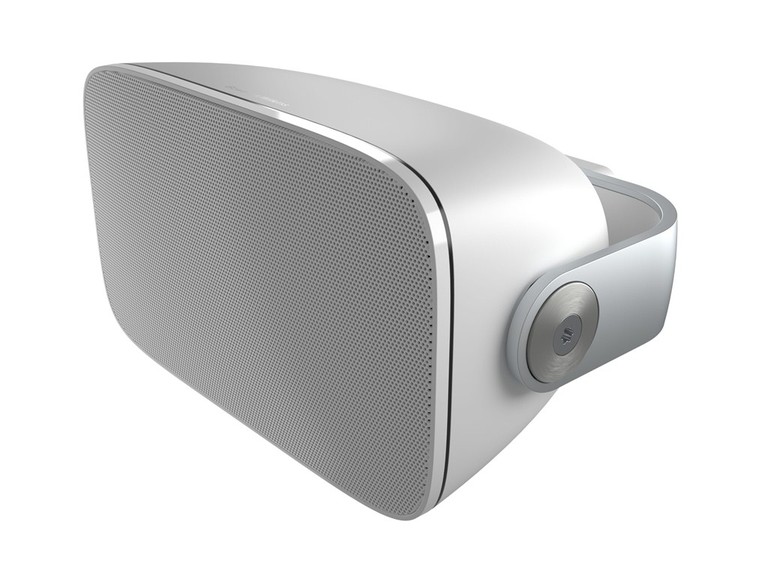 B&W AM-1 Outdoor Speaker Preview
Summary
Technical features

Nautilus™ tube loaded aluminium dome tweeter
Glassfibre cone bass/midrange
Auxiliary Bass Radiator (ABR)

Description

2-way system with Auxiliary Bass Radiator (ABR)

Drive units

1x ø25mm (1in) aluminium dome high-frequency
1x ø130mm (5in) glassfibre cone bass/midrange

Frequency range

-6dB at 46Hz and 50kHz (wall mounted)

Frequency response

51Hz - 22kHz on reference axis (wall mounted)

Sensitivity

86dB (2.83V, 1m)

Total harmonic distortion

<1% 200Hz - 20kHz (86dB, 1m)

Nominal impedance

8Ω (5.2Ω min)

Recommended amplifier power

20W - 100W into 8Ω on unclipped programme power

Dimensions
(Includes wall bracket)

Height: 310mm (12.25in)
Width: 180mm (7in)
Depth: 210mm (8.25in)

Net weight

4Kg (8.8lb)

Finishes

White
Black
Executive Overview
One of the quickest ways to make enemies in a neighborhood is to install outdoors speakers. You might like to serenade your significant other under the moonlight with some Kenny G, or rock out with Rage Against The Machine cranked to 11 (who doesn't love Renegades of Funk?) but, that doesn't mean your neighbors enjoy the same eclectic musical genres, especially between the hours or midnight and five in the morning. Well, Bowers & Wilkins wants to help destroy the fragile fabric that holds your neighborhood together with their new AM-1 outdoor speaker. Featuring a 1" tweeter, 5" bass driver with passive radiator, and an innovative mounting system, the B&W AM-1 will help you burn bridges in style.
Have you ever been parked at a stop light minding your own business when someone rolls up in their car with the bass loud enough it sounds like their trunk is going to rattle off? Now that can be you! But with your house, instead of your car, which means your neighbors can't just drive away. Many home theater speakers utilize ports for increased low-frequency output, but ported designs don't work well for outdoor speakers because the speakers are open to the elements. By using a passive radiator in conjunction with a 5" fiberglass woofer, the AM-1 can produce bass levels similar to what a ported design is capable of, but while still remaining completely sealed from the elements. A 1" aluminum tweeter provides all of the highs, and should go loud enough to carry screeching vocals a few homes down the block. B&W rates the frequency response from 51Hz-22kHz when wall mounted, but you might get more usable bass by mounting the speaker at the intersection of a wall and ceiling/awning.
In addition to the AM-1's driver compliment and audio related specs, the unique mounting mechanism should give you enough flexibility to ensure sound is always projected beyond your backyard into your appreciative neighbor's yard. Unlike most outdoor speakers, which attach to the mounting bracket at two points, the AM-1 attaches at a single point. This gives the peaceful-neighborhood-destroying AM-1 the ability to be mounted with the bracket barely showing, and provides an overall cleaner look than most outdoor speakers. Using the included bracket, the AM-1 can be mounted vertically or horizontally mounted on a wall or ceiling, and swiveled 220 degrees for maximum sound projection into your neighbor's children's birthday party.


AM-1 Side Cut
Conclusion
All kidding aside, the B&W AM-1 looks better than most outdoor speakers, has a versatile mounting system, and likely sounds very good...and you should buy one if you want to make mortal enemies of your neighbors by blasting Nickelback. Then again, you could use your new AM-1s to make friends. Just think of it, you can spin up some good music like Queen or The Beatles and you will draw in friends like moths to the flame. If you so choose to install outdoors speakers, remember this, "with great power comes great responsibility." We urge you to use your new found auditory powers to bring good music to the world.
For more information visit Bowers & Wilkins.

Confused about what AV Gear to buy or how to set it up? Join our Exclusive Audioholics E-Book Membership Program!
Recent Forum Posts:
Steve81 posts on February 07, 2013 19:24
ratso, post: 949755
queen or the beatles? what year is this?
Two Thousand And The Beatles And Queen Still Kick All Kinds Of A** Thirteen.
Cliff_is posts on February 07, 2013 19:08
I go wherever Spotify takes me.

Lately, a lot of classics.

Don't forget Rage Against The Machine
ratso posts on February 07, 2013 18:58
queen or the beatles? what year is this?
Post Reply