Apple Acquires Beats & Proposes New Headphone Standard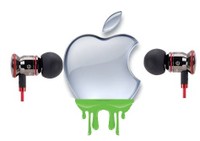 Back on May 28th, Apple put out an official notice they would be buying Beats Music & Beats Electronics for the tidy sum of 3 billion dollars. Now it looks like the Cupertino based company has more news: a new headphone connector standard based on the Lightning port currently used to transfer data and charge iDevices. Apple touts several advantages of this new standard, including improved audio quality and being able to eliminate the current 3.5mm headphone jack to reclaim internal space. Surely the ability to lock out third party headphone manufacturers or charge exorbitant licensing fees never crossed their minds, right? Click to read all the details.
Industry News: Apple recently acquired Beats, maker of the fashionable headphones currently taking the market by storm; now they've got a new headphone connector in the pipeline. Click to read more.