Bug in HDMI 2.1 chips Affect AV Receivers, XBOX Series X & NVIDIA Graphic Cards
Bug in HDMI 2.1 chips Affect AV Receivers, XBOX Series X & NVIDIA Graphic Cards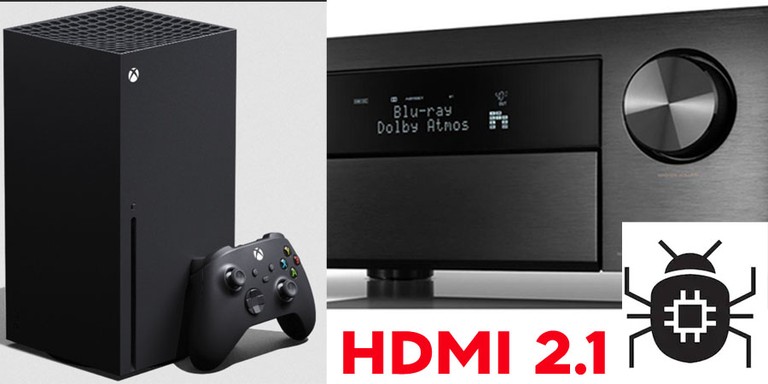 HDMI 2.1 Bug
Yesterday a German audio website discovered a bug in the latest HDMI 2.1 chipsets sourced by Panasonic and utilized in the new Denon, Marantz and Yamaha HDMI 2.1 AV receivers. This bug can inhibit pass through of 4k/120Hz HDR and 8k/60 HDR for some devices like NVIDIA's newest graphics cards and the latest XBOX Series X gaming console. When engaging these resolutions with these source devices directly connected to an HDMI 2.1 capable receiver utilizing the Panasonic HDMI 2.1 chipset, the user can experience  a blank screen. This is a potential problem for any other manufacturer planning on using this HDMI 2.1 chipset in their next generation of HDMI 2.1 AV receivers as well. We inquired with Sound United and Yamaha to see what their solutions would be to resolve this problem to determine if a hardware or firmware fix would be needed.
Update 12/9/20: It turns out Denon & Marantz HDMI 2.1 AV receivers supports 4k/120Hz without issues.
 Official Sound United Response Regarding the HDMI 2.1 Chipset Bug
Some new gaming source devices that support 4K/120Hz output may not work fully with Denon (or Marantz) 8K AVRs. You may discover this incompatibility issue due to a HDMI chipset mismatch between the devices. When the affected system is connected to the AVR via 8K HDMI input and set to output at 4K/120Hz, and the AVR's 4K Signal Format option is set to "8K Enhanced," you may not see the system's source video on their display, and may not hear the system's source audio processed through the AVR. This problem is only present when a display that supports 4K/120Hz is used.
We are currently investigating the issue further and will offer a permanent solution at a later date. Meanwhile, we would like to provide a couple workarounds to prevent the issue in its current state:
 You can connect the system to the display directly via HDMI and use the display's ARC/eARC functionality to feed the native audio back to the AVR using the connected HDMI cable between the AVR and display. This will allow users to decode the native audio format sent from the source. With this method, the display's CEC/ARC option must be enabled as well as the AVR's HDMI Control and/or the AVR's ARC option. In the AVR, this option is located within the GUI under "Video – HDMI Setup."

 Another workaround is to leave or change the source's video output to 4K/60Hz instead of 4K/120Hz until a permanent solution is available. This will ensure reliable communication between the source, the AVR and the display. The source's default is set to output at 4K/60Hz, so if no change was initiated out of the box, then nothing further needs to be done.
We apologize for this inconvenience and we are currently working tirelessly to release a permanent solution so you can enjoy the 4K/120Hz experience using the latest sources with your AVR. We will have an update soon regarding the timeline of a permanent solution. We appreciate your patience.
  Official Yamaha Response Regarding the HDMI 2.1 Chipset Bug
As we test and explore new gaming system capabilities and the latest HDMI specifications, we will provide guidance on our website to help new and future customers with the compatibility of our latest AV receivers. We will certainly provide you with an update in the near-term.
Audioholics will continue to follow this issue and report back once new information is received on the permanent solution from manufacturers deploying the Panasonic HDMI 2.1 chipset in their AV receivers. Share your experiences with any HDMI 2.1 issues when connecting up an XBOX Series X or latest NVIDIA graphics card in the related forum thread below.
Recent Forum Posts:
AVR Enthu posts on August 26, 2021 08:13
Epsonfan posts on August 04, 2021 19:42
Teetertotter?, post: 1494715, member: 92697
@Epsonfan , It took 7 days from the day I ordered, to receive mine and made in Vietnam, as where the AVR was made too. I ordered out of spite and have no use for it. I do no gaming and can't afford a new 2.1 HDMI gaming TV, at least from TLC, which they only make one, and is in the two-three 3K $$ range. That is per TCL factory rep, 3 weeks ago. Gaming TV's are pretty expensive these days, if interested. IMO of course.

Thanks I ordered the add on in case if I sell my Denon later on
Epsonfan posts on August 04, 2021 19:39
I am still waiting for my free add on.
Epsonfan posts on July 17, 2021 12:31
I see
AVR Enthu posts on July 17, 2021 12:27
Epsonfan, post: 1494646, member: 89748
I going to use the adapter NOT for game console but with eARC in order to overcome the lack of VRR with my Sony A80J 77 inch and have access to 4k at 120 hrtz .

You are going to do what? VRR has nothing to do with 4K120Hz. eARC has nothing to do with either VRR or 4K120Hz. Those are all separate features.
Post Reply