Bug in HDMI 2.1 chips Affect AV Receivers, XBOX Series X & NVIDIA Graphic Cards
Bug in HDMI 2.1 chips Affect AV Receivers, XBOX Series X & NVIDIA Graphic Cards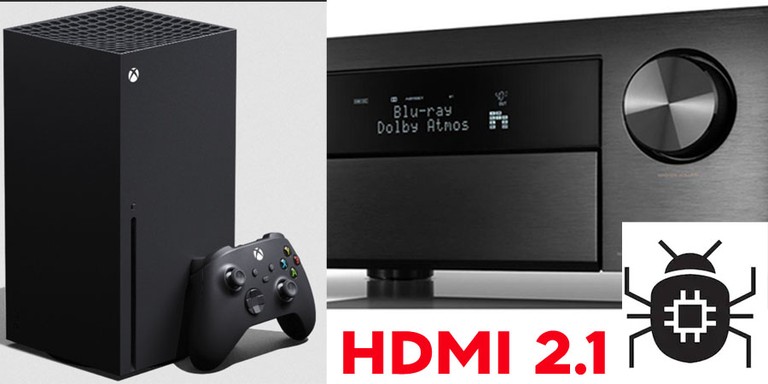 HDMI 2.1 Bug
Yesterday a German audio website discovered a bug in the latest HDMI 2.1 chipsets sourced by Panasonic and utilized in the new Denon, Marantz and Yamaha HDMI 2.1 AV receivers. This bug can inhibit pass through of 4k/120Hz HDR and 8k/60 HDR for some devices like NVIDIA's newest graphics cards and the latest XBOX Series X gaming console. When engaging these resolutions with these source devices directly connected to an HDMI 2.1 capable receiver utilizing the Panasonic HDMI 2.1 chipset, the user can experience  a blank screen. This is a potential problem for any other manufacturer planning on using this HDMI 2.1 chipset in their next generation of HDMI 2.1 AV receivers as well. We inquired with Sound United and Yamaha to see what their solutions would be to resolve this problem to determine if a hardware or firmware fix would be needed.
Update 12/9/20: It turns out Denon & Marantz HDMI 2.1 AV receivers supports 4k/120Hz without issues.
 Official Sound United Response Regarding the HDMI 2.1 Chipset Bug
Some new gaming source devices that support 4K/120Hz output may not work fully with Denon (or Marantz) 8K AVRs. You may discover this incompatibility issue due to a HDMI chipset mismatch between the devices. When the affected system is connected to the AVR via 8K HDMI input and set to output at 4K/120Hz, and the AVR's 4K Signal Format option is set to "8K Enhanced," you may not see the system's source video on their display, and may not hear the system's source audio processed through the AVR. This problem is only present when a display that supports 4K/120Hz is used.
We are currently investigating the issue further and will offer a permanent solution at a later date. Meanwhile, we would like to provide a couple workarounds to prevent the issue in its current state:
 You can connect the system to the display directly via HDMI and use the display's ARC/eARC functionality to feed the native audio back to the AVR using the connected HDMI cable between the AVR and display. This will allow users to decode the native audio format sent from the source. With this method, the display's CEC/ARC option must be enabled as well as the AVR's HDMI Control and/or the AVR's ARC option. In the AVR, this option is located within the GUI under "Video – HDMI Setup."

 Another workaround is to leave or change the source's video output to 4K/60Hz instead of 4K/120Hz until a permanent solution is available. This will ensure reliable communication between the source, the AVR and the display. The source's default is set to output at 4K/60Hz, so if no change was initiated out of the box, then nothing further needs to be done.
We apologize for this inconvenience and we are currently working tirelessly to release a permanent solution so you can enjoy the 4K/120Hz experience using the latest sources with your AVR. We will have an update soon regarding the timeline of a permanent solution. We appreciate your patience.
  Official Yamaha Response Regarding the HDMI 2.1 Chipset Bug
As we test and explore new gaming system capabilities and the latest HDMI specifications, we will provide guidance on our website to help new and future customers with the compatibility of our latest AV receivers. We will certainly provide you with an update in the near-term.
Audioholics will continue to follow this issue and report back once new information is received on the permanent solution from manufacturers deploying the Panasonic HDMI 2.1 chipset in their AV receivers. Share your experiences with any HDMI 2.1 issues when connecting up an XBOX Series X or latest NVIDIA graphics card in the related forum thread below.
Recent Forum Posts:
Otto Pylot posts on January 27, 2021 23:34
Device mfrs are not obligated to support the full HDMI 2.1 options sets to claim HDMI 2.1. And that's also true for how the supported option sets are implemented, so incompatibilities are bound to occur. Even though they are required to list which option sets are supported on the shipping units, they should also list the verified bandwidth, not just say "up to" or expect the consumer to just assume 48Gbps because it's HDMI 2.1. So far, only the gamers are having issues with HDMI 2.1 and some of the devices but eventually source material will appear for the movie crowd that is going to require the higher bandwidths (>40Gbps) so I hope these issues get corrected before too much longer. I really dislike HDMI.
Pogre posts on January 27, 2021 19:21
TLS Guy, post: 1428120, member: 29650
Then each manufacturer will blame the other when the result is a black screen, or "not Supported" message. From posts here, it seems Samsung is a way down that road.

This is exactly what happened to me when I went back and forth between Audyssey and Marantz about inconsistencies with the editor app! I never did get a satisfactory solution so much as it just seemed to eventually "fix itself"…
TLS Guy, post: 1428120, member: 29650
This will kill home AV if something is not done to check it. People will just go for sound bars and HTIBs if for no other reason than that they will at least work until they blow up.

My advice to members is NOT to buy new gear unless you really have to. Have to means a piece of equipment fails. Otherwise keep what you have. Your major focus should be reliability. In order to really work the bugs out, I think we should go to 10 year model replacement cycles and not yearly.

I do not intend to replace any of the equipment I put in last year. I will not replace the older equipment in the other two systems until they fail. Most of those items are coming up to the 10 year mark. I do provide good protection though and strongly believe in engineering longevity and protection in.

From what you have said, and what I see happening, the worst decision members could probably make now is to upgrade anything with an HDMI input on it. I'm pretty certain we are in for troubled times and a bunch of hard knocks.

I'm with you. I've had my avr for close to 5 years now and it's still plenty current for me. No new features out there that I feel like I need. It still does everything I want and 4k is more than enough already. I have no desire to replace it anytime soon. I geek out over speakers and subs but the rest for me is good to go until it absolutely needs to be replaced.
AVR Enthu posts on January 27, 2021 18:39
New Yamaha receivers alleged to host 24 Gbps HDMI 2.1 ports only by Phil Jones

In this recap talk on HDMI 2.1 spec, Phil Jones from Sound United alleges that Yamaha has implemented HDMI 2.1 chips with 24 Gbps speed only, which means DSC compression for higher bandwidth signals in pipeline, especially 4K120 with higher colours and HDR.

If true, owners of home theatres with at least one device that can only work with uncompressed signals, such as LG TV 9 series, would not be able to use new Yamaha's receivers fully, beyond 4K60 HDR RGB or beyond 4K120 HDR 4:2:0 content, as this is where compression kicks in. LG C9 is expected to show black screen if run above those settings, as it does not support DSC in its EDID.

It could potentailly be a serious bottleneck issue and deal breaker for many people, rendering those receivers unfit or with limited use with majority of HDMI 2.1 gen devices with uncompressed traffic above 24 Gbps, such as TVs, consoles, GPUs and incoming monitors, PCs and NUCs.

(minutes 14-15 in the video)
1ZbOufC-qSc

Is Phil Jones telling us something that Yamaha does not want customers to know about their HDMI 2.1 multiple ports? It's a great way to divert attention from Denon's shameful black screens on Microsoft's console and unstable dynamic images from games and renderings played by graphics cards. However, if true, Yamaha'd better not dare releasing those high tier models until new, proper chips come in later on this year, otherwise those AVRs be a laughing stock generation, nothing better for home theatre integration than current offer by SU.

No one has encountered any bigger problems with new Yamahas because they still have not enabled HDMI 2.1 features through firmware. They also have not published the speed of their HDMI ports. It will be important for many to know. The HDMI 2.1 FRL (> 18Gpbs) mode and the higher resolutions and frame rates it allows will be enabled in a future firmware update. If anyone buys all these new AVRs now they won't know if it's broken/limited to alleged 24 Gbps until that update. It will probably be long after their return period has expired. That's why we need to know the true HDMI specs of these AVRs now and not later.
AVR Enthu posts on December 28, 2020 10:58
pcosmic, post: 1446245, member: 90032
These guys go to extreme lengths to get extremely low travel fast responsive buttons, extremely low lag pcbs in their controllers, etc, etc….all this stuff….

No doubt. I agree. Those are priorities for gamers that give them a competitive edge, even more so for pro or semi-pro gamers.
I just used an opportunity to express wider frustration with this year's marketing and implementation of HDMI 2.1 in AVRs. A product that was aggressively targeting gaming part of PC world has not actually delivered, not only for gamers, but more broadly too.
Gmoney posts on December 28, 2020 10:09
Otto Pylot, post: 1445592, member: 90526
A big thanks to all you gamers for beta testing HDMI 2.1 for the rest of us non-gamers .

I don't game, use to with the first PS, My Sons and All of my grandchildren do they all have their own PS 4 and will be getting the 5.
But yeah Thanks Gamers! for all the testing! of these new AVR's. You guy's have been posting up some very valuable info.
Post Reply