Denon & Marantz Announce HDMI 2.1 Receivers 4k/120Hz Works Without Issue!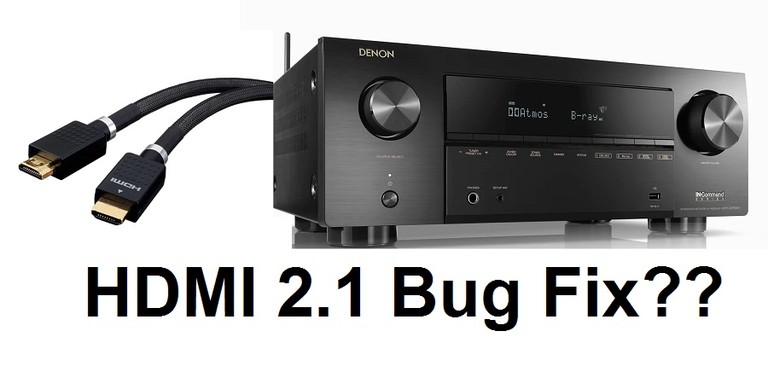 HDMI 2.1 Bug Fixed?
At the end of October, Audioholics reported the discovery of a chipset bug in the latest HDMI 2.1 chipsets sourced by Panasonic and used in the new Denon, Marantz, and Yamaha HDMI 2.1 AV Receivers. The bug can inhibit pass through of 4k/120Hz HDR and 8k/60 HDR for some devices like NVIDIA's newest graphics cards and the latest XBOX Series X gaming console. When engaging these resolutions with these source devices directly connected to an HDMI 2.1 capable receiver utilizing the Panasonic HDMI 2.1 chipset, the user can experience a blank screen.
Some new gaming source devices that support 4K/120Hz output may not work fully with Denon (or Marantz) 8K AVRs. You may discover this incompatibility issue due to a HDMI chipset mismatch between the devices.
--Sound United
Sound United, parent company of both Denon and Marantz, reached out to Audioholics to let us know that they have been working diligently on the problem and have released an official statement regarding the issue.
Sound United completed additional testing and is pleased to report that 4K/120Hz passthrough works without issue on Nvidia and PS5 devices. Outside of what was originally reported regarding Xbox at 4K/120Hz output setting, we have had no further HDMI 2.1 device interoperability issues reported as of this writing.  
Denon used one of its new AVR-X2700 AV receivers to test the problem. The result is that the latest generation of Marantz and Denon AVRs actually can, after all, pass 4K 120Hz through their 8K-capable HDMI port from both the Sony PS5 games console and the Nvidia RTX 30 graphics cards. Sound United even posted a video to ensure that consumers correctly set up their gaming systems for 4K 120 Hz.
To ensure Denon and Marantz customers have the best gaming experience with PS5 and NVIDIA consoles, we created this video that walks users through the optimal set-up process to get the most out of their gaming systems. In this video, we cover how to configure a 2020 Denon or Marantz receiver, a Playstation 5 and an HDMI 2.1 compatible TV for 4K gaming at 120fps.
--Sound United
Configuring For PlayStation 5 With A Denon/Marantz Receiver for [email protected] Gaming

Configuring For Nvidia RTX3090 Graphics Card Users With A Denon/Marantz Receiver for [email protected] Gaming

This is great news for consumers who purchased one of the Denon or Marantz HDMI 2.1 compatible receivers in 2020. Sound United continues to work diligently to nail down a long-term solution for Xbox users who are looking for a 4K/120hz pass-through solution on their 8K AV receivers, which they say "is progressing nicely."  For the time being, be sure to check out the Sound United video for PS5 for proper 4k/120Hz playback support. We have to hand it to Sound United for not only being on the cutting edge of new technologies but for their open minded approach to fix issues and post videos to help AV enthusiasts get the most out of their systems!
Recent Forum Posts:
AVR Enthu posts on August 26, 2021 08:13
Epsonfan posts on August 04, 2021 19:42
Teetertotter?, post: 1494715, member: 92697
@Epsonfan , It took 7 days from the day I ordered, to receive mine and made in Vietnam, as where the AVR was made too. I ordered out of spite and have no use for it. I do no gaming and can't afford a new 2.1 HDMI gaming TV, at least from TLC, which they only make one, and is in the two-three 3K $$ range. That is per TCL factory rep, 3 weeks ago. Gaming TV's are pretty expensive these days, if interested. IMO of course.

Thanks I ordered the add on in case if I sell my Denon later on
Epsonfan posts on August 04, 2021 19:39
I am still waiting for my free add on.
Epsonfan posts on July 17, 2021 12:31
I see
AVR Enthu posts on July 17, 2021 12:27
Epsonfan, post: 1494646, member: 89748
I going to use the adapter NOT for game console but with eARC in order to overcome the lack of VRR with my Sony A80J 77 inch and have access to 4k at 120 hrtz .

You are going to do what? VRR has nothing to do with 4K120Hz. eARC has nothing to do with either VRR or 4K120Hz. Those are all separate features.
Post Reply