Shure Delivers, Then Recalls, New True Wireless Earphone Solution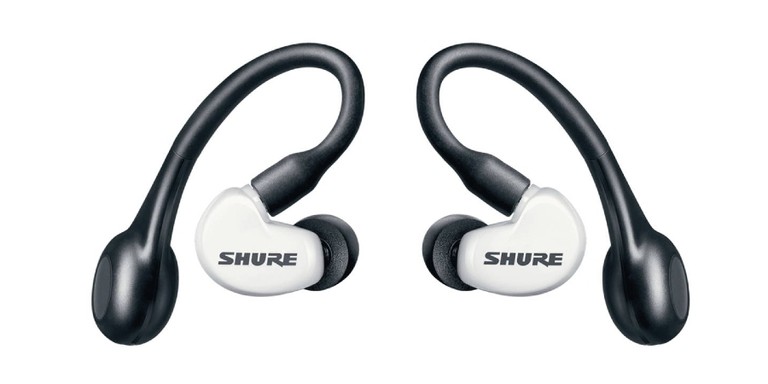 Shure Aonic 215
Shure is one of only a handful of companies with real bona fides in both the consumer and professional audio industries. The first good in-ear monitors I ever bought were made by Shure, and my SM57 microphone still works perfectly despite being more than 40 years old. So when the company announced a new product designed to cross the divide between the consumer and pro worlds, I was all ears. And the concept made plenty of sense. Shure's wired in-ear monitors are popular with audio professionals, pro musicians, and audiophiles. For critical listening or live performance applications, bluetooth simply won't get the job done; the loss of audio quality and potential latency issues are just too significant. But pros and consumers alike often find themselves in situations where headphone cables are too inconvenient to be practical. Whether you're in the gym, riding your bike, or just walking around town, you may not want to deal with tangling cables and accidental snags. There's a reason why Apple's AirPods are so popular. And of course, many smart phones these days no longer have headphone jacks, so bluetooth has become more ubiquitous than ever. That's why, in April of this year, the audio specialists at Shure announced two new products: the Aonic 215 True Wireless earphones ($279), and the RMCE-TW1 True Wireless Secure Fit Adapter ($229).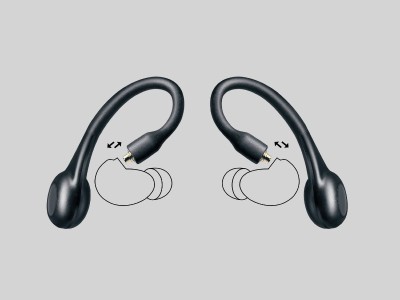 The Aonic 215 is a pair of Shure's entry-level in-ear monitors bundled with the RMCE-TW1, which allows the IEMs to work as true wireless earphones. The earphones connect via MMCX connectors to the bluetooth adapters, which hook over your ears to provide a very secure fit. Once you're back at home, in the recording studio, or on stage, you can disconnect the bluetooth adapters and attach the earphones to any standard headphone cable with an MMCX connection, allowing the Aonic 215 to serve double duty as both a wireless earphone and a traditional wired IEM. At $279, the Aonic 215 is a premium-priced true wireless earphone, and probably won't have the same kind of mass-market appeal that Apple's AirPods and Beats-branded offerings enjoy. But the RMCE-TW1 True Wireless Secure Fit Adapter, which the company also offered as a standalone product for $229, had the potential to be a big hit with existing Shure IEM users. The RMCE-TW1 was designed to allow any of the brand's widely used in-ear monitors to become true wireless earphones whenever the user requires convenience, without compromising on the performance the IEMs can deliver when used in their original wired configuration. (A traditional headphone cable also comes in handy when you want to connect to an airplane's entertainment system.) Compatible earphone models include the SE215 ($79), the SE425 ($199), the fan-favorite SE535 ($349), and the flagship SE846 ($999). All of these have been in production for years, yet they remain popular and competitive. For someone who bought a pair of IEMs in 2013 to have the ability to turn them into essentially a new product for true wireless use is pretty awesome. The feature-set of the RMCE-TW1 includes a bluetooth 5 connection with AptX and AAC support, an Environment Mode to let you hear the outside world, premium built-in amplifiers, and a companion mobile app that lets you monitor battery levels and customize the level of sound isolation/transparency you want in Environment Mode. Sounds great, right? The only problem was… it didn't work.
Shortly after Shure began shipping the Aonic 215 and RMCE-TW1 True Wireless Secure Fit Adapter on April 15th, users started to report a number of problems. For example, there were times when audio would only play through one channel. For phone calls, audio is routed only to the right ear, and that's by design, making it safer to make hands-free calls while driving or riding a bike. But after using the earphones to make a phone call, some users reported that music would play only to the right ear. Other users had serious problems with battery performance. The earpieces are supposed to deliver 8 hours per charge, with the included charging case providing 3 additional charges. Users reported short battery life, unusual discrepancies between battery levels in the left and right earpieces, and incomplete charging, even when the earpieces were left to charge overnight. Eventually, it became clear to the folks at Shure that there were serious issues with the RMCE-TW1 True Wireless Secure Fit Adapter, which was reportedly built by a third-party supplier called Innovation Sound Technology, in Shenzhen, China. Most orders were never fulfilled. The following message was sent to a customer who had pre-ordered the RMCE-TW1. (The customer re-posted the message on the online headphone forum Head-Fi.)
Thank you for trusting Shure and for recently ordering the Shure AONIC 215 True Wireless Sound Isolating Earphones or True Wireless Secure Fit Adapter on shure.com. For almost 95 years, Shure has been striving to be the most trusted audio brand worldwide on stage and in studios. Ensuring outstanding quality in all our products is a key part of who we are, and we pride ourselves in delivering extraordinary audio experience. Unfortunately, the AONIC 215 Earphones or True Wireless Secure Fit Adapter you recently ordered do not represent our quality standards. Therefore, Shure has started a customer return program and will not be shipping the (AONIC 215 Earphones or True Wireless Secure Fit Adapter). Rest assured that this is not due to any safety issue. Your order will automatically be cancelled and you will be refunded. We understand that quality is important, and we want to make this right with our customers. In addition to this email, you may also receive an automated cancellation notice from our system within a business day. We apologize for any confusion this may cause.
For customers who actually received their Aonic 215 Earphones and/or True Wireless Secure Fit Adapters, Shure set up a return program. Unlike a safety-related recall, this program is voluntary. So if anyone received the products and is satisfied with their performance, no action is needed. But it seems like these problems are wide-spread, and not easily solved. Those who did receive their orders were sent a similar message to the one above, with the following addition:
We are fully committed to our product quality, and to giving you a great customer experience. We currently have a return program in process. If you would like to return this item, please do so through the retailer you purchased it from. You will get a full refund as well as a $100 gift card for your troubles, covered by Shure.
This whole fiasco is a rare misstep by Shure, but it may be a great opportunity for a competing company called Fostex, which also has ties to both the professional and consumer audio worlds. Its parent company is Japan's Foster Electric Co., one of the world's largest developers of OEM speakers and transducers. Perhaps best known in the US for its headphone products, Fostex has introduced a true wireless headphone very similar to the beleaguered Shure Aonic 215 earphones, called the Fostex TM2 ($300).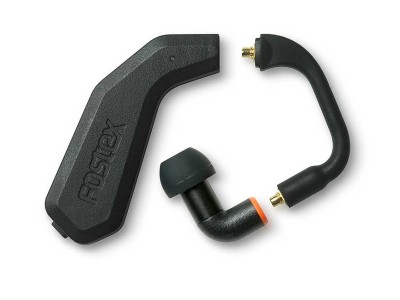 Like the Aonic 215, the TM2 is a small in-ear monitor with a separate bluetooth adapter that hooks around the user's ear, and connects to the IEM via an MMCX connector. Although the bluetooth adapter is not currently being offered as a standalone product, Fostex is quick to point out that it can be used with a number of IEMs from other manufacturers. Fostex even goes one step further, offering two additional styles of connectors as optional add-ons, just in case your favorite IEM doesn't use an MMCX connection to attach to its standard cable. Shure's IEMs are not specifically mentioned in Fostex's literature, but all of the models mentioned earlier in this article should be compatible with the Fostex adapters, as are various models from Campfire Audio, Ultimate Ears, Jerry Harvey Audio, FitEar, and a number of other IEM manufacturers. The form factor and feature-set of the Fostex adapter are pretty similar to the Shure's, though the Fostex solution is quite a bit chunkier, and looks somewhat clunkier than the comparatively sleek RMCE-TW1 from Shure. Most importantly though, the Fostex TM2 actually works! The performance is so good that Ultimate Ears is now offering the TM2 in a bundle with the company's $1,500 UE 18+ CSX in-ear monitors. Online reviews of the TM2 also seem to be mostly positive, with the main complaint being that the built-in microphone used for phone calls picks up too much ambient noise.
There's no telling when or if Shure will be able to fix the issues plaguing the RMCE-TW1 True Wireless Secure Fit Adapter and Aonic 215 True Wireless earphones. But given the growing popularity of the true wireless form factor, the motivation is certainly there. And now that Apple has added the $250 AirPods Pro to its own lineup, there are plenty of potential mainstream customers out there who are getting used to the idea of spending more for higher-quality audio without the wires. In the meantime, Shure may lose a significant amount of business to Fostex, as owners of Shure's IEMs have no choice but to look elsewhere for their true wireless upgrades. Will Shure be able to make the RMCE-TW1 work, or will the whole project be scrapped in favor of a new solution? We shall see.
Confused about what AV Gear to buy or how to set it up? Join our Exclusive Audioholics E-Book Membership Program!
See also: