Rumors Abound of Bowers & Wilkins Future After Tech Startup Departure
by
Jerry Del Colliano
—
June 12, 2020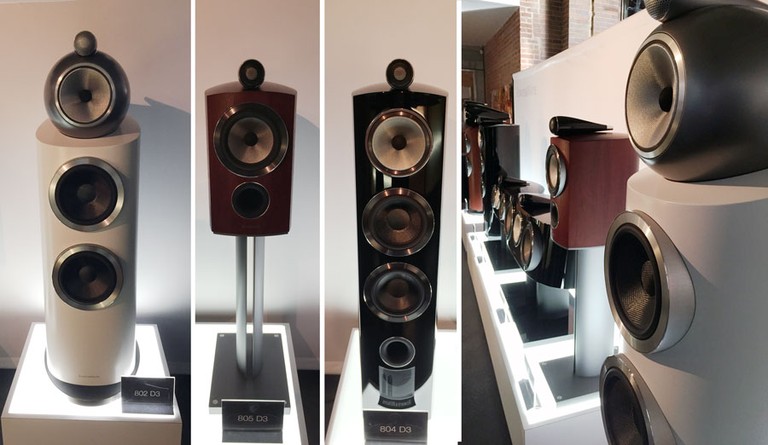 Bowers & Wilkins Loudspeakers
With all that's going on in the world today, it's sometimes hard to keep track of reality vs. fiction. Rumors abounded  this week of a possible buyout of Bowers & Wilkins by the former owner Joe Atkins. Then we learned today that Sound United announced it entered into a preliminary letter of intent to acquire the legendary speaker company.
Over the course of five decades Bowers & Wilkins built one of the most prestigious brands in the global speaker market with industry - leading acoustical engineering, iconic design and marketing. B&W is a transformative brand and we look forward to the opportunity to finalize the transaction. This reflects Sound United's unwavering focus to achieve its mission of bringing joy to the world through sound.
- Kevin Duffy, CEO at Sound United
The proposed transaction remains subject to ongoing discussions, confirmatory diligence, regulatory approvals, and other required consents. Sound United and Bowers & Wilkins will release further updates in relation to the status of the proposed transaction at the appropriate time.
You had to be happy for Joe Atkins, the longtime owner of Bowers & Wilkins, when the news broke back in 2016 that he sold that brand, along with Classe' and Rotel, to a Silicon Valley startup owned by Gideon Yu, an ex-Facebook executive and part owner of the NFL's San Francisco 49ers. Atkins, as the CEO and majority shareholder, had built the company into one of the most lauded names in the loudspeaker business, starting with his leadership of the brand back in the late 1980s. In 2016, Bowers & Wilkins enjoyed rock solid distribution worldwide being sold in many of the world's best dealers. Bowers & Wilkins was getting a foothold in the lucrative and more mainstream automotive space with branding deals with carmakers like Volvo, McLaren, and others. The brand had a leading position in the high-end wireless headphone space, and was a product sold in the tony Apple Stores nationally.

The friendship between Yu and his Eva Automation was a fast one, reportedly resulting in this sale in a mere thirty days. Yu was able to raise a good sum of money towards the rumored purchase price of $150,000,000. Like a shotgun wedding, things moved quickly in the deal but there were a lot of bumps in the road. Classe', the high-end electronics brand that was sold in conjunction with Bowers & Wilkins speakers, was unceremoniously and almost inexplicably shuttered. The public word was that the brand wasn't profitable, so it had to go. And go it did – right into the hands of San Diego-based Sound United (owners of Definitive Technology, Polk, Denon, Marantz and various 12-volt car audio brands), which scooped up the electronics company, its engineers and leadership team, so that the high-end mark could be relaunched in 2019. Despite claims of the staff remaining the same, many retired, moved on, or were let go. Public relations firm Nicoll PR, which had repped B&W for years, resigned shortly after the purchase by Yu and his new group.
With the vision of a computer company start-up more than a well-established player in the high-end consumer electronics space, Eva's stated goal was to take on Google and Amazon in the smart speaker arena. Yes, you read that right. The problem is that inside sources suggest that Google and Amazon actually lose significant money on each speaker sold, because they are not really in the speaker business as much as they are in the data business. You may say that what you buy and access to how you buy it is far more important than losing roughly $100 on a smart speaker. That money could be made back quickly by the likes of Amazon and Google in their platforms. Eva, despite making some gorgeous products in their Foundation lineup, never really had a chance.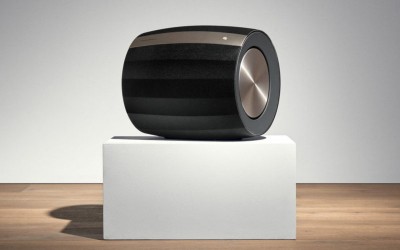 B&W Formation Sub

A few months ago, rumors that Bowers & Wilkins was in play started bubbling up, as no $30,000 per month Madison Avenue PR firm or pie-in-the-sky vision could make a traditional loudspeaker brand into the next IPO-worthy darling of San Jose. Suitors were sought, but none were found. Control of Eva, with money still owed to him and other investors, has recently switched back to Atkins, reportedly at the behest of the banks. This week, the company hired back Nicoll PR, which will be a popular move with the media, as well as a stabilizing force for the brand. With Classe' gone, Rotel now in the hands of Sumiko (effective June 1st, 2020), perhaps Bowers and Wilkins will get the much needed brand refocus going forward.
For audiophiles and home theater enthusiasts alike, the change in ownership is likely a good thing, as either company will want to bring back brand stability after cauterizing the wounds caused by Eva's long-shot idea of turning an established speaker brand into a tech start-up.
Bowers & Wilkins Next Steps?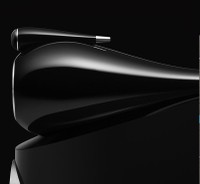 Discussions between Bowers & Wilkins and Sound United are at an early stage with a view to consolidating our premium brands into a new group offering even better consumer opportunities. If our discussions are successful, combining Bowers & Wilkins' engineering and manufacturing expertise in the premium category with the breadth of resources and capability of Sound United could certainly be a transformative step for both brands. It would allow the Bowers & Wilkins team even greater opportunities to focus on what we do best
– building the industry's finest loudspeakers.
--Geoff Edwards, CEO of Bowers & Wilkins
This all feels a bit too familiar. Recently, Sound United entered into somewhat of a similar deal to acquire both Pioneer and Onkyo but backed out after a few months. This deal, if completed, would give Sound United a true gem of a Hi-Fi brand to go with their growing collection. The move would get them more into the branded car audio business (they are a well-established player in the after-market automotive business) as Bowers & Wilkins comes with a number of high-profile automotive partners like Volvo, McLaren and others. Ironically, Classe' Audio will be reunited with Bowers & Wilkins as they were paired up more than a decade ago when the former owner of Bowers & Wilkins added Classe' to Equity's line up which also included Rotel. Rotel was recently spun off from Bowers & Wilkins and is now being distributed by Sumiko. While Sound United already has a number of home theater and enthusiast-based speaker brands under its umbrella – adding Bowers & Wilkins is a strong move to the hoop and fills in some serious gaps in the higher end market for them.
According to Bowers & Wilkins, if the two brands decide to move forward, Sound United would acquire all worldwide third-party distribution and licensing agreements under which Bowers & Wilkins premium audio products are currently sold. This does not affect any of the existing Bowers & Wilkins product portfolio or any of the products Bowers & Wilkins currently distributes or current global operations.

Even the best AV dealers are reeling in the post COVID-19 economy. Some stability with one of their premium brand partners will likely viewed as a positive. Consumers, more housebound than ever, are looking for premium entertainment experiences from streaming media, be it audio or video, in their homes, as the concept of how social distancing is going to work in a movie theater is an unsolved equation. Home theater offers 4K video, object-based surround sound, countless content options, including Netflix, Amazon Prime, Hulu, Disney+, and many others, along with music streaming options that allow the listener to have access to to pretty much every recording ever made (often in CD or higher resolutions) for about the cost of one compact disc per month. Making these entertainment hubs sound their best is a solid basis for Bowers & Wilkins to build from for the short term as they look for a more suitable new owner, perhaps it will be Sound United.
For now, the entire industry is wondering if Joe Atkins will be standing behind the magic curtain at Bowers & Wilkins during the CEDIA show next year, or if the entire floor will be under a giant Sound United banner.
Recent Forum Posts:
Patrick Butler posts on June 18, 2020 10:49
HI AcuDefTechGuy,
All of our current bookshelf and floor standing products feature a locking tweeter guard that has dramatically reduced the number of tweeters that are broken. Whether it's aluminum, titanium or diamond, a pushed-in tweeter usually requires replacement. Soft domes can sometimes be massaged or sucked out, but there can still be damage to the voice coil that ruins the tweeter.
Best regards,
Patrick
Bowers & Wilkins
AcuDefTechGuy, post: 1398980, member: 26997
Going back the B&W 800/802s, I always wondered if they would ever offer an Aluminum or Titanium version of the tweeter, instead of diamond.

So it would be the 800A or 800T.

The idea is that a much thicker Aluminum or Titanium diaphragm would be a lot more durable than this extremely thin 0.001" layer of synthetic diamond.

panteragstk posts on June 17, 2020 23:06
NINaudio, post: 1399080, member: 82928
I would have rescinded the marriage offer at that point. I had an engagement ring custom made for my wife with a sapphire in it. She has never liked diamonds.

They had a weird relationship. Still do, but they're very happy. I honestly didn't think they'd ever get to this point. She actually changed a lot for the better, but damn that wasn't cool.
I do agree, I would have just told her to get her own damn ring if mine wasn't good enough.
NINaudio posts on June 17, 2020 20:35
panteragstk, post: 1398765, member: 61217
"Hey look at the pretty rock. We should totally buy them all and keep them in a big vault and pretend they're rare. No one will ever know, and we can sell them for crazy markup. Then, when people try to trade them in, we can give them 10% of what they paid."

I don't get the allure of "precious" stones. Gladly, neither does my wife. I had a fried who's now wife made him return the engagement ring he got her for a bigger one. Wow.

I would have rescinded the marriage offer at that point. I had an engagement ring custom made for my wife with a sapphire in it. She has never liked diamonds.
highfigh posts on June 17, 2020 16:51
Gmoney, post: 1398989, member: 89454
Yeah Andrew some Models like this with some different materials used would be very nice
37236

I don't have a problem with the materials used for that model. I really don't.
Gmoney posts on June 17, 2020 15:01
AcuDefTechGuy, post: 1399009, member: 26997
Is this model only $30K per pair like the 800D3?

What a steal!

Over priced! lol
Post Reply