B&W Purchased by Silicon Valley Startup: Cheers or Tears?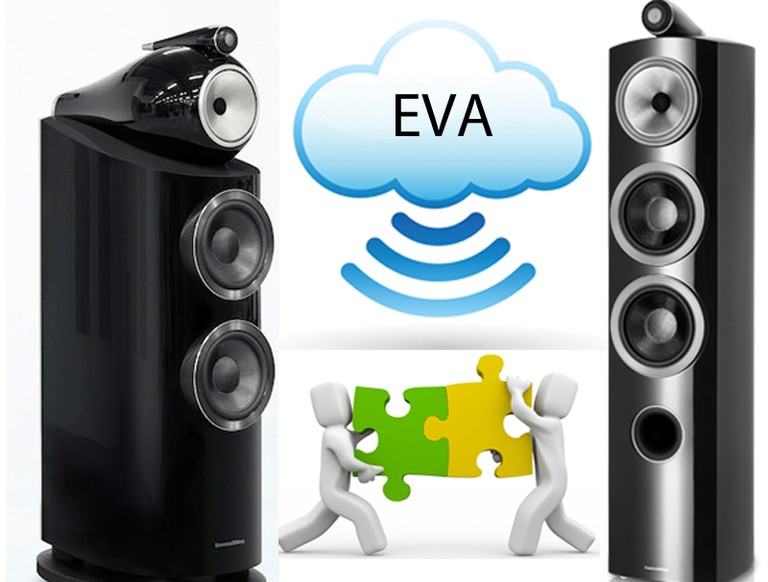 Bowers & Wilkins Purchased by EVA
In one of the most lopsided acquisitions since AOL purchased Time-Warner in 2000, Silicon Valley startup EVA Automation, founded in 2014 and boasting only 50 employees, has just announced its purchase of Bowers & Wilkins – one of the most iconic speaker companies in hi-fi history. 50 years old and over 1000 employees strong, B&W is one of the most recognized brands in consumer electronics, as well as one of the most respected names in hi-fi. The company was founded by John Bowers in 1965 in the back of his electronics shop, and has since gone on to become the brand that built the speakers used by Abbey Road and George Lucas' studios.
We have to wonder what the late Mr. Bowers would think today, knowing his life's work was purchased by a company that had little more than a vaguely detailed website to its name. But that's the new economy for ya! Upon closer inspection, EVA Automation is clearly staffed by top talent from the Valley. The startup was founded by former Facebook CFO Gideon Yu, who is also co-owner of the San Francisco 49ers. Based on the CVs of other of the company's top execs, the organization is steeped in wireless and cloud communications talent.
Financial terms of the deal were not disclosed, but it is known that Caledonia Investments just sold 20-percent of its stake in Bowers & Wilkins for £24 million cash and a £500,000 dividend. Thankfully, someone on the Internet has already done the math and currency exchange for me – that's an estimated sale of $175-million.
The Good News for B&W
Both Yu and B&W CEO Joe Atkins have stated that there will be no staff cuts at B&W, and the current range of products will continue unhindered. Although the press release makes no mention of the future of B&W co-brands Classe and Rotel, we can only assume the same applies.
In a prepared statement, Gideon Yu wrote:
"I am beyond thrilled to announce that we have acquired Bowers & Wilkins—in my opinion, the absolute quality and design leader in high-end audio equipment. I've personally been a huge fan and loyal customer of Bowers & Wilkins for decades and truly admire and respect their Chairman, Joe Atkins. What he and his team have created over the past 30 years is simply inspiring. Since I founded EVA Automation two years ago, we have been working hard to create fantastic home A/V user experiences. When it was time to seek out partners for our journey ahead, Bowers & Wilkins was unquestionably our #1 choice, and after I met Joe and his team, it was immediately clear that we share the same long term product vision and sincere passion for home entertainment."
And from Joe Atkins:
"This is an exciting time for Bowers & Wilkins—a brand of true heritage and quality. In Gideon Yu and EVA Automation we have a true innovator in the technology sector."
What EVA Automation Brings to B&W
When we picture a Silicon Valley startup, the first thing we imagine is a rag-tag group of lovable misfit developers with a bleeding-edge new compression algorithm called Pied Piper. But no such luck. The team at EVA is nothing like the team from the fictional HBO series Silicon Valley. This is no rag-tag band of misfits but rather the elite in technology and investing. EVA appears to be an Internet-of-Things company, concerned with wireless and cloud technology and (according to their website) "…reimagining the audio/video experience by making products that will change how people interact and think about the home."
Along with founder Gideon Yu, CTO Gaylord Yu (or Yu2, as we imagine he is affectionately referred to around EVA) provides further evidence of the startup's core competency. He spent serious time at Motorola during the company's good old days when it was still a big player in telecom hardware. While there, he led the development of the hardware associated with Moto's wireless network and WiMax programs.
The more we look at this pairing, the better this deal looks for B&W's future position. Last year, before talks began with EVA, B&W CEO Atkins admitted his company did not have the tools to properly develop cloud offerings in its product line. Bowers & Wilkins has had some success entering mainstream markets in the past, with their critically acclaimed wireless speakers that use Bluetooth and Apple AirPlay, as well as a successful line of on-ear headphones. But it would be nice to see B&W's wireless speaker offerings expand beyond where they are today.
It could be that EVA Automation will deliver exactly what B&W needs to get ahead, but according to Gideon Yu, we'll have to wait till mid-2017 to see what new products EVA will help deliver under the new and revitalized B&W brand.
What Does the Future Hold?

As for what the future holds for B&W's status as one of the great speaker companies... We can only trust Joe Atkins, who has spent his career maintaining and building the company. It's not difficult to take Gideon Yu's statements at face value, that he truly has a passion for the brand. In a time where real performance in hi-fi is often being traded in for trendy new features, B&W may be adapting to this new market the only way it can and in doing so, saving one of the true high performance speaker brands for future generations.
Confused about what AV Gear to buy or how to set it up? Join our Exclusive Audioholics E-Book Membership Program!
Recent Forum Posts:
Patrick Butler posts on June 18, 2020 10:49
HI AcuDefTechGuy,
All of our current bookshelf and floor standing products feature a locking tweeter guard that has dramatically reduced the number of tweeters that are broken. Whether it's aluminum, titanium or diamond, a pushed-in tweeter usually requires replacement. Soft domes can sometimes be massaged or sucked out, but there can still be damage to the voice coil that ruins the tweeter.
Best regards,
Patrick
Bowers & Wilkins
AcuDefTechGuy, post: 1398980, member: 26997
Going back the B&W 800/802s, I always wondered if they would ever offer an Aluminum or Titanium version of the tweeter, instead of diamond.

So it would be the 800A or 800T.

The idea is that a much thicker Aluminum or Titanium diaphragm would be a lot more durable than this extremely thin 0.001" layer of synthetic diamond.

panteragstk posts on June 17, 2020 23:06
NINaudio, post: 1399080, member: 82928
I would have rescinded the marriage offer at that point. I had an engagement ring custom made for my wife with a sapphire in it. She has never liked diamonds.

They had a weird relationship. Still do, but they're very happy. I honestly didn't think they'd ever get to this point. She actually changed a lot for the better, but damn that wasn't cool.
I do agree, I would have just told her to get her own damn ring if mine wasn't good enough.
NINaudio posts on June 17, 2020 20:35
panteragstk, post: 1398765, member: 61217
"Hey look at the pretty rock. We should totally buy them all and keep them in a big vault and pretend they're rare. No one will ever know, and we can sell them for crazy markup. Then, when people try to trade them in, we can give them 10% of what they paid."

I don't get the allure of "precious" stones. Gladly, neither does my wife. I had a fried who's now wife made him return the engagement ring he got her for a bigger one. Wow.

I would have rescinded the marriage offer at that point. I had an engagement ring custom made for my wife with a sapphire in it. She has never liked diamonds.
highfigh posts on June 17, 2020 16:51
Gmoney, post: 1398989, member: 89454
Yeah Andrew some Models like this with some different materials used would be very nice
37236

I don't have a problem with the materials used for that model. I really don't.
Gmoney posts on June 17, 2020 15:01
AcuDefTechGuy, post: 1399009, member: 26997
Is this model only $30K per pair like the 800D3?

What a steal!

Over priced! lol
Post Reply