Denon AVR-5805 AV Receiver Review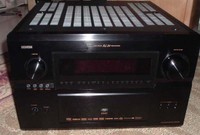 The Denon AVR-5805 10 Channel AV Receiver is a technological marvel. It has the most robust amplifier section we've ever measured in an AV receiver. In fact, its able to keep up with some of the best dedicated multi-channel amps. State of the art DAC's and support for the latest HD audio and video formats make it a master of all domains. Add in the fact that the AVR-5805 has four zones (two of them with simultaneous and independent surround sound decoding), you've got yourself a true one box whole home audio solution. There is no other product on the market like the Denon AVR-5805 Multi-Zone Surround Sound AV Receiver.
The Denon AVR-5805 A/V receiver features 4 zones (two with independent surround sound and HDMI support) and 10 amplifier channels. In our review, we found it to be a one box whole home audio solution.