Classe Sigma SSP, AMP2, & AMP5 Preview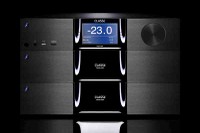 Classé has announced the availability of a new series of components called Sigma. Sigma features a 7.1 channel Surround Sound Preamp/Processor, called Sigma SSP, and two amplifiers, the AMP2 and AMP5, rated at 2x200W and 5x200W into 8 ohms respectively. The SSP retails for $5,000, while the AMP2 and AMP5 cost $3,500 and $5,000, respectively.
The Classé SIGMA series consists of the SSP preamp/processor, and AMP2 and AMP5 amplifiers. Read on for more details.