NAD Master Series Preamplifiers and Amplifiers Preview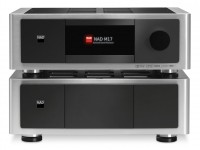 NAD's latest preamplifiers, the M12 and M17, continue to show the company's dedication to their Modular Design Construction technology. While you'll need to wait another year (reportedly) for HDMI 2.0 and HDCP 2.2, the preamps that will eventually support them are here. While the two-channel M12 and seven-channel M17 aren't inexpensive at $3,499 and $5,499 respectively, they are packed with NAD's latest technology and a new look to boot. Matching amplifiers are also available, with the two-channel M22 and seven-channel M27 promising adequate reserves of power.
Preview: The NAD Master Series M12 two-channel preamp and DAC and M17 seven-channel preamp aren't cheap but they do have all the latest NAD technology and a new look to boot.