Classé Sigma SSP MkII Preamp/Processor Adds Dolby Atmos, DTS:X and 4K UHD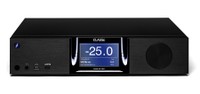 If you're in the market for a new immersive audio preamp and you have the money to spend, Canadian audio company Classé announced the release of their Sigma SSP MkII. This eight channel preamp is an upgrade to their highly regarded Sigma SSP. The new MkII has been made even better with the addition of a new audio DSP for Dolby Atmos and DTS:X immersive surround sound and HDMI board for 4K UHD support. Current SSP owners can purchase this hardware update and have it installed at the dealer or in their homes.
Classé new Sigma SSP MkII supports Dolby and DTS:X immersive surround formats and passes 4K UHD video at 60 Hz with HDCP 2.2. Current Sigma owners can upgrade theirs too at the dealer or in home.