Brik Modular Audio Product Lineup Overview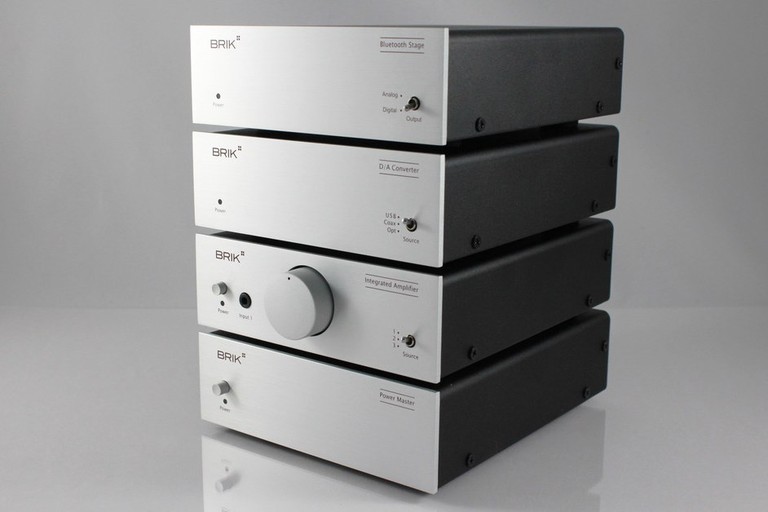 Brik Instruments Modular Product Lineup Overview
Summary
Bluetooth Stage - $179
Output: Analog, Digital - Coaxial
Audio Function: 44.1K & 48K 16 Bit Stereo
Frequency Response: 40 Hz - 15K Hz
THD: <0.1%
Crosstalk: >55 dB
Output Level: 2V rms ± 0.2V
S/N: >75 dB
Dimensions: W 5.51" x H 1.89" x L 6.30"
Weight: 2.20 lbs
Headphone Amplifier - $420
Input: RCA Line x 1 (Stereo for recording to PC), USB 2.0 (Type B) x 1
Output: 32 ohm x 2 total 400 mW
Sample Rate Support: 44.1 kHz, 48 kHz, 88.2 kHz, 96 kHz, 176.4 kHz, 192 kHz, and 384 kHz. 16, 24 & 32 bit 2 channels.
Load Impedance: 16 - 600k ohm
Distortion: 0.02%
Frequency Response: 20 - 20k Hz
S/N: 95 dB
Brik DAC - $189
Input: USB x 1; Optical x 1; Coaxial x 1
Output: RCA Analog x 1; 1V and 2V Select Switch x 1
Output Level: ±0.2V
Distortion: <0.05%
S/N: 100 db
Output Impedance: <600 OHM
Separation: 100 dB
Frequency Response: ±3 dB (20-20kHz)
Equalizer Stage - $179
Input: RCA Analog x 1
Output: RCA Analog x 1; By Pass / EQ Selection x 1
Output Level: 2V
Distortion: <0.035%
S/N: Flat - 100 db; A-Weighted - 106 dB
Output Impedance: <650 OHM
Control Range: 10 dB
Input Selector - $145
Inputs: RCA Line Input x 6
Output: RCA Line Output x 1
Integrated Amplifier - $204
Inputs: RCA Line-Level x 2, 3.5mm Line-Level x 1
Power Output: 50W (1kHz THD 0.5%)
Load Impedance 4 OHM: >35W (THD 10% Max Output)
Input Sensitivity: 210 mV
Input Impedance: 20K OHM
Distortion: <0.5% (1kHz 1W / 4 OHM 200Hz - 20K Hz)
Frequency Response: 20 - 20K Hz (Volume at Max 1W Output - 3dB)
Separation: > 60dB
Min. Hum Volume at Min.: <10mV (20K LPF)
S/N: >75dB(20K LPF)
Internet Radio - $159
Wireless Networks: IEEE 802.11g (Dynamic up to 54 Mbps)
Wireless Transmission: 15 dBm (Max)
Network Transmission: Half-duplex mode 10/100 Mbps Wired
Transmission Frequency: 2.4-2.4835 GHz
FM Frequency: 76-108 MHz
SM / MMC Support: 8 GBytes
Audio Output: 2V rms ± 0.2V
Output Impedance: < 600 Ohm
Phono Pre-amp - $169
| | | |
| --- | --- | --- |
| | MM | MC |
| Input Senstivity: | 4 - 6 mV | 0.4 - 0.6 mV |
| Output Level: | 500 - 550 mV | 500 - 550 mV |
| Max Input: | > 80 mV | > 8 mV |
| Max Output: | > 8 V | > 8 V |
| Input Impedance: | 46 - 56 KΩ | 80 - 120 Ω |
| Output Impedance: | < 680 Ω | < 680 Ω |
| Gain (1 kHz) | 38 -42 dB | 58 - 62 dB |
| Distortion (5mV Input) | < 0.1% | < 0.3% |
| S/N (A-Weighted) | > 65 dB | > 55 dB |
| RIAA Accuracy | ± 1dB | ± 1dB |
| Channel Balance | < 0.5 dB | < 0.5 dB |
| Channel Separation | > 60 dB | > 50 dB |
Power Master - $139
Power Supply - A: DC 12V x 4
Power Supply - B: DC 20V x 1

Power Input: AC 115V 60 Hz (US)

Power Consumption: 18W
Executive Overview
I'll be honest, I had never heard of Brik before being assigned this article. Established in 2010, they aren't exactly a household name. However, after sifting through their offerings, I think that's going to change. No, not in the mainstream market, but in the audiophile marketplace they seem poised to make some waves thanks to their combination of modular design, affordable pricing, and high-end look/feel. But they aren't perfect.
A Modular Approach

The first thing you will notice when perusing Brik's website is their modular design. Instead of offering expensive, all-in-one products, they split out important audio functions into affordable standalone units.
For example, let's say you want a nice 2ch. Bluetooth music system in your office. You could buy their 2ch. integrated amp ($204) plus the Bluetooth Stage ($179) and you would be set. Now, let's say you want to expand the system so you can plug in your computer directly via digital optical and iPhone via USB, simply add their DAC ($189) to the system. You see what I mean by modular?
There are a number of advantages to this approach, along with a few disadvantages. On the good side is, obviously, the ability for the consumer to build the exact system they want. This also ensures that they are only paying for the features they want, not wasting money on unused features. At the same time, each of these individual components looks to be much higher quality than what would be included in an all-in-one system. For example, the Bluetooth Stage sports an external antenna and they claim an operating range of up to 100', much more than the 30' you would get from a typical Bluetooth product. Another advantage is the ability to integrate Brik products into existing systems. Let's say you read our review of the Outlaw Audio RR2150 Stereo Receiver and decided to drop $699 for the unit. First off, I'd say congratulations because that's a great stereo receiver. However, you didn't read our entire review and missed the part where we mentioned that the RR2150 lacks digital coax or optical inputs. Not a problem, simply add the Brik DAC to the system and you will now have a full complement of digital input plus a presumably upgraded DAC.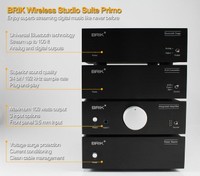 With all that said, there are a few downsides to this approach. First off, you can end up with a large number of components to deal with. Since the components are so small, that's not an issue when they are sitting on a piece of AV furniture. However, the focus of the produce lineup is towards smaller systems (office, bedroom, etc...), where a stack of 4 or 5 devices might not be welcome. A second problem is that you can end up with a mess of cords to connect everything. These systems can also become cumbersome to use with too many components as each device needs to be manually power on and set to the proper level/input (they do offer a Master Power unit to help with the power on/off sequence).
I'd wager that Brik's target audience would be willing to put up with the separate components, cables, and operation. The audiophile crowd is used to, and often prefers, to have components separated out for maximum sound quality at the cost of a bit of convenience. The mainstream consumer, however, is likely to value convenience over squeezing out every last drop of detail from their lossy MP3 collection.
All of their products use the same chassis, so they are the same size, a slight W 5.51" x H 1.89" x L 6.30". The chassis is black, but the front faceplate can be ordered in either silver or black. The entire enclosure looks really nice, largely thanks to its minimalist design and metal construction.
Current Product Lineup

Brik offers 9 different products that can be bought à la cart to build your ideal system. They also offer a few discounted bundles. Below is a list and brief description of each product in their lineup:
Bluetooth Stage ($179): A simple Bluetooth receiver with a claimed 100' range. Outputs consist of one pair of analog RCA and one digital coax. A small switch on the front panel selects which outputs are active. The only odd part about this product is the rated frequency response of 40Hz-15kHz, when Bluetooth is fully capable of 20Hz-20kHz.
Headphone Amplifier ($420): This is far and away the most expensive unit that Brik offers. It sports dual ¼" headphone jacks, obviously for those of us that like to wear in-ear and over-the-ear headphones at the same time for maximum fidelity. I suppose the dual outputs could also be used so two separate people can enjoy music or to A/B two sets of headphones, but both of those options are less practical than my first suggestion. The front panel also has volume (mirrored volume for both headphone jacks) and power controls. The Headphone Amplifier has the expected set of RCA inputs, as well as a USB-B input, which is a really nice bonus.
DAC ($189): Hosting mini-USB, digital coax, and digital optical inputs, (one of each) and a single pair of RCA outputs with a 1v/2v output level switch, the Brik DAC does exactly what you would expect, converts digital signals to analog. A source selector switch on the front panel rounds out the Brik DAC.
Brik DAC

Equalizer Stage ($179): This EQ gives you +/-10dB of adjustment at 10 bands from 32Hz to 16kHz. The EQ controls are on the front while the rear panel has a stereo RCA loop and EQ on/off switch.
Input Selector ($145): Six analog inputs, one output, and an input selector on the front panel. No IR compatibility and no power whatsoever. That's the Brik Input Selector in a nut shell, a $145 passive switch.
Integrated Amplifier ($204): This is a simple 2 channel, presumably class D, integrated amp rated at 50W (1kHz THD 0.5%). The literature makes is seem like that rating is taken with both channels driven, but we can't be certain. It has two RCA inputs on the rear along with what look like sturdy binding posts for a single pair of speakers. There is a volume knob, power button, 3.5mm input, and source selector on the front panel.
Brik Integrated Amplifier

Internet Radio ($159): The Brik Internet Radio unit can connect to the interwebs via built-in wireless (802.11g) or via an Ethernet jack on the back. It can pull in FM as well as Internet radio. Interestingly, it also has an SD card slot to transform the unit into a bit of a media server, but it only decodes MP3 and WMA files. A single set of analog outputs rounds out the unit.
Phono Pre-amp ($169): A single set of analog inputs and outputs along with an MM/MC switch and ground screw, that's what you get with Brik Phono Pre-amp.
Power Master ($139): The Power Master's main purpose is to help eliminate extra AC/DC adapters that can clutter up your equipment stack. It does this by offering up four DC 12v 1A outputs and one DC 20v 3A output on the back panel. This allows up to five other Brik components to connect to the Power Master for some DC goodness. Brik also claims that the unit cleans up power (reduces EMI), "transforms the house current coming in into clean current with the right voltage" and provide a "steady power source".  Beyond that, there is no information on the level of EMI suppression, clamping voltage, or joule rating. It's also unclear if providing a "steady power source" means that it is capable of maintaining proper DC output even if the incoming AC voltage drops. In other words, voltage regulation.
Conclusion
Overall, Brik Instruments offers some pretty cool products at reasonable, if not very good, prices. They follow typical audiophile design ideals, like separating functions among devices and simple, minimalistic looks, but not to the point of absurdity. Some of the products even offer up intriguing twists, like the SD card reader in the Internet Radio stage. However, their list of specs and user manual for each product could be a little more thorough. For example, the power ratings for the integrated amp didn't specify one or two channels driven, I'm unsure if each unit includes an AC/DC power adapter or if you need the power master, plus I already mentioned some confusion with the Power Master filtration/regulation/surge protection specs. But, those aren't major gripes, and many of their niche competitors tend to be guilty of the same thing.
Of course, there is some tough mainstream competition out there. Marantz, Denon, and Onkyo all offer attractive alternative systems. Units from said manufacturers come packaged in one chassis, offer mobile apps for control, and expanded network features at a similar or even lesser pricepoint than what the competing Brik system costs. So, what do you think? Would you consider adding some of these Brik components to an existing system, or doing a complete Brik system over an all-in-one unit?

Confused about what AV Gear to buy or how to set it up? Join our Exclusive Audioholics E-Book Membership Program!
Recent Forum Posts:
Cliff_is posts on August 24, 2013 19:20
macddmac, post: 984201
The size is perfect for small office setups.
standing by for measurements..
Cheers, Mac
You might be waiting a while.
There is no review lined up right now.
But I agree, the size is great for an office, den, etc…
macddmac posts on August 23, 2013 20:14
The size is perfect for small office setups.
standing by for measurements..
Cheers, Mac
slipperybidness posts on August 23, 2013 16:47
I really hope these guys make it.

I think they have some pretty good ideas, even if a few of the products seem to have missed the mark somewhat.

Making it all in 1 style of chassis, freaking brilliant. That makes tooling easier and cheaper, and gives them more leverage to save money buying in larger quantities.

Hopefully they sound pretty good. I can say that I see a couple items on the list that might be worth checking out. That vinyl classic rig looks pretty snazzy.
haraldo posts on August 23, 2013 10:00
I find this to be quite interesting gear to be honest. Always good to see low priced gear that seemingly will provide nice price/performance value proposition

never heard of 'em before, thx a lot Cliff !!!!!!!!!!
Post Reply