Simaudio Moon CP-8 AV Processor: A Denon Receiver in Sim Clothing?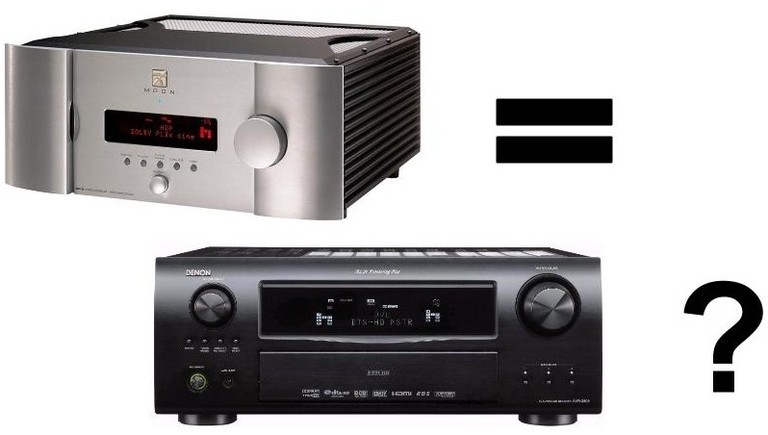 Simaudio Moon CP-8 or Denon AVR-2809CI
Summary
Executive Overview
In the world of ultra high-end audio, where 5 and 6-figure price tags are common, Simaudio is no stranger.  For 34 years, they've been crafting amplifiers, preamplifiers, and disc players.  The assertion is, according to their website, that they are "recognized as one of the few who have successfully transcended beyond science into bringing you the spirit of a musical peformance [sic]. All made possible by our extensive know-how, and a host of proprietary technological advancements."
They go on to state that, "our digital solutions embody the latest technologies."  It was likely a statement such as this that prompted the following question, posed to Chris Kyriakakis, the Founder and CTO of Audyssey Laboratories, by a Facebook fan:
"Is there a reason that the Flagship Processor from Simaudio the CP-8 only has Audyssey XT and not XT32?"
It was true.  The Moon CP-8 from SIM Audio, retailing for a healthy $18,000, seemed to lack the current top of the line room correction algorithm from Audyssey, a feature found in Pre/Pros and AV receivers at 1/10th the price.  This wasn't really surprising; many ultra-pricey audiophile products eschew the latest-and-greatest for the tried-and-true.  But then, the plot thickened as Chris, revealed:
"Simaudio is NOT a licensee of Audyssey."
So, if Simaudio wasn't getting the technology from Audyssey, where were they getting it from?  A potential clue lies in the front display of the unit.  The configuration of the symbols in the display bore a striking resemblance to products from another unaffiliated manufacturer: Denon.

The Simaudio Moon CP-8 Display

The Denon AVR-2808 Display
The similarities carried over to the back panel.  Differences in the Simaudio from the Denon included an additional optical input and balanced pre-outs, but otherwise, the configurations were strikingly similar, from the analog inputs, right down to the "Dock Control."
Simaudio Moon CP-8 Rear
Denon AVR-2808 Rear
The back panel of the Denon AVR-2808 vs the Simaudio Moon CP-8.  Notice the position of the analog inputs, trigger outs, and dock control.

Even the accompanying literature revealed clues.  While the Simaudio site did not currently have a downloadable manual for the CP-8, a version still linked at goodwinshighend.com.
(...seemed nearly identical to Denon's own)
Denon AVR-2808 on the left, Simaudio Moon CP-8 on the right.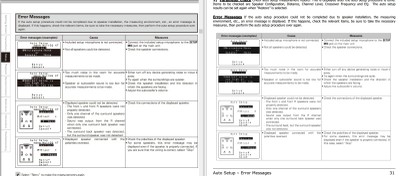 Denon AVR-2808 on the left, Simaudio Moon CP-8 on the right.
 As for the inside of the unit, based on internet images, the power supply of the Simaudio is undoubtedly different, as are other details, though a metal shroud covers much of the internals.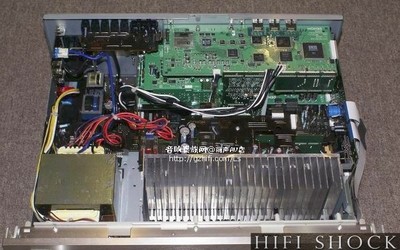 Photo of the inside of a purported Denon AVR-2808 pulled from an internet image search.

Photo of the inside of a Simaudio Moon CP-8.


Denon has confirmed that they have not knowingly provided any components to Simaudio for the manufacture of their CP-8.  In the end, it seems that one innocent question has spawned many more.  Audioholics will be reaching out to Simaudio for their insight, and we hope to report back shortly.
Feedback from Simaudio

11/11/13
Seemingly, all that sleuthing wasn't necessary.  After being furnished a copy of the draft of this article, Simaudio's Costa Koulisakis, VP of Sales and Marketing and part owner according to a September 20, 2013 press release, was happy to confirm, in a 30-minute phone interview, that the origin of the CP-8 is indeed Denon AVR-2808CI/AVR-2809CI AV receivers.  When the decision to make a new pre-pro came about, Simaudio wished to include modern features in a polished product akin to Japanese high-end receivers "...with the quality of an American pre/pro" for their customer base who might want an all-Moon system.  The assertion is that their North American pre-pro, when compared with the "high-end Japanese receiver of the day", "smoked" the sound quality of the competition, though no measurements or metrics were given as to what constitutes "smoked." 
However, they were unable to get the total set of features that they were looking for like HDMI's latest versions, Audyssey room correction, and Dolby/DTS lossless codecs.
"...that costs a tremendous amount of money and development, and given that it's a technology which changes rapidly, for a company of our size, to set out and develop such a product from scratch would inevitably lead to a product that would come into the market too late."
So, they chose a "tried, tested and true" product for their base, one from another manufacturer.  They analyzed technologies "made available to them by other manufacturers and the Denon solution made the most sense because it was complete, relatively affordable, and readily available".  These Denon AVRs were purchased at retail for the purpose of "de-engineering...and re-engineering" with Simaudio technology designs into the CP-8.
On Simaudio's CP-8 product page, they state that, "a monumental obstacle that has been overcome by our dedicated engineering staff was the successful implementation of the most recent advancements in both HD video and digital audio decoding technologies."  It seems like all it took to overcome that obstacle was to use someone else's product, without their permission.  To Koulisakis' knowledge, Denon was not contacted regarding this decision.
Denon has confirmed that they have NOT knowingly provided any components to Simaudio for the manufacture of their CP-8.
During the interview, Koulisakis lavished praise upon Denon saying "the engine rarely fails…[it is] very reliable."  Koulisakis claims no intended deception, stating: "We don't hide it.  It's a Denon engine under the hood, and I say it with pride, because it's reliable and a Denon engine is a high-performance engine."  Lionel Goodfield, Marketing and Media Relations, added "we've never hid this fact from our dealers, distributors, or end users...if people asked we told them, it was never secret, and word does spread around pretty quickly...it wasn't well-known, but it was known."  However, Goodfield also noted, they didn't go out of their way to publicize it, and conspicuously absent from the Simaudio website, all press releases, and all linked literature, including the press sheet and user manual, is the word "Denon."  Hidden or not, the Denon connection was anything but explicit in all the Simaudio information, and language from the product webpage like, "Nearly 2 years of research and development were invested into the design of the CP-8..." give no indication of the work that was put into the system by the folks at Denon before Simaudio started working on their own design contributions.
Modifying production audio gear for greater performance is nothing new.  Forums are packed with folks looking to take a few bucks worth of components from Part Express and upgrade the crossover in their commercial speakers.  Some, like the Oppo BDP-93NE (Nuforce Edition), are complete products sold at retail.  However, the origin of the original product in those instances is quite clear from the manufacturer's printed information.  Not so with the CP-8, and we'd be curious to hear from CP-8 owners as to whether they knew the core of their new kit was made by Denon.
Of course, does it really matter where the parts come from if the resulting product sounds good?  Well, to the folks who do the research and development for the original technology (in this case, Denon, Audyssey, Dolby, DTS, and HDMI among others), it might.  These folks recoup their investment licensing that technology and controlling how it is sold through retail channels.  Koulisakis argues that that license was paid when they purchased the pre-mod Denon AVRs.  "..we didn't want to take away anybody's livelihood by bypassing any royalties or commissions that might be owed, and that's why, with the case of Audyssey...we bought the Denon on the retail end of it...we paid for it."  
I'm not sure if everyone involved would agree.
That does still leave an issue of registered trademark usage.  The HDMI, Dolby TrueHD, and DTS HD MA logos are prominently displayed on the inside control panel door, and the Audyssey logo appears on the display.  All of the above also appear on the datasheet, along with Sirius, XM, DCDi, and more.  The use of these displayed trademarks to market the product, without the expressed permissions of the rights holders, is potentially a trademark infringement (though we'll leave that to the lawyers).
While it would be remiss not to do so, there's no easy way to address the relative cost and resultant value of the Denon and Simaudio products.  It is not in dispute that Simaudio made significant changes introducing a new case and power supply, as well as removing and modifying the amplifiers and resulting output stage, but the "brains," "guts," and "engine" is still Denon.  To what extent is the 15x price increase reflected in the performance?  Without a review unit to test, it's hard to say just how much deviation from the original Denon design exists to account for the variance in price between the two products.  According to Koulisakis, the CP-8 is out of production "for a couple years now" after selling "a couple hundred units," though there may still be a few left on dealer's shelves.  Two hundred Denon AVR-2808CI, at the MSRP of $1199, would run you about $240,000.  The same number of CP-8 at $18,000 would run $3.6 million.
It would also be negligent not to address the speculation that a similar process may be at work in other Simaudio products.  Wishing to put that to rest, Mr. Koulisakis stated that while a similar process was used in previous Pre/Pro offerings (to a lesser extent with outsourced OEM parts), there would be no future Pre/Pro offerings and that, unequivocally, all other Simaudio products are assembled in their factory and "home grown from the ground up."  The Simaudio website features a photo tour of the factory for those so inclined, and no, I didn't see any Denon boxes stacked up in the background.
Conclusion
I've tried my best to stick to the facts at hand and leave opinion out of this main article so that you can draw your own conclusions.  That said, none of the openness and pride in using Denon parts was shown by Simaudio anywhere but in their phone interview.  When TAD's Andrew Jones designs speakers for Pioneer, they shout it from the rooftop.  I'd imagine that this wasn't done because, unlike the Pioneer/Andrew Jones combo, this wasn't a collaboration.  Neither Denon, nor Audyssey, nor any of the other technology companies had a say in whether their work ended up in a $1,199 AVR turned $18,000 pre/pro.
The larger question, which I'm sure will spin rampant in the forums, is what this says about high-end audio in general.  It's no surprise that OEM parts are used to varying extents in small run products for a niche market.  But, how are the prices of such products, magnitudes greater than their component costs, justified?  Welcome to the Free Market.  Manufacturers get to charge what people are willing to pay, and there is nothing wrong with this.  There are hundreds of people willing to pay $18,000 for a Simaudio Moon CP-8.  I wonder what they would have paid for a Denon?



Unless otherwise indicated, this is a preview article for the featured product. A formal review may or may not follow in the future.