Cary Audio DAC-100t and DMC-600 Digital Music Center Preview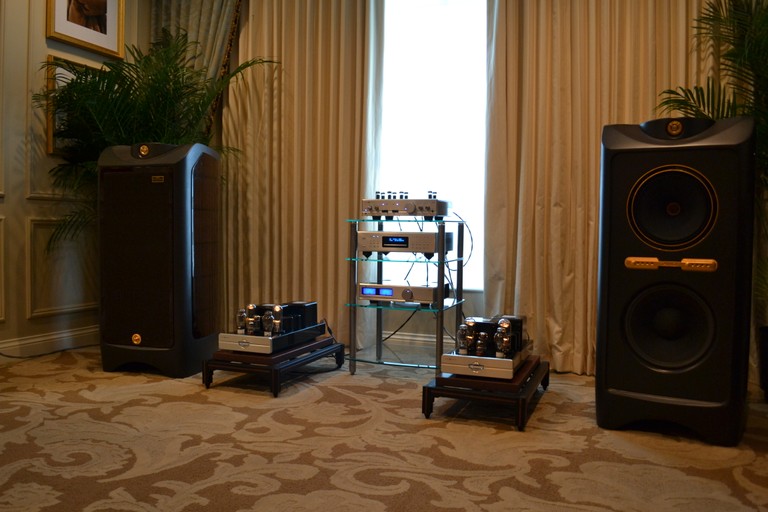 Cary Audio DAC-100 and DAC-100t Digital to Analog Converters and DMC-600 Digital Music Center Preview
Summary
DAC-100 and DAC-100t
• Collaboration with Gordon J. Rankin (Digital) and Cary Audio (Analog)
• Asynchronous USB input, 24 bit/192kHz for both Mac and PC
• XMOS USB processor
• Wolfson digital receiver
• ESS SABRE 9023 DAC chips, 1 each per channel
• Supported input rates of 44.1, 48, 88.2, 96, 176.4, 192
• Audiophile grade solid state audio buffer section (DAC-100); Audiophile grade vacuum tube audio buffer section (DAC-100t)
• 2-Coax digital inputs
• 2-toslink digital inputs
• Selectable phase 0/180 degrees
• Direct source key push button access
• Heavy duty regulated toroidal power supply
• RCA and balanced XLR outputs
• Estimated retail price: DAC-100 $2,495 and DAC-100t $2,995
DMC-600 Digital Music Center
• State-of-the-art audiophile DAC
• Supported input rates of 44.1, 48, 88.2, 96, 176.4, 192, 384 for all inputs
• Multiple stage digital upsampling to 768kHz
• Vacuum tube & solid state output like the reference CD-303T
• CD Transport, Redbook & HDCD
• USB input 32 bit, 384kHz for Mac and PC
• DSD USB playback
• Bluetooth input with AptX Lossless technology
• 2-Coax, 1-toslink and 1- AES/EBU digital input
• Coax and toslink digital outputs
• Clock-in and clock-out for external clocking
• Variable RCA and balanced XLR outputs
• IR, Trigger and RS-232 for control options
• Hand held remote control
• Estimated retail price around $5,000
Cary Audio partnered with Tannoy at CES to show off three new products, the DAC-100 and DAC-100t Digital to Analog Converters, and DMC-600 Digital Music Center.  Sadly, the main demo system didn't actually consist of any of these new products, but rather some of Cary Audio's current lineup with Tannoy Kingdom Royal speakers and WyWires Gold and Silver cables. Each piece of the system looked phenomenal and the system as a whole sounded as good as it looked. Maybe next year we will see a demo with some of the new products, but for now you'll just have to rely on our preview below.
DAC-100 and DAC-100t Digital to Analog Converters
Many high-end two-channel audio products do not have a digital to analog converter, which is increasingly an issue with the advent of high resolution digital music downloads, and that's where the DAC-100 and DAC-100t step in.  Both products feature asynchronous USB inputs (24 bit/192kHz for both Mac and PC), an XMOS USB processor, and Wolfson digital receiver. All of this means that you can be sure a fully intact and in-sync digital signal makes it to the dual ESS SABRE 9023 DAC chips and out either the RCA or balanced XLR connections. Both models have 2 digial coax inputs and 2 toslink inputs. The only difference between the two models is that the DAC-100 has a solid state audio buffer section while the DAC-100t has a vacuum tube audio buffer section. The DAC-100 has an estimated retail price of $2,495 and $2,995 for the DAC-100t. Both expect to ship sometime this Winter or Spring.


Cary Audio Lineup at CES 2013


DMC-600 Digital Music Center
As we have stated in other CES 2013 coverage articles, digital music was everywhere. The group of audiophiles who dismiss digital as less superior to analog and babble on misinformedly about the issues with digital audio is growing smaller and smaller. The DMC-600 allows such audiophiles to enjoy their digital music collection without having to worry about sacrificing quality. It features an audiophile DAC, supports sampling rates of up to 384 kHz and upsamples up to 768 kHz. It also features vacuum tube & solid state output like the reference CD-303T, a CD transport and Bluetooth connectivity with AptX lossless technology. Inputs are limited to 1 digital coax, 1 toslink, and 1 AES/USB. Output options are digital coax, toslink, and variable RCA and balanced XLR. The DMC-600 can be controlled via IR, 12v trigger, and RS-232. Expect the DMC-600 to start shipping sometime this Spring and retail for around $5,000. Although this unit certainly isn't cheap, it's nice to see an audiophile solution that embraces digital media. The only feature we hope they decide to add is a network interface to pull music directly from a networked device.
For more information visit Cary Audio

Unless otherwise indicated, this is a preview article for the featured product. A formal review may or may not follow in the future.