Sherbourn PT-7020A Processor First Look

Sherbourn PT-7020A processor
Summary
Features

Twin Cirrus 32 bit dual core DSP's. Cirrus 497004 & 495315 for true 192K performance
Decoding support for Dolby Digital, Dolby Digital EX, Dolby Digital Plus, Dolby Digital True HD, Dolby PLIIx, DTS, DTSES, DTS HD, DTS Master Audio, DTS Neo 6, SPDIF, PCM 8 channel (note: some audio formats are only supported via HDMI)
Genesis Torino high performance video scaling engine for true 10-bit processing
Integrated 3D video decoder
Faroudja DCDi Cinema Format Conversion and Truelife video enhancer
Automatic Cirrus/Sherbourn multi-channel room correction and automatic loudspeaker setup. Calibrated measurement microphone included.
Quadruple bass manager with independently selectable high and low pass frequencies from 40hz – 160hz
Balanced subwoofer output
All legacy video inputs can be scaled and output over HDMI at up to 1080p
HDMI sources can be format converted to component video up to 1080i
Intuitive, full color graphical OSD with adjustable transparency presented over live video, including HDMI
HDMI 1.3a Deep Color compliant
All inputs are assignable and feature input labeling, selectable decode modes, selectable triggers, etc.
Independent graphic EQ with global bass and treble controls by channel groupings
0.5dB level trims
High voltage, low impedance main analog outputs (7 VRMS)
RS-232 controllable

Specifications

5 - HDMI inputs and 1 HDMI output
3- composite video inputs (RCA)
3 - S-video inputs (S-video mini DIN)
3 - component video inputs (RCA)
1 - component video output (RCA)
4 - stereo analog audio inputs (RCA)
1 - 7.1 analog input set (RCA)
1 - 7.1 analog output set (RCA)
4 - coaxial digital inputs, (RCA)
3 - optical digital inputs (Toslink)
1- coax digital audio output (RCA)
1- optical digital audio output (Toslink)
1 - Stereo or 2 channel analog multi channel mix down output for fixed level monitoring (RCA)
1- stereo analog variable and independent Zone 2 output (RCA)
1 - stereo analog fixed level record output (RCA)
High performance AM/FM tuner with 24 FM and 6 AM presets
3 - assignable trigger outputs Movie/Music/Amp (3.5mm mini)
1- IR input (3.5mm mini)
1 - IR output (3.5mm mini)
1. Microphone input (3.5mm stereo mini)
1- USB data input (for software upgrades only)
Size: 17" W x 3 7/8" H x 13" D
Executive Overview
It's been almost 5 years since the debut of the PT-7010A pre-processor from Sherbourn Technologies. Since then, the company has been mostly focused on selling its existing line of multi-channel amplifiers for the custom install market. Now the CE channel manufacturer is getting back into the home theater game with its updated PT-7020A preamplifier/processor. The PT-7020A is a 7-channel model and includes Dolby TrueHD and DTS-MA decoding, 5 HDMI 1.3a inputs and RS-232 control. It is built on the same base platform as the Emotiva UMC-1, but adds updated professional features like XLR outputs and RS-232C control (and of course a completely different chassis with tweaked internals).
The Sherbourn PT-7020A processor has twin Cirrus 32 bit dual core DSP's (497004 & 495315) which provide 192K performance. The 5 HDMI inputs will decode and support all flavors of Dolby Digital and dts including Dolby True HD and DTS Master Audio. Video scaling is provided by a 10-bit Genesis Torino engine. Deinterlacing and pull down processing is handled by the aging, but still kickin', Faroudja DCDi.
One of the most surprising (and new to Sherbourn) features present on the PT-7020A is the Cirrus automatic multi-channel room correction and automatic loudspeaker setup system. A calibrated measurement microphone is even included. For those who care to get fancy, the PT-7020A has a quadruple bass manager with independently selectable high and low pass frequencies from 40Hz – 160Hz. There are seven XLR preamp outputs, including one for the subwoofer. A set of 7.1 analogue RCA outputs are also available for amplifiers that lack XLR inputs.

PT-7020A processor
Video processing is actually quite powerful on this processor, though we'll need to test it out to see it in real-world testing. All legacy video inputs can be scaled and output over HDMI at up to 1080p, but more significantly, HDMI sources can be format converted to component video up to 1080i. Of course, there is no telling whether or not this will be possible once Blu-ray and AACS implement their "no analogue" policy in 2013.
There is an intuitive, full color graphical OSD with adjustable transparency presented over live video, including HDMI. All inputs are assignable and feature input labeling, selectable decode modes, selectable triggers. There is an independent graphic EQ with global bass and treble controls by channel groupings, plus 0.5dB level trims. High voltage, low impedance main analog outputs provide 7 VRMS of output - an almost crazy amount by typical standards.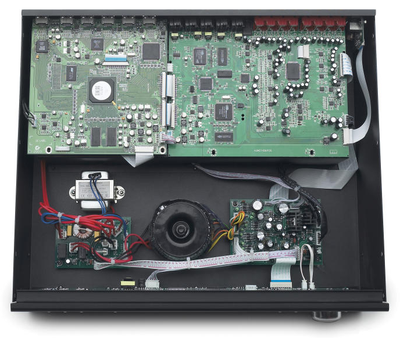 Sherbourn PT-7020A internals
We look forward to checking out this processor when we can, and feel that this new platform, while certain to show up around the industry under different brand names, is a great solution. It's all but guaranteed to satisfy custom installers looking for a decent platform as a front end to a great 7.1 separates system and, with Sherbourn targeting this market, they are finally in a position to provide a competitive solution that has the capabilities to meet the needs of their downstream CE clients. For direct consumers, we doubt they'll want to pay the $2000 premium for a slightly modified version of the UMC-1, but as that's not the target market for Sherbourn's CE channel, we doubt these customers would ever buy from them in the first place. It's good to see Sherbourn update its line and we don't mind seeing this platform make its rounds as it's fairly powerful and up-to-date with what users need in today's A/V world.
In either case, it appears that the A/V processor clone wars are still alive and kicking!

Unless otherwise indicated, this is a preview article for the featured product. A formal review may or may not follow in the future.
afterlife2 posts on September 13, 2013 19:01
Why was this receiver not reviewed was it bad? I see some people recomm it on some threads lately, but when I googled no one has ever reviewed it.
AcuDefTechGuy posts on June 11, 2011 15:24
PENG, post: 813958
Talking about the 362, I agree Hotel C sounds good with them but have you tried some violin concertos or any concertos or symphonies yet?


I just listened to Mozart Piano Concerto No. 20 on the Orions @ Max Volume of 85dBA.
The sound was awesome - absolutely dynamic with no hint of compression whatsoever.
But at what volume did I listen to the Infinity P362s? I don't know.
I never measured the Max Volume dBA when I listened to the P362s.
Did you PENG?
TLS Guy posts on June 08, 2011 00:46
AcuDefTechGuy, post: 814250
Big orchestral music is tough for most speakers to play back faithfully, including the B&W 800D & 802D.

I think speaker designers have to use orchestral music as basis for their sound design.

I brought Mozart's Piano Concerto No. 20 (First Movement) when I audition the B&W and all speakers. Most of these speakers did not fair well IMO.

I think the Revel Salon 2, KEF 201/2, & Orions are the least COMPROMISED.

But it seems like all of them are compromised to a certain degree when compared to the real live orchestral environment.

I have not heard a single speaker that can play back Concerto No. 20 to my absolute total 100% satisfaction.

The Salon2, 201/2, & Orion come pretty close, though.
Piano difficult for music, and if it is a Mozart piano concerto then you need great clarity and detail without any strident features to the sound presentation.
The big problem with piano, is that almost all speakers "bloom" in the bass.
The reproduction must be non resonant. That leaves you five choices, a planar speaker like the Quad ESL, a TL, an infinite baffle, an open baffle and a well deigned horn system.
Planar speakers are power limited, as open baffles are as well.
The infinite baffle requires a large space adjoining the listening area.
None of the above augment the driver. Loudspeaker drivers couple to the room poorly.
A horn couples the driver to the room the best, but is prone to significant irregularities and artifacts. A bass horn is also a formidable affair from an architectural standpoint.
A TL gives the significant augmentation to the driver, and remains non resonant. Correctly designed there will be no bass bloom and the bass will be totally realistic. It is the preferred loading for all but the largest spaces, where horn loading is optimal.
For large orchestral works, speakers have to be free of thermal compression and power limitations within the dynamic range of the material presented.
Most speakers fail in addition to lacking accuracy because they are power limited and or under powered.
To reproduce a large symphonic work realistically requires at least 400 watts per channel for most speakers, and preferably more.
I have just listened to Mozart piano concerto No, with no complaints
cpp posts on June 07, 2011 09:10
Quote:
Originally Posted by AcuDefTechGuy View Post
I have not heard a single speaker that can play back Concerto No. 20 to my absolute total 100% satisfaction.

The Salon2, 201/2, & Orion come pretty close, though.
I have to give a vote for the Usher 6381 and the 8571 Dancer both get close.
GranteedEV posts on June 07, 2011 01:38
AcuDefTechGuy, post: 814250
I have not heard a single speaker that can play back Concerto No. 20 to my absolute total 100% satisfaction.

The Salon2, 201/2, & Orion come pretty close, though.
I think if you made a true constant directivity Dipole with U-Frame woofer (like the Nao Note) using the best drivers in the world (like those used in the Salk Soundscape) in a truly optimized listening room… with a custom PC based FIR crossover in a true multichannel setup with high power amps
Then you could say it
Post Reply
Confused about what AV Gear to buy or how to set it up? Join our Exclusive Audioholics E-Book Membership Program!