RBH Sound Ultra-3 Soundbar Preview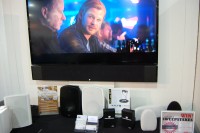 Soundbars are a dime a dozen, but high-quality passive soundbars are a different story. There are a handful of high-quality passive soundbars on the market, but the product category is far from saturated, so the release of the Ultra-3 from RBH is exciting news. The Ultra-3 sports proprietary inverted, domed aluminum 4-inch woofers and aluminum tweeters with textured phase plugs. Based on the specs, the brief demo we received at CEDIA, and our experience with other RBH products, the Ultra-3 seems like a solid choice.
Preview: The RBH Ultra-3 Soundbar is a passive LCR soundbar for the audiophile with limited space and modern style. If that's you, click through for more details.