WiSA Wireless Speaker & Audio Technology at CEDIA 2012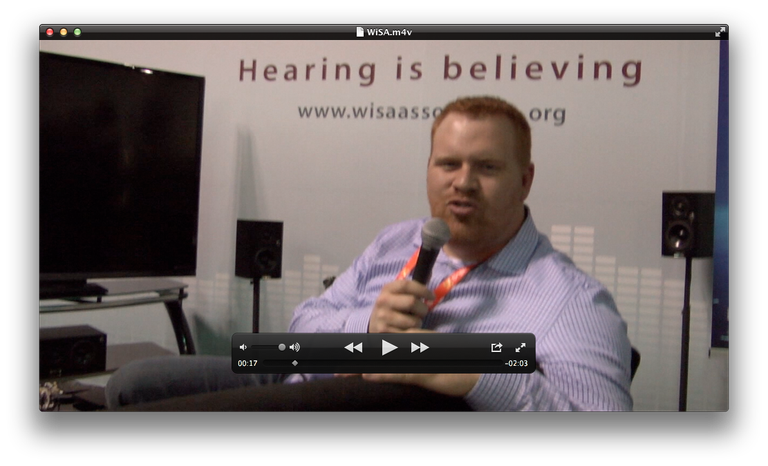 Summary
Executive Overview
Now I've looked at a lot of products here at CEDIA 2012 but now we're examining a new technology.  It's wireless Audio - WiSA - Wireless Speaker & Audio. Because the deal is, I know how to run audio cable - some of us don't mind doing it. But a lot of people don't venture into surround sound or ever upgrade the speakers in their TV simply because they don't want to bother about running cables to their speakers. WiSA takes care of that because the cool thing about this technology is that it allows you to buy speakers that are WiSA-compliant and plug them into power and puts good to go - wirelessly connecting to your device, whatever that may be. 
Let's say you buy that beautiful flat panel TV and you don't like how those TV speakers sound... You can buy wireless speakers, it connects to your television and you're good to go... Or a receiver - same thing - you not be able to run the speaker cables but you can get a pair of WiSA-compatible products and you're ll set. Surround sound? Same thing.
The biggest application for me is the sound bar because there are a lot of sound bars that tout "surround sound". But when you hook it up, you may think that it's good, but it's just not as good as an actual pair of speakers behind me. But you bought this for its slim size and ability to blend well into the room without having to run cables. And now you still don't have to. Connect a pair of WiSA-compliant speakers and you're good to go.
WiSA is interoperable so you can choose different brands of speakers and use them together. You can add mains from Aperion Audio and surrounds from Klipsch. Or you can have a Sharp TV and use Polk Audio speakers. The system is scalable so you can work any way you want. 24-bit/48- and 96kHz. Pioneer, Klipsch, Sharp... you have all these companies who are behind WiSA and are going to bring wireless audio to home theater. We can wait to see where this goes - it's exciting and it's all here at the 2012 CEDIA Expo.
Don't miss out! Check out our full 2012 CEDIA Expo video coverage for all our event videos. And stay up to date on all our coverage, including photos and video, by Liking us at facebook.com/Audioholics.

Unless otherwise indicated, this is a preview article for the featured product. A formal review may or may not follow in the future.