The Audibility of Distortion At Bass Frequencies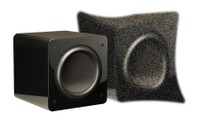 Bass is the most physically demanding frequency band for a home theater system to reproduce, so it will naturally be the region where distortion is the most prevalent. Those of us interested in higher fidelity sound would do well to understand the degree of which distortion in low frequencies can be heard and the challenges involved in finding those distortion thresholds. This article discusses those challenges and relays some of the current understanding of the subject from the field of audio science. Is your sound system up to the task of faithfully reproducing bass content, and if not, how short does it fall between your hearing and the sound engineer's intention?
Want to know how well your sound system reproduces bass? We discuss the audibility of distortion in bass and ways bass reproduction in audio systems can fall short of of a listeners expectations.