Loudspeaker Measurements Standard: Our Procedure for Objectively Analyzing Speaker Performance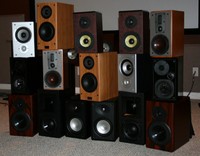 The presentation of loudspeaker measurements varies wildly from manufacturer to manufacturer. This means that, without independent analysis, consumers are left comparing specifications that were obtained using completely different methods that yield different looking results. In an effort to alleviate this confusion, it is our goal to provide readers with consistent measurement information for each loudspeaker reviewed allowing direct comparison from review to review. As a part of this commitment, the Audioholics Loudspeaker Measurement Standard presented in this article provides the nuts and bolts of the techniques used to measure loudspeakers. Our measurements include : On-Axis Frequency Response, Sensitivity, Listening Window Response, Polar Response, Impedance & Electrical Phase and Distortion Analysis. We discuss how these measurements are conducted, including the test equipment and calibration procedure used in case the reader or manufacturer wishes to reproduce our results. Please feel free to share your comments in this articles related thread and be sure to watch our Youtube Video interview.
The Audioholics Loudspeaker Measurements Standard objectively measures performance of speaker systems. Frequency response, distortion, sensitivity, polar & listening window response, impedance, etc.