Dayton Audio WT3 Woofer Tester Review
Dayton Audio WT3 Woofer Tester Review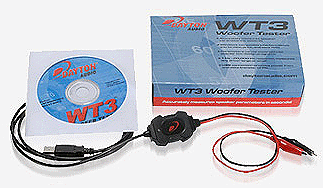 Primary Use: Woofer impedance measurement, Thiele/Small parameter generation
Secondary Use: Impedance measurement of drivers other than woofers and a variety of passive components.
System Type: USB (USB 1.1 compliant, USB 2.0, preferred).
Connector: 1 pair, built-in alligator clips
Power requirement: Unit draws power from USB port; no batteries or external power supply required.
Test signal: Upward-swept Sine wave
Frequency Display/Sweep Width (Hz): Adjustable LF & HF points
     LF Limits: 1 Hz to 10 kHz
     HF Limits: 10 Hz to 20 kHz
Software: Program included, must be installed manually
Calibration resistor supplied
Hardware manufactured in China, software in USA.
Warranty: Warranted free from defects in material and workmanship for 5 years from date of purchase .
Pros
Easy to install & easy to use
Impressively accurate measurement data
Cons
Quirky user interface
Limited data post-processing capabilities
Minimal help section & user manual
Introduction
The WT3 Woofer Tester by Dayton Audio is a fast, accurate and affordable measurement tool that's about as easy to use as it gets. Just load the included software, plug the probe into the nearest USB port, calibrate, and you're good to go. It's that simple! It'll measure driver impedance and derive the all-important Thiele/Small parameters - critical to the loudspeaker design process. It will also measure the impedance of various components commonly used in the construction of passive crossover networks such as resistors, caps & inductors. Rounding out this feature set, the WT3 sports some useful extra utilities you'll likely find handy. All in all, this is one item likely to be a favorite of the DIY community for a long time to come.

Confused about what AV Gear to buy or how to set it up? Join our Exclusive Audioholics E-Book Membership Program!
Recent Forum Posts:
WopOnTour posts on November 24, 2009 22:56
It does determin SPL

Just an FYI
The writer of the article implies that WT3 cannot provide SPL. While it's true that it cannot measure the driver's SPL it can calculate it.
In order to determine V(as) in WT3 for the driver being tested there are 3 methods:

1. input the driver SPL @1w/m as provided by the manufacturer (assuming you have a spec, and redundant in the context of this discussion)

2. mount the driver in a known (volume) closed enclosure and resweep

3. add a known mass (coins, plasticine etc) to the driver cone and resweep

When using either of the latter 2 methods, WT3 will automatically calculate the driver sensitivity and display the SPL @1w/m

*I have found both the closed box and added mass methods in WT3 to be very accurate as compared to micrphone SPL measurments

In fact, PE is now bundling a low cost (but sutably precise) digital scale to permit easy mass addition. This is the easiest method I have found.

I tried using coins as suggested by the WT3 docs (eg a Nickel is 5g) but found they jumped around too much.I now use a small "cookie" of automotive sealer (aka dum dum) that I roll into a ball, weigh, then flatten and place centered on the dome. It seems to have just enough tackiness to prevent "decoupling" when the sweep occurs. (after entering the mass of the added weight into the WT3 sotware)

after completing thee steps you will now have the driver V(as) AND SPL

Works for me!
WopOnTour
JohnA posts on April 18, 2008 12:02
Just as an FYI,

All of the volume levels for both audio out and record in should be at the max and the balance be set to the middle. If your settings are not these you will possibly see anomalies (i.e. strange spikes or dips, jagged plots, etc…) in the plot graphs.

Also in Vista on some systems the USB ports can be individually adjusted, so if you set it up on one port for testing and then the next day use a different port you may see anomalies in the measurements.

And as stated in the article there is a 90 second stabilization time for the unit, it is necessary to wait otherwise there will be anomalies in the test graphs.

And if you have it set up properly and calibrated and are getting strange graphs there could be two other causes:

1) Other noise in the testing area (i.e. kids, dogs barking, etc…) these things will affect the plot (testing should be done in a semi-quite room.

2) The .ini file became corrupted, just delete it and restart the WT3

Hope this helps.
jeffsg4mac posts on April 18, 2008 08:31
Excellent, I was looking at that thing some time ago and I was wondering if it was any good.
Post Reply