KEF MUO Portable Bluetooth Speaker Review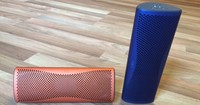 Looking for a great sounding portable Bluetooth speaker? The KEF MUO might be for you. We were impressed with the ability to link two MUO speakers together to play in stereo with each speaker playing left or right channels all without ANY cords. Portable, functional, great aesthetics and a name like KEF to back it up are all great selling points for this not so inexpensive but potent little wireless speaker system. Read our review and be sure to check out our YouTube video overview for further insights.
I was blown away by the sound coming from the KEF MUO wireless bluetooth speakers at CEDIA last year that I just had to review them synced as a stereo pair.