Braven 710 Portable Bluetooth Speaker Review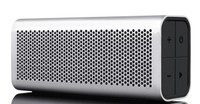 The Braven 710 is a go-anywhere portable Bluetooth speaker slightly smaller than a brick, but just as tough thanks to its aircraft grade aluminum shell. The 710 also boasts IPX5 certification, meaning it's splash/water resistant (though don't expect it to swim if you drop it in a tub of water). What about the sound? Suffice it to say that Braven has at least one neat trick up their sleeve which promises better than average sound quality from the form factor. Curious? Click to keep reading and watch our Youtube video review.
Review: Braven's 710 is a portable Bluetooth speaker that's the size of a brick, and just as tough, not to mention water resistant. If you're looking for a go-anywhere speaker, click to keep reading.