Palo Alto Cubik Speakers Review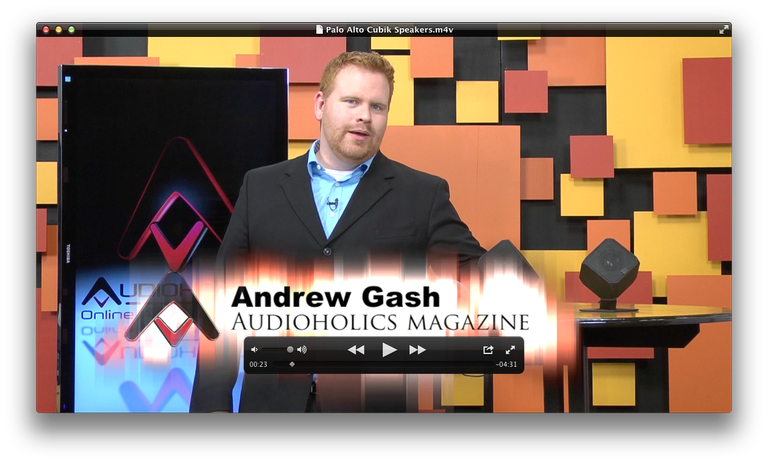 Palo Alto Cubik Speakers
Summary
Description: USB full-digital 2.0 active Speaker
Inputs: Mini USB 2.0 for streaming
Driver: 2.5" Peerless premium full-range driver Neodymium magnet, Magnetically shielded Full-digital Amplifier Digital Signal Processing
Power Supply: 100V-240V AC 50/60Hz on external power supply
Voltage: 9V DC on speaker
Dimension: 6.5 H x 2.9 W x 3.3 D
Weight: 1 lb each
Executive Overview
I do a lot of work on the computer. While I'm a reviewer, I also have to do a lot of writing, editing... Facebooking. In any case, I'm always on the lookout for good speakers for my workspace. It's important, to me at least, that I have decent speakers on any computer that's parked on a desk. I'm also a fan of good design, so when Palo Alto's Cubik speakers showed up, I had to take a look. As you can see, they have a unique design - the speakers seem to float in the air, positioned in a way that the drivers points up at you - perfect for a desktop placement. They're also angular, but more than that, they are like dice with the clipped edges that makes them seem like they could tumble over at any second.
And that's kind of how the sound feels... it tumbles into you, cascading in a way that is still perfectly balanced, but larger than you'd expect from speakers of this size. See, the drivers are just 2.5", so when they spout music with a ton of midrange, we don't know where it's coming from. But it's there - and that's noteworthy.
Now there are some limitations. Modern compressed music doesn't sound nearly as good as more dynamic tracks. The 2.5" drivers seem to compress when they are driven loudly. This isn't as evident on music that doesn't try and jam everything into a narrow band of loud sound. And while highs and midrange are impressive, you don't get much below around 80Hz from these speakers unless you engage the B button on the top of the left speaker - and then it sounds bloated. If you're a bass hound, these speakers may not be the best for you. But if you want clarity and presence... rock on.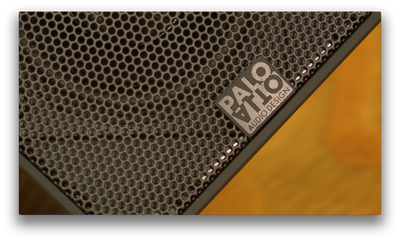 On a technical note, the speakers use a USB connection and can work with Mac or PC systems - Palo Alto even included a cable. The right speaker connects to the left and, as we found, the cable can be inserted right side up, or upside down. Make sure you do it correctly or your audio will be out of phase - that's NOT a surround effect!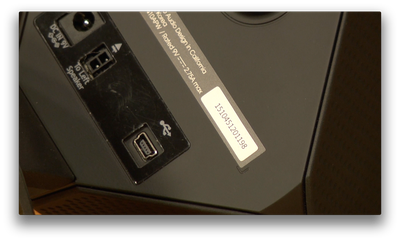 A 9V DC port takes power from an included power supply, whose cable is long enough to route just about anywhere - so that's good. The speakers are designed so that they can be placed roughly 6' apart - that's plenty long and more than you're likely to need. The left speaker features a Mute button, volume controls and the Bass button we talked about earlier - which we recommend you leave off for best sound. There is no headphone jack on the front of these speakers, which is unfortunate as that's a really handy feature. The Volume controls are also, in our opinion, backwards... the left button increases the volume and the right button decreases it - not a big deal.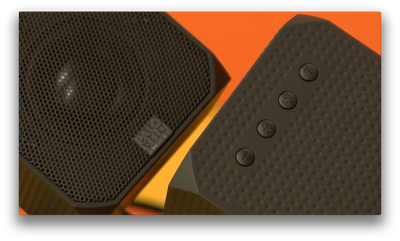 I listened with them about 3 feet apart in a nearfield setup at my desk. I first queued up "Ironic" by Alanis Morissette to hear her vocals. My first impression was "natural and authentic"... My second and third impressions... well, they matched the first one. When the instruments kicked in during the chorus I could tell there was some compression going on, but not so much as to be disturbing. I also didn't hear any clipping - even at max volume all-around, it just played louder, but without destroying the track in the process. That's notable in that it's very rare at this price except form several THX systems we've heard. Next I tried out some Counting Crows with "Round Here". The stereo positioning of solo guitar and keys was clean and Adam Duritz' vocals were firmly parked right in the middle and had excellent presence without that typical boxiness you typically get from small drivers. While there was no subsonic bass that you could feel, the mid-bass was actually very good, even accurate in our opinion. And that's a good word for this system. It seemed to present audio in a way that was natural and not artificially enhanced into a smiley-face EQ so many manufacturers think people want.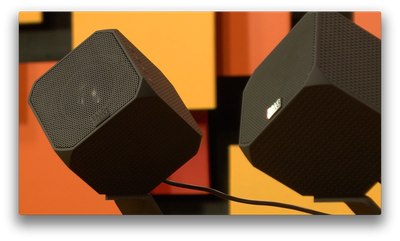 So, the Cubiks are aptly named speakers that sound decent and look cool. They run about $200 but they are also a step above many similarly sized speakers you're apt to find in the market. You can pay less for speakers.. or a lot more. These sound pretty good and if you want to feel better about the price, just compare them against the B&W MM-1s - those run around $500 a pair. No sub. You can audition these at several brick & mortar retailers and if you're in the market for some above-average speakers, that's what I suggest you do. I think you'll like them.
This weeks' question is: What desktop or multimedia speakers are you listening to right now? Let us know by commenting on our video in YouTube. And subscribe to our channel at YouTube.com/audioholicslive. To keep up to date you'll also want to Like us on Facebook - Facebook.com/Audioholics or Follow us on Twitter @AudioholicsLive.

Confused about what AV Gear to buy or how to set it up? Join our Exclusive Audioholics E-Book Membership Program!
Recent Forum Posts: