Logitech UE Air Speaker Review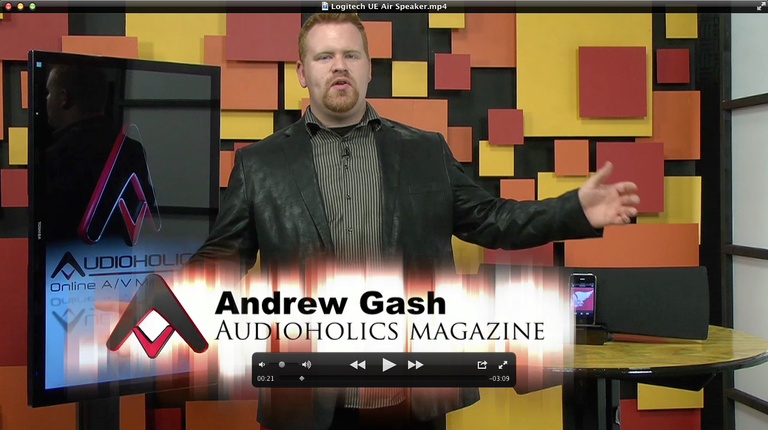 Logitech UE Air Speaker Video Review
Summary
Executive Overview
AirPlay has been a technology we've been extremely impressed by. If you're in the apple ecosystem it's bound to be a part of your life if you're buying current AV products and love the idea of streaming music wirelessly. Logitech just released their first AirPlay-enabled speaker, the Logitech UE Air Speaker. The UE is Logitech's abbreviation of a company they purchased back in '08, called Ultimate Ears. The Air Speaker, which looks like the business end of a Hammerhead shark, is pretty cool-looking, with minimal buttons and an integrated iPhone/iPod dock that retracts into the base when not used.

The real attraction of this product is the AirPlay functionality and easy setup. You really just need an iPhone or iPod which docks into the speaker and then immediately prompts you to download the free app from the Apple app store. You get the app, dock your iPod/iPhone, and it configures the speaker for you automagically. That includes connecting it to your Wi-Fi network, though you'll need to enter your password.
The app itself is nothing to write home about, but then again it does all of its magic behind the scenes. On the front end it lets you configure bass and treble settings and also shows you the Wi-Fi strength of the Air Speaker. Thats pretty much it. To listen to music, you just open iTunes or the Music app and hit the AirPlay connect button which will allow you to select the Logitech speaker for the output of your iOS device's audio. There's no hard remote control, and you know what? It doesn't need one.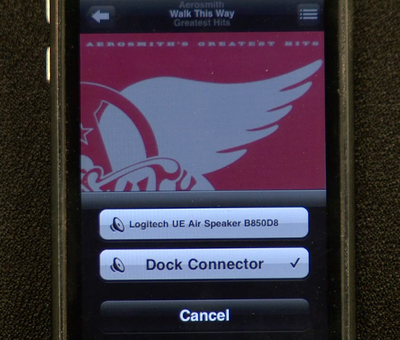 We listened to tracks from ELO, The Eagles, Aerosmith, Toto... I was in a classic rock type of mood. The soundstage wasn't very wide but we really liked how it made vocals sound - particularly Don Henley, who has a lot of texture. The tone of these speakers is really pleasing and we never got tired of listening, like we do with some of these wireless speakers. The mix was kind of "thick" with lots of mid-bass, but we also loved that we could crank the volume all the way up and there wasn't a lot of audible distortion. It played pretty loud indoors, too - louder than you're likely to want unless you happen to be throwing a rave in your living room. (off-screen) How loud? About 90 dB C-weighted at 8 feet. And that was with more compressed music. It's plenty loud.
So that's about it. You got simple controls on top: Mute, Volume, Power. There's an Ethernet jack in the back if you want to hardwire it, and an 1/8" jack if you don't have an iOS device, but honestly AirPlay is what makes this speaker really cool. You can even setup AirPlay with a computer if needed, though it's a lot more involved. Now we're going to drop the other shoe: the Air Speaker costs $400. It's like the only negative thing we can say about it. It's an impressive wireless AirPlay-enabled speaker - we just hope you can afford it. One thing's for sure, it'll beat the pants off that overpriced clock radio you see advertised on late night infomercials.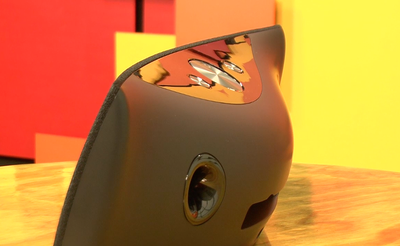 If you like Airplay then hit the 'Like' button in YouTube and subscribe to our channel. If you don't like AirPlay, write a comment and tell us why not. Also 'Like' us at Facebook.com/audioholics or Follow us on Twitter @AudioholicsLive.

Unless otherwise indicated, this is a preview article for the featured product. A formal review may or may not follow in the future.
Confused about what AV Gear to buy or how to set it up? Join our Exclusive Audioholics E-Book Membership Program!
Recent Forum Posts: