Monster ClarityHD Model One Speakers Review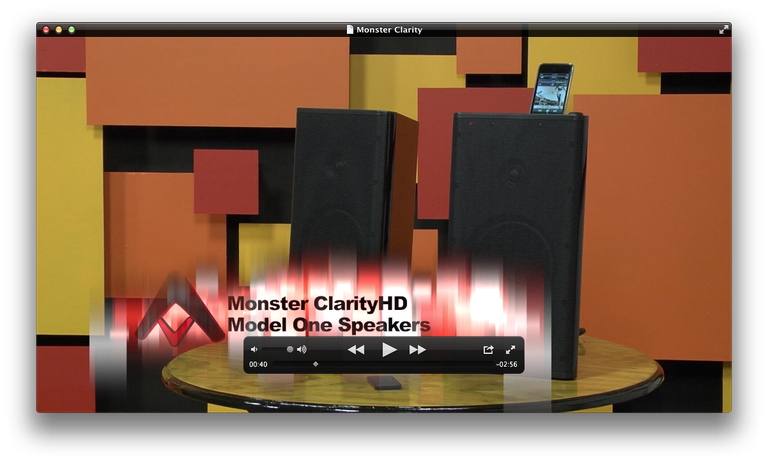 Monster ClarityHD Model One Speakers
Summary
Dock for iPhone, iPod
Mini jack for computers, smartphones and mobile devices
RCA input jacks for audio and video components
Balanced 1/4" TRS inputs for recording gear, mixers and DJ gear without additional amps or preamps
Built-in wireless port for optional Bluetooth module
Volume fade
High-frequency calibration
Remote control
Executive Overview
This week we had just enough time to take a sneak peek at the latest loudspeaker from Monster, the Clarity HD Model One speakers. So in a sense, think of this as an unboxing video... except that it's not... and... well, those videos are kinda like watching someone else open a present. Anyway, we want to tell you more about these speakers and then maybe you can find a place to audition them.
The Clarity HD Model Ones by Monster are certainly different - even in their looks. They're bold with color options of Gloss Red, Gloss Yellow, Bronze and Silver that look like they were applied by slipping the speaker into a paint shop while they were putting the finish coat on an Italian sports car. While it may, at first glance, look like a typical bookshelf speaker... (turn one around) it's actually a powered speaker geared towards professional DJs or even studio engineers. Traditional powered monitors will be identical, with each speaker having its own amplifier and inputs. A pair of Clarity HD Model One's are both powered by the Right speaker, which has connections for 1/8", RCA, and even balanced 1/4" TRS stereo inputs. There is no input selector on the speaker or remote, so the idea is that you have three connection options rather than three independent inputs.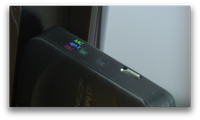 The Model One is a 2-way speaker with a 6-1/2" mid-bass driver and a 1" soft dome tweeter. And that tweeter can be custom configured to taste or to compensate for speaker placement with an included High Cut, High Boost rotary switch that can raise or lower high frequency output by 2dB. Each speaker also comes with an integrated handle in the top of the speaker and the Right speaker includes an integrated dock that will fit most iPods and iPhones. With the advent of AirPlay this is a feature that we're seeing less and less of these days. What Monster did do, however, was add their optional $89.95* StreamCast Bluetooth Module which literally plugs into the back of the Clarity HD Model one, sticking out a bit but offering you wireless connectivity via Bluetooth that they claim actually has the potential to exceed standard Bluetooth quality because of the way they handle AptX and AAC CODECs.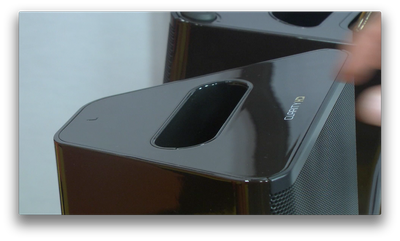 The remote control is a credit card-style model and does the trick for controlling Play/Pause/Skip functions from your iPod from across the room and raising and lowering the Volume. You can also Mute the system or set it to Standby mode. Since Monster is positioning these as a professional product it was good to see that they also included protection circuitry that will shut down the monitors temporarily if, for example, you run them at full volume for an extended period of time. In this way they won't overheat and, according to the user manual, after 30 minutes it's safe to switch them back on and keep right on listening.
These look like very nicely made speakers. They're priced at $699.95/pair*, not including the $99 Streamcast Bluetooth module, so they aren't for everyone. If you can, give them a listen at your local dealer.
This week I want to ask you how often do you stream audio wirelessly? Daily? Weekly? Hourly? Let us know by commenting on this video, and consider subscribing to our channel for more great videos. If you want to know what else we're doing, Like us on Facebook at facebook.com/audioholics and follow us on Twitter @AudioholicsLive. 
*the prices dropped slightly following our video review

Unless otherwise indicated, this is a preview article for the featured product. A formal review may or may not follow in the future.