Bose Wave Music System III Preview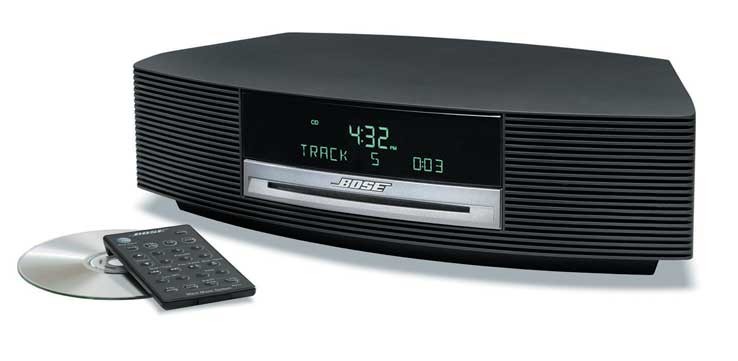 Bose Wave System III
Summary
Dimensions
System
Height: 4.2 in (10.7 cm)
Width: 14.6 in (36.8 cm)
Depth: 8.6 in (21.9 cm)
Weight: 8.7 lbs (3.9 kg)
Remote control
Height: 3.75 in (9.53 cm)
Width: 2.25 in (5.72 cm)
Depth: .25 in (.64 cm)
Weight: 1.06 oz (30 g)
Inputs/outputs
AUX in
FM antenna
Headphone jack
Bose link
Today when we logged into the Audioholics Facebook page we noticed a post from Bose linking to their "new" Wave Music System III along with the following quote "It's not a makeover … more like a make better. Bose Wave music system III."  Back in 1993, the first generation Bose Wave Radio was introduced.  Smaller than their Acoustic Wave system, it employed two 2-1/2" full range drivers.  The left-hand speaker was responsible for the bass via their 26" tapered waveguide which twisted around the inside of the enclosure and exited the unit on the front next to the right-hand speaker.  The right speaker was limited to providing the mid and high frequency sounds.  Throughout the evolution of this product, this design concept has remained unchanged.  However, in 2005, Bose made a fairly significant change to its Wave Music System with the introduction to the Acoustic Wave II.  This system featured a dual tapered 26" waveguide and revised drivers with the port exits towards the back of the unit.  They also added a CD player option for an extra $150 bringing the entire package to $499.
Well here we are almost 19 years later and Bose has just announced the Generation III of their Music Wave System.  We were interested to determine whether or not any audio enhancements have been made to this unit so we opened up a chat window with a friendly Bose support staff to get the scoop.
Audioholics:  Can you please tell us all of the differences between the Bose Wave Radio Gen II vs the new Gen III?

Tavis: Integrated touch top control, wave to radio/cd/buzzer, dual independent alarms with continuous display of wake up time, stronger AM/FM tuner with song info on display for fm stations

Audioholics:  Have their been any audio enhancements to the Gen III model?

Tavis:  Nope the Gen III model still has the same great sound from its predecessor.  Would you like to purchase one today?

Audioholics:  No thanks, we are in the research phase at the moment.

Tavis:  OK well have a great day and come back soon.
So as best as we can tell, the "make better" aspect of the Gen III system pertains solely to a few added convenience features (IE. Integrated touch top control, wave to radio/cd/buzzer, dual independent alarms with continuous display of wake up time, stronger AM/FM tuner with song info on display for fm stations).  Nowhere on Bose's website do they discuss speaker enhancements or sound enhancement features of the Music Wave III over its predecessor.  Could it be that Bose has reached the point of diminishing returns with respect to sound quality?  We don't think so.  The folks running Bose are quite intelligent.  They know their customer base which are best described as casual listeners not so much focused on sound quality but convenience and name recognition.  There is an old saying we often use amongst fellow Audioholics "people that don't know Audio know Bose".  If the consumer isn't demanding better sound quality, why offer it?  Features and convenience are king.
That being said, we like the added features Bose has given to the Wave III but wonder where the airplay support is? Are people clamoring to use their clock radios with their CD collection these days?  We think not.  How about making some real practical enhancements to the Wave Radio like Ethernet connectivity so end users can stream services like Pandora, Rhapsody, etc?  We wonder if this will ever happen down the road or if Bose will still require its customers to purchase a iPhone dock station ($99) or  Bluetooth adapter ($99) to stream music services from their Smartphones.  Right now if you want to 86 the CD player, you can get the Bose Wave Radio III for $349 and add the Connect Kit or Bluetooth adapter which will bring either option to $50 less than the CD player enabled unit.  
Personally we feel at this price range, Ethernet or USB connectivity should be a standard feature.  We've noticed a trend with Bose to adopt the latest technology about 5 years after everyone else has done so. HDMI is a fairly recent feature of Bose multi-channel home theater systems, so we'd expect the same trend to follow with their Wave Radio systems too. 
With the Wave Radio III, you've got two color options:  "Graphite Gray" or "Metallic White".
The Wave Music System III opens up an "exclusive" color option: "Titanium Silver".
So if you want the bragging rights to impress your friends with your Titanium Wave Music III system, you will have to pony up the extra $150. As a bonus, this will also get you their CD player which in itself costs more than most entry level Blu-ray players found at Walmart these days.  If you're a couch potato and really looking to splurge, why not jump up to their 3 disc multi-changer add-on for an extra $300 over their base radio unit.  Oddly, Bose won't let you configure the Wave Radio with a multi-CD changer and iPod/Bluetooth adapter. Too bad, as it would have got us at just under $1k. Perhaps it's just too much for the average consumer to handle.
Say what you want about Bose, but they've had almost a 20 year legacy of virtually no competition for selling a $500 clock CD/radio system.  It takes really knowing your customer base to pull off such a feat as successfully as they have. 

Unless otherwise indicated, this is a preview article for the featured product. A formal review may or may not follow in the future.