Cambridge Audio Minx Xi Digital Music System Review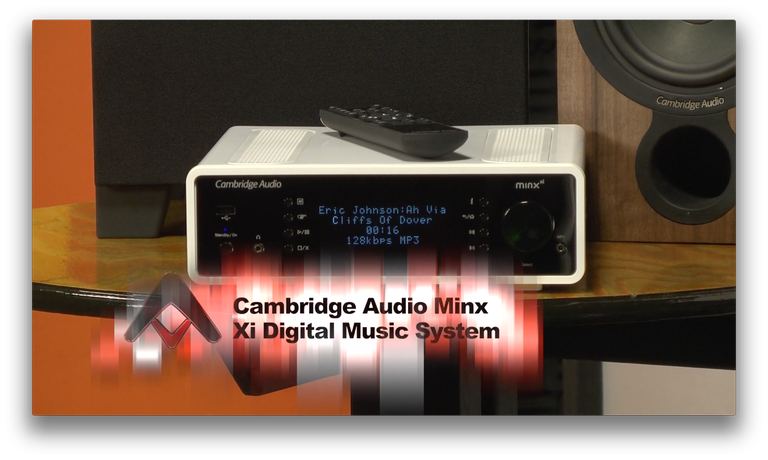 Cambridge Audio Minx Xi Digital Music System
Summary
DAC: Dual Wolfson WM8728
Power output (RMS): 2 x 40W (8 ohms), 2 x 47W (6 ohms), 2 x 55W (4 ohms)
Network music playback (Wi-fi & Ethernet): 16-24-bit 32-96kHz
2 x local USB media inputs, 16-24-bit 32-96kHz
Toslink input, 16-24-bit/32-96kHz
S/PDIF input, 16-24-bit/32-96kHz
BT100 Bluetooth receiver: A2DP plus aptX
2 x RCA analogue inputs
3.5mm analogue input
Headphone output
Subwoofer preamp output
Audio Formats: ALAC, WAV, FLAC, AIFF, WMA, MP3, AAC, HE AAC, AAC+, OGG
Standby power consumption: <0.5W
Dimensions (H x W x D): 3.5 x 10.6 x 11.2" (90 x 270 x 285mm)
Weight: 5.8kg (12.8lbs)
Executive Overview
The new Minx Xi Digital Music System from Cambridge Audio is a hopped up high-end streaming media player that will let you play just about any music source imaginable. It's built on Cambridge Audio's popular NP30 platform and shares a lot of the same controls and features, but it adds a 40W stereo amplifier to make this a small integrated amplifier on steroids. Integrated amp, network music streaming device...the terminology is tough because it does almost everything.
I think we'll stick to what Cambridge recommends and call it a Digital Music System.
Features and Capabilities

This part of the review is tough, because there is a lot that you can do with Cambridge Audio's $899 Minx Xi. It seems to be designed for two primary purposes: To play just about everything and anything you may have in your collection, and to do it with an incredibly impressive level of quality. That's two big areas of discussion, because we're addressing what this unit does, and we're also addressing what's under the hood.
With regard to features, when I say the Minx Xi will play just about anything—well, you can stream music via Bluetooth or the Internet, or listen to a bunch of streaming services, including Spotify, Pandora and Rhapsody. You can even connect to your home network to stream lossless files, and there are two available USB ports for audio you might keep on external storage. If all of that isn't enough, two pairs of analogue stereo RCA inputs are provided along with both optical and coaxial S/PDIF inputs. Lastly, a subwoofer line level out means you can connect a sub to sweeten the output from your speakers.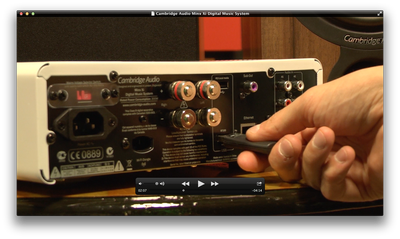 Rock on...
On the front there's a four-line display with 20 characters per line. That's a lot of room for detailed information, albeit not as cool as some newer OLED displays we've seen on other similar devices. Still, the Cambridge Audio addresses one of my main pet peeves with modern audio systems—they include hard buttons for critical functions so that, should you lose the remote control, you aren't essentially bricking your music system.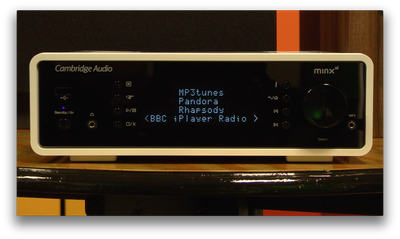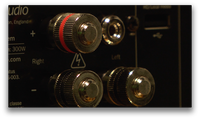 The front has a single USB port (the other is on the back panel) and a large select knob that quickly scrolls through items on the front display and lets you push the button to select items. It's also a multi-function knob, so once you're within a selected track it becomes a volume control. The back of the unit has all of the inputs I already talked about, but it also has a BT100 Bluetooth USB adapter (included) and a WiFi antenna that connects via another USB port. Neither interferes with the rear USB port available for music. The Bluetooth system also supports AptX, which delivers much higher quality to the player, approaching lossless quality. The binding posts are of notable quality and are not the cheap plastic style found on many similar products. They actually remove completely to allow for rear-insertion banana connectors—an unusual but effective solution for the European-requirements to remove the center hole in these connectors.
Setup and Configuration

After selecting your language, the next thing to do is get the Cambridge Audio Minx Xi onto your WiFi network (if you have a hardwire connection you can also connect it via the RJ45 port). WiFi setup was a breeze (If you don't have wireless setup, here's an article on how to setup a wireless network), mostly because the 4-line interface throws up all the letters and numbers in alphabetical order and you can cursor around to select your password. This is way easier than, say, a system that forces you to scroll through 26 uppercase letters, another 26 lowercase letters, and then numeric and other characters. Also, instead of forcing you to use the remote to enter login and password info for all connected Internet streaming services, you just log into Stream Magic (www.stream-magic.com) and set up an account to link your player to your streaming media accounts like Rhapsody, Pandora, Sirius XM and others. There's no Spotify, but if you do AptX streaming you can use any audio app you like from your portable device.
Listening Tests

For listening tests, I opted to go with a complete Cambridge Audio setup. For speakers, I grabbed a pair of Aero 2's. These speakers run around $500/pair and come in either a Black or Dark Walnut veneer that isn't real fancy. In fact, the speakers are rather vanilla, with boxed corners and a front-firing port that lacks any flaring but does have a rubberized front half that should serve to diffract the audio being output. The driver complement is also unusual in that the Aero 2 uses a system it calls BMR (Balanced Mode Radiator). Instead of a traditional tweeter, the Aero 2 (and other Aero speakers in the line for that matter) use a driver that looks more conventional, but measures just over 1-3/4" across its flat radiator. The BMR can play back frequencies down to roughly 250Hz—far lower than conventional tweeters that drop out around 2.5kHz. This frees up the woofer (which Cambridge says is 6-1/2" but we'd put it at a generous 5-3/4"). The problem, however, is that the highs end up being rather bright and sibilant. On top of that, I saw little benefit for the woofers, with the bass coming across as neither tight nor punchy. Indeed, the 40Hz low frequency response spec for the Aero 2's seems to be a bit off and my own testing showed the lower response to be closer to 50 Hz.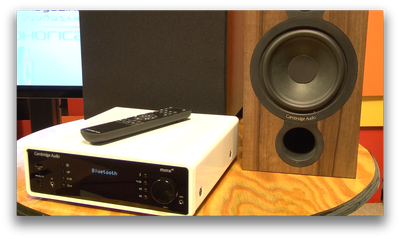 I guess it's good that I also had on-hand the Cambridge Audio Aero 9 subwoofer. It helped considerably when running a full system and the enhancement it provided really made the system sound a lot better. Overall, I'd have to say that I really enjoyed the capabilities of the Minx Xi, but I can't recommend the Aero 2 speakers—at least not if you appreciate detailed highs with a lot of finesse and punchy, tight bass. I just don't feel these speakers have it, and there are far too many great options for $500/pair to want to compromise. Don't get me wrong, you'll enjoy the sound, and they image well and the sweet spot is very wide, but I just think you can do better for the money.
The question for this video is: Who do you think makes the best $500 pair of speakers? Let us know below in the comments section and subscribe to our YouTube channel—it will help us continue to bring you more video reviews. Also, please be sure to Like us on Facebook and Google+. We put a lot of info up there that you really don't want to miss.

Confused about what AV Gear to buy or how to set it up? Join our Exclusive Audioholics E-Book Membership Program!
See also:
Recent Forum Posts:
j_garcia posts on November 12, 2013 15:36
I was pretty curious to see if anyone had heard the Aero speakers yet after seeing them on their site. Seems like a good concept to lower the x-over point, but wasn't sure how they'd actually sound and this sort of confirms what I was expecting. Interesting that they lean toward bright as opposed to soft, since it was supposed to be a more diffused sound.



Interesting to see that though pretty expensive, the Xi does seem to have a lot of nice features too. The simple fact that it has a sub out is pretty cool. It has a bit of a "utilitarian" look to it though.
Post Reply