Cambridge Audio Minx Air 200 Wireless Music System Review
Summary
Apple AirPlay technology
Bluetooth technology (aptX, AAC and SBC compatible)
Internet radio
Aux input (RCA and 3.5mm)
Digital Signal Processing (DSP)
High quality class-D amplifier
Remote control
Adjustable bass control
Technical specifications
Drive units: 2 x 57mm (2.25'') Balanced Mode Radiator (BMR) drivers
1 x 165mm (6.5'') subwoofer
Amplifier power output: 200W
Input voltage: 100V – 240V (50/60Hz)
Standby power consumption: <0.5W
Auto Power Down (APD): Adjustable from 23hrs 45minutes to 15 minutes, or OFF
Wi-Fi: IEEE 802.11 b/g
Wi-Fi encryption: WEP, WPA, WPA2
Ethernet: IEEE 802.3, 10 Base-T or 100 Base-T
Dimensions (W x H x D): 450 x 220 x 174mm (17.7'' x 8.7'' x 6.9'')
Weight: 5.1Kg (11.2lbs)
AirPlay compatibility: iPhone, iPad, and iPod touch with iOS 4.3.3 or later, Mac with OS X Mountain Lion, and Mac and PC with iTunes 10.2.2 or later.
Executive Overview
The Minx Air200 from Cambridge Audio is a $600 AirPlay and Bluetooth speaker. Yes, we're high rollin' today. At that price I realized that it had better impress me...a lot...or this would be a very tough, very tiring review. Unboxing the speaker I liked the size of the Air200. It's substantial. Sitting at 7.2" high and nearly 18" wide, it's much larger than I had expected and weighs 11 pounds. The Air200 is white with a silver rim and gray speaker grill cloth that spans the entire face of the system. On top are 5 Internet Radio preset buttons and controls for Volume, Power and Source.
If you want a birds-eye view of this system, what you have is a wireless speaker that works with Bluetooth or Airplay. It will tie into your network either via the simple-to-use WPS, or you can do what I did, which was connect to it via WiFi on my laptop and configure it to use my home network. There's no battery, so this is meant to be a system that is tethered to a wall outlet somewhere. Setup was actually pretty flawless and I was up and running in less than 5 minutes.
Once connected, the Minx Air200 comes pre-configured with a bunch of Internet radio stations. That means you can hit any of the five presets on the top of the unit and you're listening to music. I wasn't a huge fan of the selected station (most of them were European), so I downloaded the free Minx App from Apple and used the search function to locate my favorite 80s music and classic rock from among 20,000 available stations. An Android app is also available. Saving new presets is easy. You just press and hold on any of the 10 preset icons and they store the current station to that position.
Bluetooth streaming was easy and didn't require any pairing codes. Once paired, I was able to bounce back and forth between Bluetooth and AirPlay from my iPhone. You can also, if all else fails, connect via analogue 1/8" stereo input.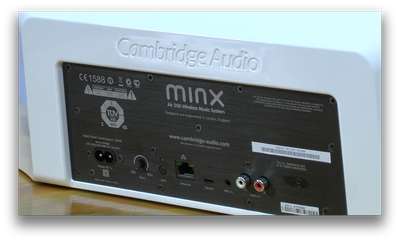 Minx Air 200 rear panel

The system has a pair of speakers that are accompanied by a 6-inch "subwoofer" that is ported to deliver a significant amount of bass response. You can adjust the amount of bass on the back and I found that the default setting was pretty accurate for best results. If you're a bassaholic I suppose you could drive it up higher, but you risk muddying the sound.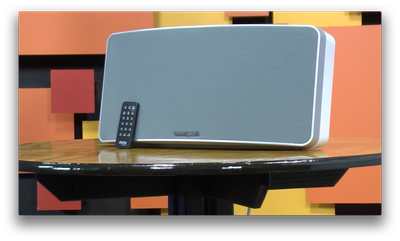 Minx Air 200 Airplay Speaker
And the sound: it's got a midrange emphasis—and that's rare in desktop speakers. It's also something that will drive most people to think that it lacks a certain finesse. In actuality I preferred this speaker to many others I've heard which produce more "boxy" vocals bookended by crisp highs and boomy lows.
While the preset buttons allow you to play Internet radio without any other devices connected, even the app doesn't allow you to configure the system to stream Spotify, Pandora, Rhapsody or other custom music sources. From within the Minx app you can control volume, bass, and EQ settings in addition to storing, searching and recalling Internet radio preset stations.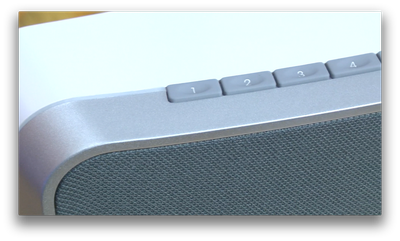 Minx Air 200 Internet Direct Buttons
Overall I really liked this speaker, but it's really hard to justify the $600 price given the abundance of options from Logitech, B&W, Klipsch and others. I like that you can't get the system to distort, even at its max volume setting. Cambridge Audio definitely put some serious design into this speaker and it shows. They've got a lot of competition and about the best recommendation we can give it is to tell you to go listen to it for yourself before picking it up.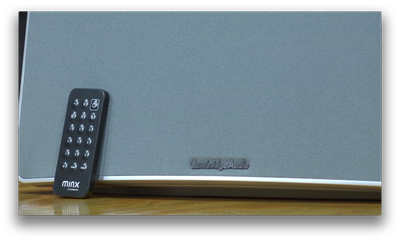 Minx Air 200 remote control
So how much is too much for a desktop radio? That's the question we're posing for this video? If the quality is there, how much would you pay? Leave us a comment on this video in YouTube and visit us at youtube.com/audioholicslive. Also, head on over to our Facebook page and join in the conversation there: Facebook.com/audioholics.
Confused about what AV Gear to buy or how to set it up? Join our Exclusive Audioholics E-Book Membership Program!
See also:
Recent Forum Posts: