Chris Standring: Blue Bolero (2010) CD Review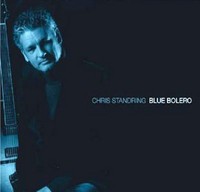 I've been a fan of Chris Standring for quite some time; he was a frequent collaborator with my good friend (keyboardist Rodney Lee) throughout the 1990's in a group called "Solar System" before launching a solo career at the turn of the millennium. This CD is still in heavy rotation for weekend breakfasts at my house (along with a couple other of Chris' CDs). This is one of the few CD's I probably listen to more on my home stereo than on my iPod/iPhone. Years of studio experience has made Chris Standring an outstanding record producer in his own right, and this recording places those skills front and center. Check it out.
This is a review of the Chris Standring Blue Bolero (2010)CD. Great music and excellent fidelity. Check it out.