DJ Icey: The Funky Breaks
DJ Icey: The Funky Breaks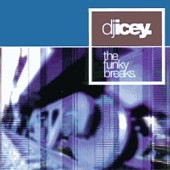 Introduction
I first had the pleasure of hearing this cd in the car install garages of Sensuous Sounds, Inc. a few months ago and then borrowed it from a friend a few weeks after that. The compilation's style is somewhere between house and techno rythyms, which seems to be the forte of DJ Icey. I had a great chance to listen to this cd at home; and, in my car (Polk db subs; Infinity Kappa; Infinity Reference; and ADS speakers all around) on a trip to Orlando recently.
Track List
01. Grand Canyon Suite
02. Silent Partner
03. Narra Mine (Armand Van Helden Mix)
04. Get Yourself Organized
05. Reflex Speed
06. Beats-a-Rockin (Inside Mix)
07. Get Huh (Rhythm Inventions Bonus Dub)
08. A Watcher's Point of View
09. Sound the Alarm
10. Tribal Bass
11. J-Break
12. Sign
13. 2
14. The Pledge
Sound Quality
There is no real "over bass heavy" tracks on this cd; the cuts are continuous (no breaks between tracks) and mood swings are subtle and non-linear. "Get Yourself Organized" had a nice beat pattern as well as the superfluous "Sign"; "A Watcher's Point of View" brings the early 90's PM Dawn group's mellow voices and mood. A lot of energy is heard throughout most of the other tracks, which gives the overall cd an upbeat feel. I could've done without the "Tribal Bass" track; just not my style of listening, but interesting to listen to 'once'. The quality of the cd was fine, though not as crisp sounding as DJ Aphrodite or DJ Rob E.; whether this is a measure of sound reproduction or transfer, I do not know. The sound quality is above average in my final estimation.
Conclusion
DJ Icey's "The Funky Breaks" is more proof of the growing popularity of the DJ mix culture growing in today's musical world. People view the 'DJ' as a maestro of sorts, using sampled sounds and different rythyms and beats as his orchestra; something we'll see more of in the future. From all the ones I've had the pleasure to listen to, this one is a cut above average. First-time listeners have a few better choices, but fans of this style of music will no doubt be pleased with their purchase.
Confused about what AV Gear to buy or how to set it up? Join our Exclusive Audioholics E-Book Membership Program!