KAJE DVD-Audio Disc & CD Review
KAJE DVD-Audio Disc & CD Review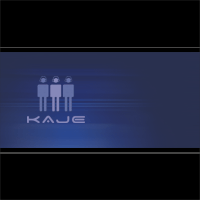 Label: 3Bone Audio
KAJE: Music, performances and arrangements
Stereo Tracks Recorded, Mixed, Mastered and Produced by KAJE
5.1 Tracks Mixed and Mastered by 3Bone Audio, Inc.
DVD Produced by 3Bone Audio & KAJE

KAJE, pronounced "Kay-Jay" is probably a disc I would not have typically selected on my own, but man am I glad it came across my desk. KAJE wrote, recorded, mixed and mastered the stereo tracks and 3Bone Audio, Inc did the 5.1 mixing and mastering for the DVD-Audio 5.1 mixes (the stereo audio CD version is included on a separate disc). This is dance music, and make no mistake, it will make your body move whether you want it to or not. KAJE is distributed by 3Bone Audio whose motto is "STEREO IS DEAD." With these mixes, they have me just about convinced.
Track list:
1. Everybody onitheiDancefloor feat. Sacha - 6:16
2. 4*3*2*1 - 6:09
3. 5 Minutes of Funk - 5:00
4. Intermission - 1:25
5. Space isitheiPlace - 3:11
6. Freefallin' feat. Naomi Nsombi - 4:27
7. Feel It - 5:27
8. K-A-J-E - 4:49
9. Intermission II - 1:46
10. Nothing's Changing feat. Valntine - 3:52
11. Columbia 7 - 3:27
12. Dirigible - 4:45
13. Hey Buddy! - 5:08
Track 1 "Everybody on the Dan ce Floor" features vocals by Sacha Willamson and sets the tone for the entire disc, letting you know that this isn't going to be a typical disco session. Track 3 is fun and introduces a computer voice track reminiscent of the 80s. Lots of tracks like this one start off in a couple dimensions tonally and then progressively build, adding more and more while dropping out other patterns until suddenly a break occurs to reset the song to either the initial groove or a sort of symphonic crescendo.
Track 4 is titled "Intermission" and is a perfectly timed break from the auditory onslaught of the first three tracks. If you listen you can hear the initial sample ending with a slight pop (kind of sounds like an LP looping.) We're not sure if this is an accident, but it gives the groove a retro feel.
Whoa, Track 5 is in stereo! Well, only for about a minute and a half, anyway. The point, I believe, is to really accentuate the 5.1 experience and once and for all demonstrate the potential of the full surround experience.
One of my favorite tracks is Track 6 "Freefallin' featuring Naomi Nsombi" the first song on the disc that is really a "song" (Track 1 is close but still more of a dedicated dance track.) As indicated, vocals are provided by Naomi Nsombi, whose smooth voice gives this track a great appeal. This is one of the more tame mixes, but there is some vocal doubling and flange effects near the end of the song which show up prominently in the left channels.
I thought it was funny that KAJE composed and mixed an entire track dedicated to the sole purpose of ensuring his name was pronounced correctly! Track 8 "K.A.J.E." (Kay-Jay) actually starts off in the surrounds and builds up from there with some cool grooves and synth effects.
Track 10 definitely marks the highlight of this disc for me, and is the second "song" on the album with vocals by Valntine. It's got an incredibly addictive grove and Valntine's voice is nothing short of intoxicating. I listened to this track many, many times.
My 18 month-old son absolutely loved Track 13 "Hey Buddy!". I have to agree, it's got a great rhythm and a great late-90's feel. For whatever reason, he just broke out in laughter every time the title line was recited. This mix is probably the most particular on the album, though not due to its movement (of which there is little.)
Overall, this album is technically excellent and appealing on a number of levels (the design of the disc artwork is even to be commended.) The only criticism I had was that there may be a bass dip or node in the mixing/mastering room around 120-150Hz as there seemed to be a prolific amount of that frequency in several of the mixes 9rendering some tracks a bit boomy). Each song on the album is very unique - there is very little repetition on this disc and that is no small feat for almost an hour of music.
The DVD-Audio disc has some extras including a 5.1 commentary track by KAJE and a few stereo bonus tracks, including a cool song titled "Real Time (Lost It)" by Delusions - a band formed in 2003 that includes KAJE.
I'd recommend this disc to anyone. It now has a place in my music library and I consider it one of my reference discs. The diversity of the tracks and excellent production value make this a good pick for just about anyone.
Buy online from 3Bone Audio
About KAJE
KAJE, who plays piano, guitar and violin, started producing at 23, releasing two deep, jazzy EPs, eventually moving to Nick Holder's DNH label, on which he's dropped seven club groove-friendly 12-inches.
In 2000, KAJE had everyone moving with his classic remx of MI's "Electronic Funk 2000" which then led to remixes for Ginuwine and Ennio Morricone, and his own smash single underneath the name Ramon Acuzar.
KAJE released his first remix under his own Kompressor label, has just finished hs first full-length, self-titled album to be released as Canada 's first independent DVD-Audio disc, and is already working on his second full-length album.
Confused about what AV Gear to buy or how to set it up? Join our Exclusive Audioholics E-Book Membership Program!