John Scofield & Pat Metheny: I Can See Your House From Here
John Scofield & Pat Metheny: I Can See Your House From Here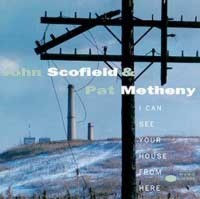 Introduction
Two legendary jazz guitarist's John Scofield & Pat Metheny teamed up in 1994 to produce this masterpiece. John's style of playing guitar is much different from Pats, but when you team them up, they go together like bread and butter. John's traditional sense of style combined with Pats more melodic style of playing compliment each other with the end result being a very jazzy progressive sound not commonly found in jazz music these days.
Track List
I Can See Your House From Here
Red One, The
No Matter What
Everybody's Party
Message To My Friend
No Way Jose
Say The Brother's Name
S.C.O.
Quiet Rising
One Way To Be
You Speak My Language
Sound Quality
Let me just begin this part of the review by saying this CD sounds awesome !!! Bottom line, no if ands or buts, the overall tonality of the recording of this CD, mastered by Blue Note, is fantastic. The cymbals from "Say The Brother's Name", sounds so real that it will freak you out. Listen to this song in the dark, lying down with your eyes closed and you will understand what I mean. The drums, while being played with a wire brush in "No Matter What" convey so much realism that it sounds as if Bill Stewart (Drummer) is playing live in your room. The dynamics from "Everybody's Party" is broad enough to tax even the most capable systems assembled. Definitely play this track when evaluating a new amp or pair of speakers. The sound quality of the CD is virtually perfect given the limitations of 44KHz 16bit PCM audio. I would be so bold to say that I prefer the sound characteristics of the CD over some of my multi channel DTS CD's. For some reason, I always find myself popping this CD into my system when I am alone late at night and I just want the music to just take me away.

Conclusions
I highly recommend this CD for both its musical content and sound quality. You will never get listening fatigue with this CD and it will really bring out the best your system has to offer. The only grip I have regarding this CD is the last few tracks tend to get a tad repetitive for some listeners. However, if you are a jazz nut like myself, you may actually appreciate it and be mesmerized by the talent of these legendary guitarists. Check it out!